Theater and Dance
'Cinderella' Brings Fairy-Tale Magic to the Ahmanson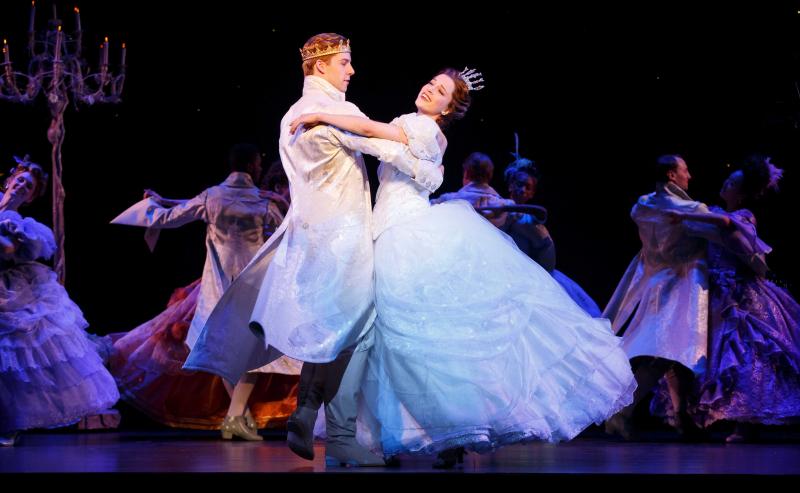 Cinderella is having a moment. As one of the main characters in "Into the Woods," she graced movie screens over Christmas. That interpretation of the fairy-tale was ensconced in popular culture when Anna Kendrick appeared as Cinderella in her ballgown in the opening number of the Oscars. Just last week, Disney's live action adaptation of "Cinderella," directed by Kenneth Branagh and starring "Downton Abbey"'s Lily James in the titular role, opened to $70 million in its first weekend.
So it is perfect timing for the Broadway revival of Rodgers and Hammerstein's "Cinderella" to be making its stop in Los Angeles at Center Theatre Group's Ahmanson Theatre. The production comes direct from Broadway with Fran Drescher in tow as the evil stepmother Madame. Drescher will only be with the production for its Los Angeles run, making this a unique stop on the production's touring schedule.
The musical is touted as the Rodgers and Hammerstein rendition of the classic fairy tale. However, apart from the use of the lilting score that includes such musical theatre classics as "In My Own Little Corner" and "Ten Minutes Ago," the production bears little resemblance to the Rodgers and Hammerstein version. The musical was never actually professionally produced for the stage until this Broadway revival opened in 2013. Rodgers and Hammerstein wrote the original book and score for a 1957 television event, which featured Julie Andrews as Cinderella. Two other iconic TV versions have since been produced, the 1965 version with Lesley Ann Warren and the 1997 adaptation featuring Brandy and Whitney Houston. Between these three televised versions and the 1950 Disney animated film, several generations have grown up with a particular rendition of the "Cinderella" fairy-tale all based on Charles Perrault's story "Cendrillon."
This production completely does away with Oscar Hammerstein's original book, replacing it with a new version written by "Xanadu" playwright Douglas Carter Beane, which seeks to modernize the story and give the Prince (Andy Huntington Jones) and Cinderella (Paige Faure) more depth and complexity in parallel storylines of growth and romance. With so many beloved version of "Cinderella" in existence, you have to wonder, why mess with a good thing?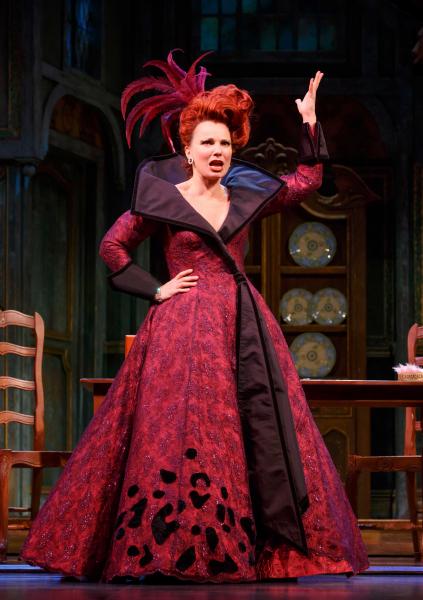 Of course, the tale of Cinderella is antithetical to feminist notions and modern audiences don't as readily buy into the notion of "love at first sight." This version of the classic fairy-tale veers a bit too far off course, particularly when the masterfully directed Branagh version is now on movie screens admirably depicting exactly how to tweak the tale to make it more palatable to contemporary tastes.
At first, it is appealing to see both Prince Topher and Cinderella questioning their purpose in life and what their futures might hold in parallel to each other, but it diverges from that goal rather quickly. The Prince has been stripped of his parents, a delightful source of comic relief in the Hammerstein book, to make his isolation and loneliness more identical to Cinderella's. Multiple meetings for the Prince and Cinderella have been inserted, including a rather trumped up banquet in the second act, and eliminating the story's most iconic moment — the glass slipper left on the castle steps.
Most perplexingly, one of Cinderella's stepsisters, Gabrielle (Kaitlyn Davidson) has been given a heart-of-gold and a political activist boyfriend who convinces the Prince to hold a vote for a Prime Minister. Half of the Prince's interest in Cinderella now stems from her "voice of the common people" and the way she opens his eyes to the plight of his country's peasants. Somewhere along the way Carter Beane took "Cinderella" and decided he was re-writing "Les Mis." Furthermore, instead of a fairytale for all audiences, the book needlessly panders to kids, making the show feel more like children's theatre than a Rodgers and Hammerstein musical for all ages.
This stands in stark contrast to the deft handling of the story in Chris Weitz's adaptation of the Disney film. He gives Cinderella a quiet strength with her mantra of "have courage and be kind," and she becomes an inspiring heroine for more introverted girls, standing in stark contrast to the violent agency of modern heroines like Katniss Everdeen. The Prince (Richard Madden) is more than just a pretty face, facing a moving conflict with his father (Derek Jacobi) in his desire to both follow his heart and do right by his country. Cinderella and Prince Kit meet multiple times and have more meaningful conversations than a mere exchange while dancing. Finally, the stepmother (Cate Blanchett) is given some nuanced shadings, and we clearly sense just why she hates Cinderella so much. Unusually, Carter Beane did not see fit to lend any depth to the stepmother, and she remains a villianish caricature in contrast to his attempt to add depth elsewhere. All of this is accomplished while still preserving the iconic imagery and moments of the fairy-tale audiences know and love. Weitz merely deepened, while Carter Beane completely upended and rewrote. Audiences looking for the "Cinderella" of their childhood would be best to stick to the film, adapted with a deft and loving hand.
The story's complete divergence from what we know to be "Cinderella" aside, the musical production is magical in nearly every other aspect. It is a technical marvel under Larry Morley's technical supervision. With a mere spin around the stage, Cinderella transforms multiple times from her long hair and rags to an up-do and a ballgown — each time it occurs, it earns well-deserved gasps and applause from the audience. You'll find yourself asking "how did they do that?" without actually wanting to know the answer because it's better to revel in what truly appears to be magic at work. The appearance of Cinderella's coach, her sparkling glass slippers, and the amount of tulle in her beautiful ballgown is enough to transport any girl back to childhood dreams of being a princess and attending a ball.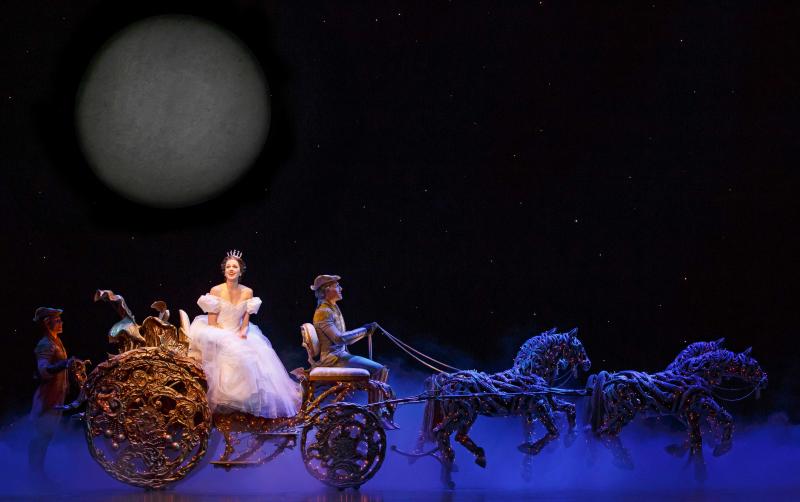 This is aided by the fantastic scenic design of Anna Louizos and whimsical costumes by William Ivey Long. The set feels like a fairy-tale, all soft edges and curling tendrils of ivy. The costumes come in the brilliant shades only found in a fairy-tale world — the ball scene pops with canary yellows, emerald greens, peacock turquoises, bubble-gum pinks, and lush purples. All of this serves to highlight the glittering difference of Cinderella's gold and white ballgown — she is as set apart from the court by her sparkling white gown, as she is by her kindness. The costumes are delightful in their design, with hoop skirts, ribbons, and even cheetah print giving them an outlandish touch that reminds us we are not in our own world.

Masterful performances are another hallmark of the production, with not a note that rings false (either acting or singing-wise). Though the biggest name, Drescher is actually the weak link in the cast, bringing nothing particularly new or inventive to her role as Madame. Still, for audiences that are a fan of her shtick, they'll delight in her appearance. Particularly wonderful are Paige Faure and Andy Huntington Jones as Cinderella and Prince Topher. They take on these fairy-tale characters without a hint of guile or irony, instead giving us earnest goodness and naivety.

Faure seems like she was born to play a princess — even the slightest movement of her arm belies an inner grace (and I would guess, years of ballet training), and she constantly seems to glide across the stage. She is an ethereal and effortless vision of kindness— the princess-to-be (in rags) from the moment she takes to the stage. You can not take your eyes off of her, and so, it is easy to believe, why the Prince would not be able to either.

Huntington Jones brings a delightful boyish earnestness to the role, making the Prince a boy finding his way in the world, rather than an unattainable ideal. When he sings "Do I love you because you're beautiful, or are you beautiful because I love you?," he seems genuinely perplexed by the stirrings of first love rather than just delivering a charming pick-up line. It helps that both Faure and Huntington Jones have the appearance of fairy-tale characters in their delicate loveliness that automatically lends them the air of romance. Furthermore, they both have sterling voices, and each time they sing in harmony, they produce a sound that rivals Cinderella's glass slipper for crystalline purity and beauty.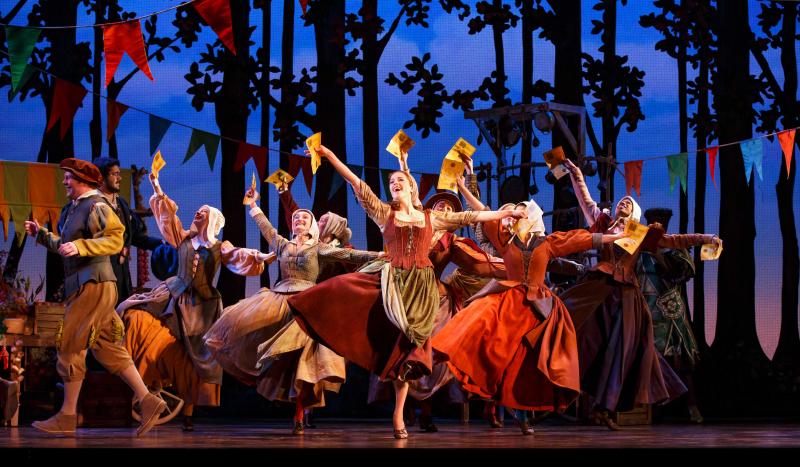 Finally, what ties this production together is expert choreography by Josh Rhodes. To truly impress audiences, "Cinderella" must have a believable and mesmerizing ball. This production has not just one ballroom scene, but several, and we are treated to beautiful waltzes and intricate group numbers each time. The choreography wows outside of the ballroom as well — most notably, during the town announcement "The Prince is Giving a Ball" and in the chase following Cinderella's swift exit from the ball. The numbers are full of high-energy dancing, leaps, and gymnastic tricks.

From choreography to costumes to technical wizardry, the production is a feast for the eyes. The mix of note-perfect Rodgers and Hammerstein tunes, exciting production numbers, magical effects, eye-popping costumes, and perfect casting means there is something for everyone. On the whole, the latest film adaptation of "Cinderella" is superior in its exquisite rendering of every facet. But if you're looking for an evening of live theater, this production of "Cinderella" has a lot of magic to offer too.

"Cinderella" is playing at the Ahmanson Theatre (135 N. Grand Avenue, Los Angeles, 90012) through April 26th. For more information, visit: CenterTheatreGroup.org.

Contact Staff Reporter Maureen Lee Lenker here or follow her on Twitter @maureenlee89

For more Theater & Dance coverage click here.