Los Angeles
Candidate Runs Dr. Seuss-Inspired Poem On Facebook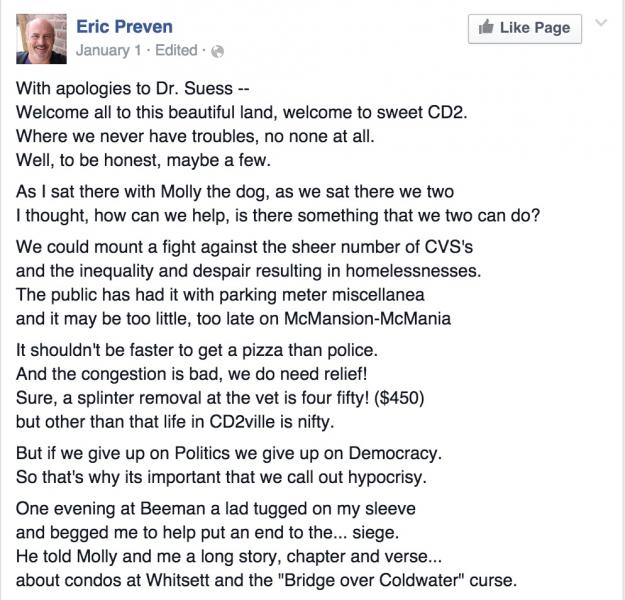 Eric Preven, a candidate for the 2nd District, took an unusual step during his campaigning in January. The veteran Hollywood writer and producer, who penned works including episodes of the soap opera "Santa Barbara," got on his keyboard and presumably wrote the following poem on his Facebook page touting the issues that he is going to tackle if he gets elected.

The misspellings are his own.

With apologies to Dr. Suess --
Welcome all to this beautiful land, welcome to sweet CD2.
Where we never have troubles, no none at all.
Well, to be honest, maybe a few.

As I sat there with Molly the dog, as we sat there we two
I thought, how can we help, is there something that we two can do?

We could mount a fight against the sheer number of CVS's
and the inequality and despair resulting in homelessnesses.
The public has had it with parking meter miscellanea
and it may be too little, too late on McMansion-McMania

It shouldn't be faster to get a pizza than police.
And the congestion is bad, we do need relief!
Sure, a splinter removal at the vet is four fifty! ($450)
but other than that life in CD2ville is nifty.

But if we give up on Politics we give up on Democracy.
So that's why its important that we call out hypocrisy.

One evening at Beeman a lad tugged on my sleeve
and begged me to help put an end to the... siege.
He told Molly and me a long story, chapter and verse...
about condos at Whitsett and the "Bridge over Coldwater" curse.

I googled everything and soon had plenty of questions
So, I took a petition for five hundred signatures to Gelsons.
Seems during my fight against County corruption and greed
an even more local problem had refused to recede.

Head Master Hudnut of Harvard-Westlake was on an expansionist tear
proposing a Parking Garage with a playing field on top... over there.

The Parking Garage to serve the cream of the cream
The Parking Garage, lighted up for the team!
The Parking Garage, Colossal, Stupendous!
Astounding, Fantastic, Terrific, Tremendous.

Harvard-Westlake sits in isolation as its own principality
And many of the Trustees promote a skybox mentality

T'was 2009 when a young Krekorian named Paul
Programmed his GPS for downtown City Hall.
Though, he had just taken office in the State Legislature
Krekorian was intrigued by his own growing stature.

His supporters from Burbank and Glendale were eager to help
Jeremy Oberstein was summoned to improve things on Yelp.
Candidate Krekorian raised less money than a Hollywood exec
and falsely promised to keep special interests in check.

"I meant what I said and I said what I meant."
A councilman's faithful one-hundred percent.
But old Hudnut kept promoting the merits of expansion
added a couple dozen trustees, part-time from the mansion.

We know, up on top you are seeing great sights,
But down here at the bottom, we, too, should have rights.

In 2011 there wasn't too much of a race
One unknown challenger Krekorian refused to debate.
It was almost a landslide with 75 percent of political hobbyists
Krekorian wasted no time getting to work for the lobbyists.

Harvard Westlake is certainly a powerful neighbor
with its influential trustees in place to curry the favor.
But this is the part that gets tougher... how does one say...
Just how much is Harvard-Westlake willing to pay?

In 2011 two dozen trustees each gave five-hundred dollars
plus ten times as much to other helpful city hallers.
Mayor Garcetti, a Wolverine alum from the eighties,
was a very handsome beneficiary of the Harvard-Westlake ladies.

But 2013 lobbying money is the number worth trackin'
With over 400k to get a Bridge Over Coldwater crackin'
Trustees want their monstrosity and they're willing to fight
Now the pressure is mounting for Krekorian to do something right.

Are the neighbors and residents who live by the hill
any match for Harvard Westlake's sheer force of will?

UNLESS someone like you cares a whole awful lot,
nothing is going to get better. I tell you it's not.
If I ran the program said young Citizen Two
"I'd make a few changes that's what I'd do.
You can go by foot, you can go by cow...
all of you lobbyists -- Will you please go now!"

CD2ville is ready for a Happy New Year,
neighbors drawn together to conquer our fear.

Oh the wonderful things Harvard Westlake can do,
like build a gigantic garage, on the campus lot, by its pool.
Happy New Year

Stay tuned to Neon Tommy for the results of the election in Council District 2.

Reach Staff Reporter Dani Jiaxin Li here.