Media
#BlackOutDay On Social Media
#BlackOutDay is an idea started on Tumblr has now swept through all platforms of social media.
Tumblr user Y.R.N is one of the creators of this event that took place on March 6 in an effort to show community and solidarity, according to The Root.
"For those 24 hours, we are exclusively posting and reblogging pics, gifs, videos, selfies, etc. of Black people," organizers said in a statement on teleSUR.
READ ALSO: On Black Lives Matter: An Interview With Patrisse Cullors
The hashtag #BlackOutDay is currently trending on Twitter and below are one of the most popular retweeted posts.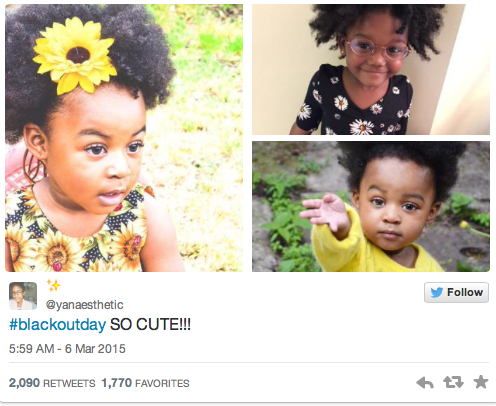 The hashtag #BlackOutDay is on of the most trending topics on Twitter in the United States, according to the ABC News website. Topsy, a Twitter analytic service, reported over 58,000 tweets just at noon of March 6.
However, like many other trending hashtags, some users proposed the hashtag #WhiteOutDay and claimed that it would be viewed as racist. Many of the tweets with this hashtag are dismissive of the idea.
Organizers of the event say they are discussing possibly making #BlackOutDay an event once a month, according to teleSUR.
READ MORE:
#BlackOutDay Encourages Beauty, Self-Love, and Pride
Why #BlackOutDay Took Over Social Media
151 Absolutely Stunning Pictures From #BlackOutDay