Sports
Amelie Iuel Blazes A Track Far From Home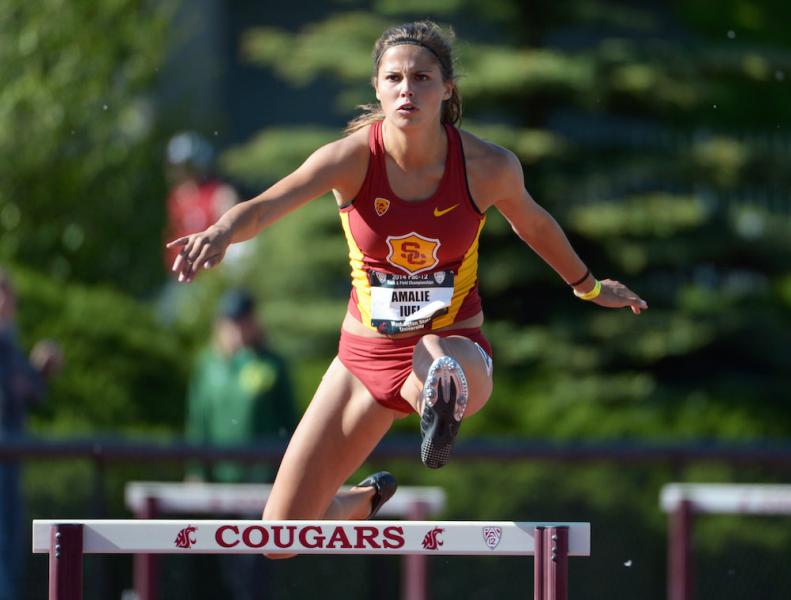 She was nervous. She hadn't worked out as much as she should have maybe, hadn't trained as hard as she could have, not since moving to Los Angeles from Norway, by way of Bangkok.

There was just so much to do as a new freshman college student in America. And, besides, she was basically on the USC track team. No need to try out; she had a spot waiting for her to walk on. The coach had told her as much.

But, then, the coaches changed in the summer of 2013, just before she got to the University of Southern California. And her quirky high school record, full of international schools in Thailand and Pakistan and Namibia, wasn't enough to guarantee her a spot anymore. So, here she was trying out, trying to make the Trojan team. It was the whole reason she'd come to the U.S., why she'd picked USC over the University of Oregon, because it had both academics and athletics. Now, that all rested on her ability to run 30 meters, to do a standing long jump, to show off her bounding skills, and to get as far she could around the track in 45 seconds.

"I wasn't really that prepared for that," said sophomore Amelie Iuel of the tryout, especially the 45-second test.

The new coach must have seen something in the lanky part-Norwegian, part-Danish sprinter, though. Iuel got a spot on the team—but as a jumper, not as the 400-meter hurdler she thought she was.

"I was kind of disappointed. I didn't think [jumping] was my strength," she said.

The Making of a Heptathlete

It turns out Iuel wasn't wrong. Jumping isn't her strength actually. Actually, her strength comes in her ability to tackle any and all events you can throw at her. But what else would you expect from a girl who grew up in far-flung spots all over the world, who speaks six languages, who knew nobody was going to come recruit her, so she went and recruited them.

That freshman fall at USC, Iuel herniated two discs in her back. It was the first time she'd ever weight-lifted regularly—the track program at the international high school in Bangkok wasn't exactly rigorous—and she overdid the new regime. The six weeks off, though, gave her plenty of time to start wearing down coach Caryl Gilbert Smith. When I'm healthy, let me try hurdles, let me try heptathlon, she said, just let me try.

And, eventually, coach said, OK.

That spring, Iuel practiced the shot put and javelin a couple of times before her first heptathlon. She knew how to jump and, of course, she could run. Everything else would just have to come on race day.

"It was my first 800 [meters] ever," she said. "Well, I ran one once when I was 12. So, I guess I did PR by quite a bit."

The heptathlon is an exhausting event. Over two days, the women compete in seven different events: the 100-meter hurdles, high jump, shot put, 200-meters, long jump, javelin throw and, finally, the 800. Between events, athletes get just 30 minutes of rest. The entire thing is scored on a points system, in which points are awarded based on established benchmarks for each event. The world record is 7,291 points, set by American Jackie Joyner-Kersee in 1988. In the first heptathlon she did, in March 2014, Ieul scored 4,877 points.

"I felt very inexperienced," she said. Compared to the other girls, the juniors and seniors, the ones who had practiced more than a few times, she felt in over her head at that first meet in San Diego. But, you learn by doing. And what Iuel learned was you have to keep moving forward.

"It's important to have a short memory in heptathlon," she said.

That's probably true. But the nomad from Norway won't want to forget this any time soon:

Even without having raced the 800 meters since she was 12 years old, even with only practicing javelin "two or three times," that first heptathlon was good enough to earn her a spot at the Pac-12 championships in Pullman, Wash. And then, in her second heptathlon ever, Iuel, the walk-on freshman from far away, won the Pac-12 heptathlon title.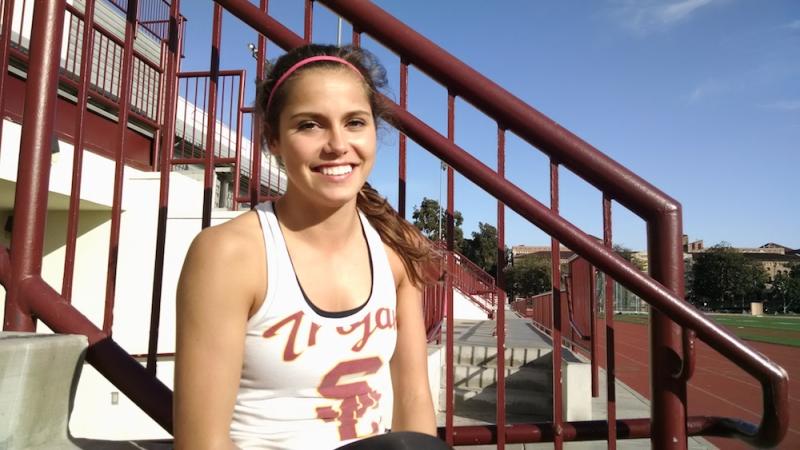 Far From Norway
Last spring, Iuel became the first freshman to win the Pac-12 championship in heptathlon since 2004 and the first woman from USC to do so since 1996. Her 5,378 points were just a few shy of qualifying for the NCAA championships in Eugene, Ore. But, ultimately, she got to Oregon anyway, just like she's seemingly gotten everywhere she wanted to go. She ran the 400-meter hurdles in 58.10 seconds at the end of May to nab the last NCAA qualifying spot in that event. She then placed 18th and earned an All-American honorable mention at the championships.
Then she went back to where she wasn't a homesick foreigner anymore, where they have bread the way bread is supposed to be, where her parents live now and where she grew up: Norway.
"I miss the bread and milk," she said. "The bread in the States, they put sugar in it. I don't like sweet bread. I just want my bread to be normal bread."
Though she was born in Denmark, Iuel spent most of her childhood in Oslo, Norway, at least until she was about 12 years old. That's when her father's job at Telenor, a large Norwegian telecommunications company, sent the family to Namibia. From there, they had a stint in Pakistan and then Dubai, before she ended her high school career in Bangkok, Thailand.
There were no organized sports at her school in Namibia. Instead, she played on a club soccer team, which practiced just once a week, and ran around with her brother. Things were more or less the same in Pakistan and Dubai. It was fun, but it certainly wasn't the background of most competitive college athletes, or probably of any athletes now trying to qualify to the IAAF world championships in Beijing this summer.
It wasn't until her junior year at the International School of Bangkok that she even tried running the hurdles (when she wasn't playing touch rugby or soccer). The 37-acre campus had a trail that wound through the trees, where she would warm up, and one of the nicest tracks in the city. What it didn't have was much competition.
The track and field team had only two meets each season, for which they had to travel out of the country to compete against other international high schools in southeast Asia. Because of that, her parents have still only seen her race her favorite event, the 400 hurdles, once and have never seen her do a heptathlon.
She loved the competition and she trained hard, but still it wasn't an intense program. Things were much more relaxed in Thailand.
"It was very easy to convince the coach to change practice," she said.
That's not true anymore. It's different now, at USC. It's different now that she's a defending champion, a known instead of an unknown. She has to make sure she eats right and gets enough sleep. She's working on her strength training and learning from the other athletes and coaches. She has big goals for this season, for this summer, and she's pretty good at getting what she wants.
What Now?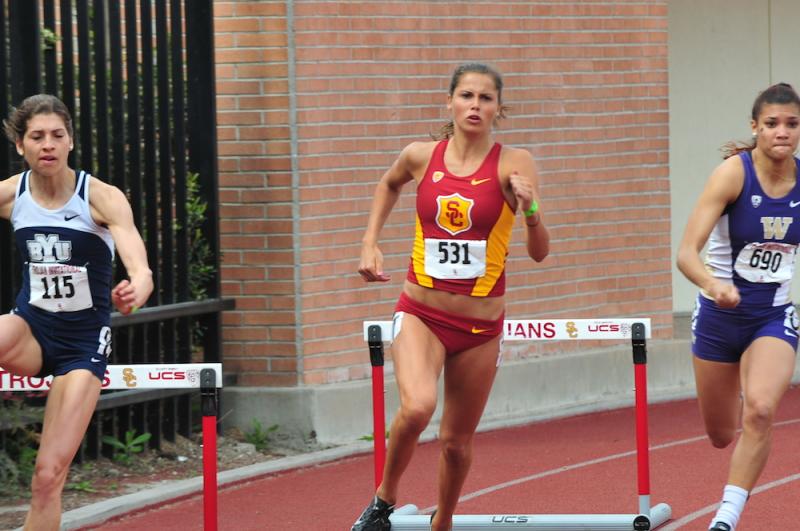 This weekend Iuel will compete in the 4-x-400 meter relay at the NCAA Track and Field Indoor National Championships in Fayetteville, Ark. At the Mountain Pacific Sports Federation (MPSF) Championships in Seattle, Wash., the relay team of Iuel, freshman Kendall Ellis, senior Vanessa Jones and junior Jaide Stepter won and set a meet record of 3:33.58. They managed to do that even with all of them running the individual 400-meters first. That won't be the case in Arkansas. There they will compete without having already run the 400.

"It'll be really interesting to see what we're capable of doing when we come in with fresh legs," she said. "I think we can cut our time down a lot."

After that, Iuel will most likely move into hurdles and heptathlon training, just as she did last year when the team transitioned from the indoor to outdoor season. She'll probably try to defend her heptathlon title and improve in her first love, the 400 hurdles.

Then she'll head home to train (and to not indulge in the far superior Norwegian chocolate). Because this summer, as a Danish citizen, she'll head to Denmark to compete in their national championships.

"The goal is to qualify for worlds," she said. She's nervous about it, about nationals this summer. She's not sure if she can do what she wants to do. But she's been nervous before. And see how that turned out.

Reach Staff Reporter Kelly O'Mara here.