California
Women's Groups Seek Those Who Are Ready To Run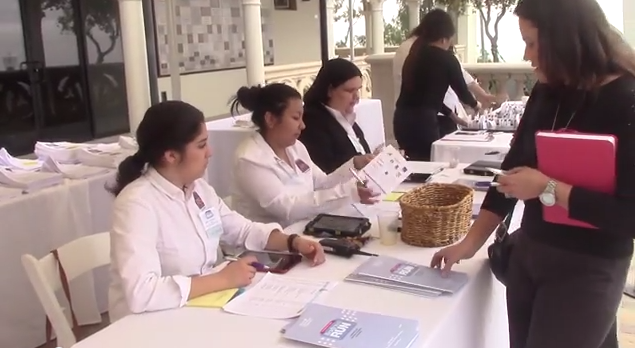 Almost three-quarters of Americans expect to see a
female president in their lifetime
.
This year marked a historic first in Congress with more than 100 women elected to serve.
There's still a long way to go.
"It's a little misleading that everyone is celebrating the fact that there are over 100 women for the first time in Congress. That's a great number but… it isn't the gigantic milestone that most people think it is," said Jackie Filla, a political science professor at Mount Saint Mary's University.
Filla was instrumental in organizing the women's university's February "Ready to Run" event, a nonpartisan campaign training for women.
At the state level, California's legislature has the fewest women to be elected since 1998, according to the school.
While research shows the public's perception of women in leadership is improving (but still needs work), there is something else stopping women from getting these roles.
They aren't running.
Women often enter politics in reaction to something, said Rachel Michelin, Executive Director and CEO of California Women Lead, a nonpartisan group that trains women to be leaders in their communities.
"They see something. They might join the school board because they'd like to see a stop sign put at the crosswalk in front of a school," Michelin said. "Or they run for city council because they had an issue with the city and felt like they weren't treated properly."
Despite women winning at the same rates as men when they do run, they aren't.
"On average, elected officials who are female say they need to be asked seven times before they've actually considered a run for office," Filla said. "For most males who are elected, it's once. And sometimes, not even that."
Some attribute the reticence to a desire to protect loved ones from the often grueling experience of campaigning.
"Look, I've had $100 million spent mischaracterizing who I am," House Minority Leader Nancy Pelosi said at a women and poverty summit last year. "Women see that and they say, 'I could never take that. I would never subject my family to any mischaracterizations about me.'"
Assemblymember Melissa Melendez of the 67th district thought long and hard before running for office but ultimately decided to because of her family.
"I did look at my kids and say well, if you're teaching your children about leadership, if you're teaching them how you want the world to look, show them how you do it," Melendez said. "And what better way of doing that than to lead by example."
One place the numbers are looking up is in women seeking political appointments.
"Applying for political appointment is less daunting, less money, and more based on skill set and serving in a certain role," Michelin said.
California Women Lead hosts more than 30 trainings for women interested in getting involved each year. But Mona Pasquil, Appointments Secretary in the Office of Gov. Jerry Brown, believes lack of political experience shouldn't deter anyone from looking into them.
"I'm not sure that I'm qualified, I might have to take some other classes," Pasquil said at Ready to Run, speaking of the reasoning she's heard from potential candidates. "You're here. You're interested. We can make it happen."
Contact Staff Reporter Maritza Moulite here. Follow her on Twitter here.