Music
Who Is Beck? Meet The Man Behind The Album Of The Year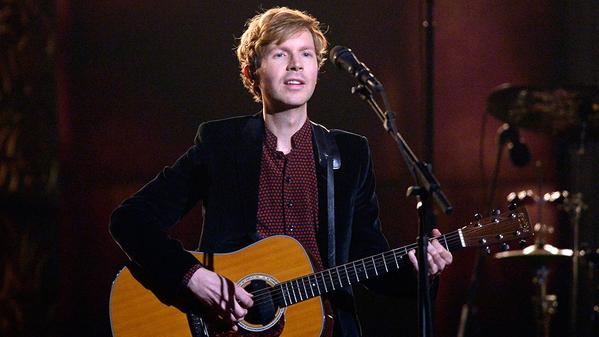 There was one moment at the 57th Grammy Awards that shocked everyone more than any other and it wasn't when Rihanna showed up clothed. It was when Beck's "Morning Phase" won Album of the Year over Sam Smith's "In the Lonely Hour" and Beyoncé's latest album (gasp).
As surprised as people were, they were even more confused. The phrase "Who Is Beck" started trending on Twitter not long after his win was announced. So for all those of you who are unfamiliar, we've put together a quick list of things you need to know about the mysterious musician behind our album of the year.
READ MORE: Grammys 2015: Best Dressed
He's actually been around for a while
Beck Hansen's first album "Golden Feelings" was released 22 years ago in 1993 and he's released 11 more in the meantime. His musical style has evolved a lot over the years and incorporated elements as diverse as folk, country, R&B and hip hop. His music has always been unique and defies classification.
You've probably even heard one of his songs
One of his songs actually managed to find some success. So much so that there was a time when Beck was considered a one-hit wonder. In 1994, "Loser," the lead single from his album "Mellow Gold" became an anthem for Gen-X slackers everywhere and stayed on the charts for 24 weeks and peaked at number 10.
He's a scientologist
Not really important or relevant to his win, but it's true.
"Morning Phase" is his first album since 2008… Kind of
Beck released a collection of sheet music in 2012 called "Song Reader." The idea was that musicians could record their own versions of the songs, many of which were featured on Beck's Song Reader website. In 2014, a studio version of "Song Reader" was released featuring contributions from Jack White, Fun., and Norah Jones.
This isn't the first time he's got some Grammy love
He's won five Grammys in the past, all of them in the rock and alternative categories. He also has 16 total nominations to his name, include two previous nominations for Album of the Year, for "Odelay" and "Midnite Vultures," but this year is his first big win.
Check out all of Neon Tommy's Grammy coverage here.
Reach Film Editor Reid Nakamura here.