USC Sports
USC Falls To Oregon And The Losing Streak Continues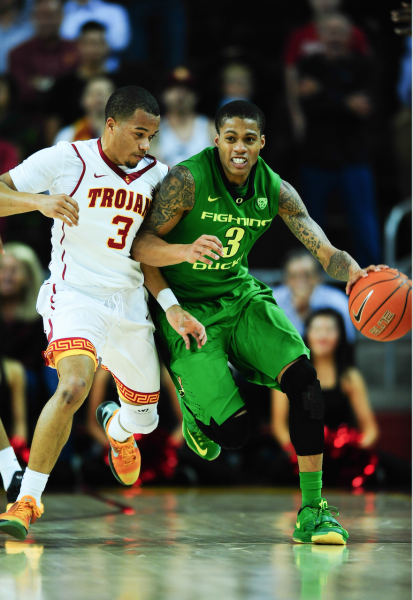 The trend of losing close games that come down to the wire continued, as USC fell to Oregon by a score of 80-75 on Wednesday night.
Coming into this game, the Trojans had dropped six straight by 10 points or less, and though this one had the scent of a blowout early on, USC only lost by five points.
"We've been competing in every game," argued Coach Andy Enfield. "Our guys are getting better and getting more confident. They came back tonight."
Despite tying the game early in the second half, and keeping it close all the way to the end, USC never led at any point in the entire contest. The Ducks, on the other hand, had a lead as big as 14 in the first half thanks to their great shooting from all over the field.
Led by Joseph Young's game-high 26 points, the Ducks had their way shooting the basketball, and though the Trojans' defense left many shots uncontested, this game was a testament to why Oregon is the second-best shooting team in the conference.
USC, on the other hand, started the game by making only four of their first 22 field goal attempts; a less than ideal number that rendered a less than ideal beginning.
"Oregon is an excellent team," said Enfield. "It's hard to beat a good team when you can't make easy shots."
Given the past few close games, the finish felt like another part of a broken record, but the way in which USC got to that point was somewhat different.
Usual contributors like Jordan McLaughlin and Katin Reinhardt had tough outings and failed to reach double-digit point totals. Instead, it was the energy of the third starting guard, Julian Jacobs that got the Trojans engaged and into this game.
"Julian did a great job attacking the rim and using his athleticism," Enfield touted. "[He] took it upon himself to be very aggressive."
"I felt I needed to be aggressive," admitted Jacobs. "When I'm not, I'm at a disadvantage and the team is too."
An abysmal shooting start put USC in an early hole, and their poor shooting coupled with Oregon's streaky scoring looked to be turning into a recipe for blowout disaster.
But the Trojans, and especially Jacobs, never relented. Aided by the upstart forward Dion Clark and his 12 points and seven rebounds, as well as Jacob's team-high 18 points, this squad kept bringing the lead back down to single digits leaving the door open for a comeback.
READ MORE: Two 30-Point Performances Not Enough In USC's Triple Overtime Loss To Colorado
The comeback came, all right, but it was in large part due to some more unlikely contributors in the lineup and off the bench. One of them was guard Kahlil Dukes who, prior to this game, had only taken a total of seven shots all season. Against the Ducks, he took six shots on top of four three-pointers and made three and two of each.
Dukes had only 8 points total, but that was enough for Enfield to keep him in the game in hopes of infusing the team with some momentum and motivation. By the same accord, Enfield stuck to a successful four-guard lineup throughout the second half giving the team far more spacing to operate on offense.
"The tempo of the game changed when we had four guards in there," Jacobs pointed out. "It opened up the middle for us."
But even with the unlikely bench scorers and Jacobs' performance, the Oregon offense could not be stifled. By shooting 58% from the field through a very balanced and effective scoring game plan, no amount of bench contribution from the Trojans would seem to be enough to surpass them.
Which is why it felt so impossible that USC had a chance to make it all even again with 38 seconds left, needing only a three to tie it.
Once again, the final result came down to execution, and once again the Trojans failed to deliver. A missed three-pointer from Dukes, whose minor breakout seemed to be the reason he got the ball in that spot, downed any chance USC had at finally breaking their lengthy losing streak.
"Our better offensive players have had the ball at the end of games," Enfield argued. "They've had shots, but they've just not been able to convert."
Converting, executing and finishing have all been frequently used terms around this squad for a while now, but the results are not showing the improvement.
"Some of it is bad luck, some is our youth," admitted Enfield. "It's a little unlucky, but we've had our chances."
The Trojans have certainly had their chances. At Stanford, against Colorado, at Oregon St, and most recently, at Cal, where they lost on a buzzer-beater.
Though some of the late-game disappointments can be attributed to luck, there certainly is a troubling trend that seemingly follows this team and its last-minute mistakes and misses.
But the luck has got to turn over at some point and the Trojans are not giving up on executing correctly just yet.
"The season is not over," affirmed Clark. "We know we have a lot of talent and we won't give up. We just need to be the best we can be."
Clark emphasized fighting multiple times, and if USC has any hope of turning luck around and ending their losing streak, fighting is exactly what they'll have to do.
Saturday's game against Oregon St. looms large as the Trojans follow that up with a tough two-game road trip to Arizona and Arizona St. In the larger scheme of things, this may be their last shot at a conference win until they face Washington St., the only other conference foe they beat last season besides Cal.
For both Enfield and his team, the fact that this season is eerily becoming a mirror image of the last one does not bode well. His in-conference record is now 3-27 over these two years with wins only against the aforementioned opponents. What's more, last year's ten-game losing streak is suddenly in range of being matched and perhaps surpassed by this year's spiel.
With only a handful of games left in the regular season, both Enfield and this team need to forget about luck and focus instead on execution in order to make that final winning grasp in the final seconds. Otherwise, they might be left gasping at straws looking for a way to justify their disappointing and suboptimal season.
Reach Associate Sports Editor Paolo Uggetti here, or follow him on Twitter at @PaoloUggetti.