Sports
Taking Stock of the NBA Trade Deadline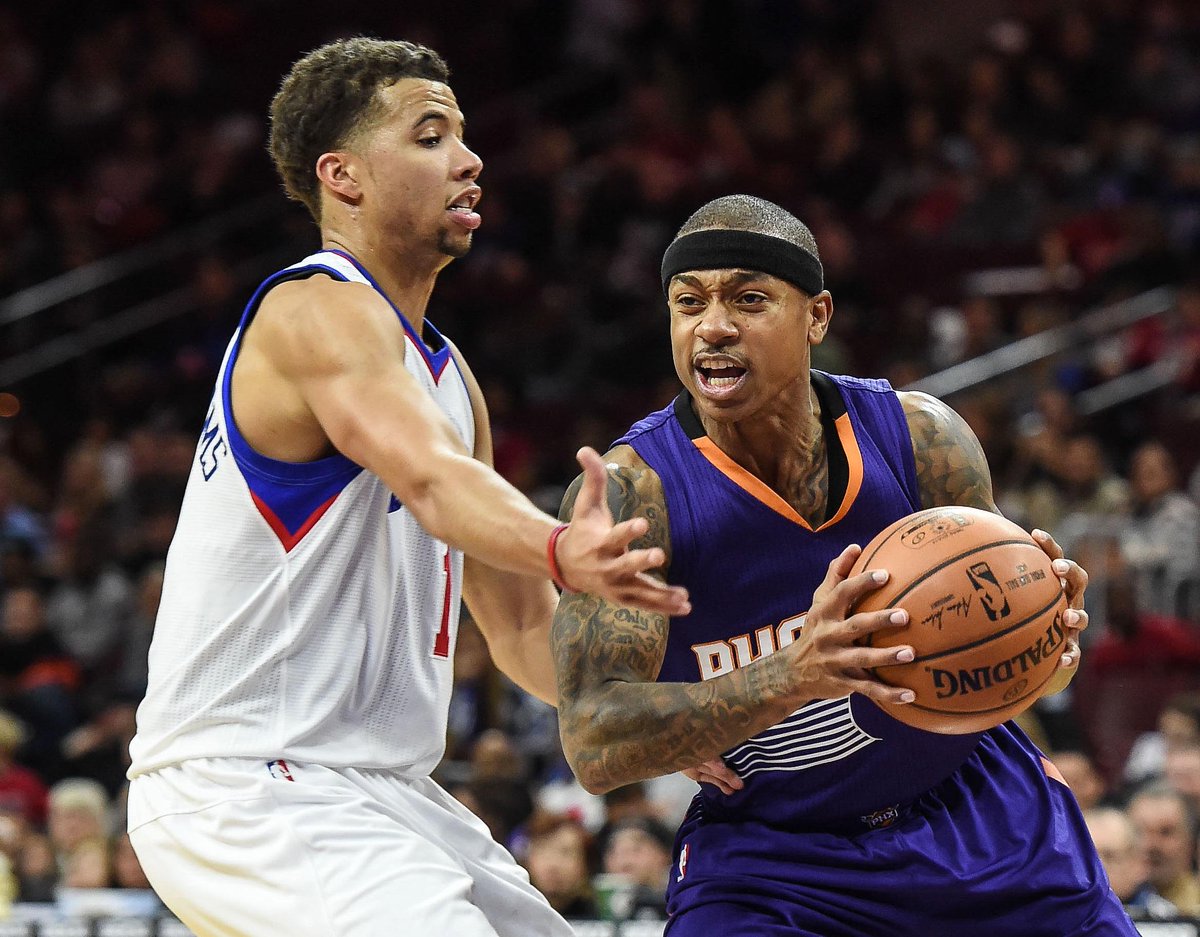 This had to be the craziest NBA trade deadline ever. Isaiah Thomas was traded twice within five minutes! Here is my immediate, way-too-soon, reaction to everything that went down.
BUY
Detroit Pistons -- I'm glad Stan Van Gundy doubled down on the Form A F****** Wall Pistons' race to the eighth seed, even after the Brandon Jennings injury. Reggie Jackson is much better than Jennings, and he's going to go full bore the rest of the way to get max money this offseason, and stick it to Scott Brooks in the process. Expect a healthy dose of Jackson-Drummond pick-n-rolls the rest of the way. And by dealing DJ Augustin & Kyle Singler, Detroit hasn't jeopardized any long-term assets.
Boston Celtics -- Isaiah Thomas isn't an ideal starting point guard, but this was a great move by the Celts. IT2 holds the ball too much, and building a strong defense with such a small defender is difficult. But Marcus Smart mitigates some of those defensive worries, and what Thomas does offer is more than enough to offset it. He can shoot from outside, is a remarkable finisher at the rim, and best of all, on a cheap contract. Paying less than $20 million over the next three seasons for him is a steal, and the only thing of value Danny Ainge gave up was Cleveland's (low) first round pick next year.
OKC Thunder -- Reggie Jackson is a stud, but the relationship had become toxic and he had to be moved. Somehow, though, the Thunder made themselves a better squad, after picking up DJ Augustin, Kyle Singler, Steve Novak, and Enes Kanter. Augustin is a solid backup point guard, and even though he can't defend the rim, Kanter will be a productive sub. And scrubs Singler and Novak aren't completely useless as floor spacers if they ever share the court with Kevin Durant. OKC is primed to squeeze into the playoffs and be a terrifying eighth seed opponent.
Houston Rockets -- KJ McDaniels can block shots and I like him. That's all.
Portland Trailblazers -- Neil Olshey pushed his chips into the middle of the table and is going all in on a championship push. And it's hard to blame him. The Blazers have a great foundation, but they've been wafer-thin all season. Adding Arron Afflalo for a collection of young guys and a first round pick was the right call. His ability to stretch the floor will fit Rip City's offense perfectly, and he can spell both Wes Matthews and the MIA Nicolas Batum.
SELL
Milwaukee Bucks -- They didn't want to cough up the dough for Brandon Knight in the offseason, so they shipped him out and brought in Michael Carter-Williams instead. MCW is on a team-friendly contract for the next two seasons, and their stats would lead you to believe they're comparable players. They're not. Williams can't shoot -- his 26 percent clip on jump shots this season is last in the league. Milwaukee would've been better off just keeping Knight and actually paying him. Oh, and they got the wrong Plumlee brother.
LA Clippers -- Doc Rivers has egg all over his face right now. The Clips badly needed some help in both the frontcourt and someone that could play defense on the wing and shoot. You know, someone like Arron Afflalo. The only problem is, they had virtually no assets to make it happen, thanks to Doc giving away picks like they're Tic Tacs. Meanwhile their old GM, Neil Olshey, gets a player that could've helped them and hurts their chances at advancing in the West at the same time. Now they're left hoping to sign the corpse of Kendrick Perkins? Yikes. And to top it all off, Jamal Crawford was sending emo tweets about being on the trade block. I'm borrowing funds to short the Clippers.
Golden State Warriors -- Rough day for the Dubs, and they didn't do anything wrong. After all, why would you mess with a team that is 42-9, top of the league in defensive efficiency and second best in offensive efficiency? But their likely first round opponent improving must have a few fans in the Bay sweating.
Minnesota Timberwolves -- Hey, you want to trade Thad Young for Kevin Garnett's swan song? Whatever, even though I would rather move Young for something better (if moving him at all). But then you want to go and sign Garnett to a 2-year deal after the season? KG is a human traffic cone at this point in his career. Flip Saunders is on bath salts.
HOLD
Miami Heat -- The Dragic acquisition seems like a coup, until you remember he'll be 29 by the end of the season. If Riles wants to give him a five-year max deal this summer that's fine, but that's a little rich for my taste. However, in the short term it could turn out to be a great move. If Miami can actually have a healthy Dragic-Wade-Deng-Bosh-Whiteside lineup ready for the playoffs, they'll be a tough out. I'm not betting on it, though.
Philadelphia 76ers - I understand they're in asset-collection mode, but at some point don't you keep some guys? Finding a way to get the Lakers' top-five protected draft pick from Phoenix in their deal for Isaiah Thomas was magic. But immediately flipping him for a pick that will most likely be outside the lottery was a little odd. At any rate, I'll sit back and patiently wait to see whom Sam Hinkie eventually drafts.
Washington Wizards - Andre Miller was about as washed up as it gets, but getting Ramon Sessions back in return doesn't move the needle much. He does fit their strategy of not shooting 3s, though, so it makes sense why they'd get him.
Phoenix Suns - Although Dragic was on his last few months as a Sun and Knight is awesome, PHX still gave up a fair amount at the deadline (including their Lakers draft pick). I will absolutely bump this up into the "Buy" column, Chad Ford-style, if the Suns sign Knight to a deal in the offseason though.
LA Lakers -- I wanted to place my Lakers firmly in the Losers category at first, but admittedly there wasn't much for them to get rid of. Ideally they could've received SOMETHING for Ed Davis or Jordan Hill (not even a second round pick?) or even Carlos "And One!" Boozer. No one wanted to give Linsanity another go? But keeping the team together in its current state keeps the Tank rolling along at a comfortable speed, and that's all that matters right now. If the Lakers don't get out of this tire fire of a season with their top-5 protected pick, they're screwed.
Reach Staff Reporter Sean Burch here. Follow him on Twitter here.