Sports
Sports At The 2015 Oscars: Selma And Jackie Robinson
Hey man, where'd all the sports go? I remember those good ol' days in January when there was football every weekend, Tom Brady was talking about how soft he liked his balls and the Cavaliers were getting their last rites read to them by ESPN suits.
But here we are, stuck in the ides of February, annually the worst month for sports. So barren is the sporting landscape in these doldrums that the top story this week has been how A-Rod's penmanship has improved since he was suspended for using PEDs, or Penmanship Enhancement Drugs. Curious turn of events, I know.
Long story short, there's not a whole lot going on the courts and on the fields. (As far as I know, the NHL disbanded a decade ago.) So it's time for us slaves of televised sport to turn to another form of entertainment: movies.
The Academy Awards are being held this Sunday in Hollywood, and the A-listers are coming out in full force to reward the year's best artistic decisions, completed projects and performances. (Fun fact: Every acting nominee this year is white. Thanks, Obama.)
If you're not a cinephile or you just don't care who tailored Jared Leto's bedazzled headdress and the Oscars aren't your cup of tea, fear not. There will be sports everywhere on the red carpet! After all, awards season is one of the most competitive battles in the entertainment industry - hell, Harvey Weinstein puts up a bigger fight in print ad buying than the Colts do in conference championship games.
So without further ado, and there's been a lot of "ado" so far, here's the sports fan's guide of analogies for the 2015 Oscars: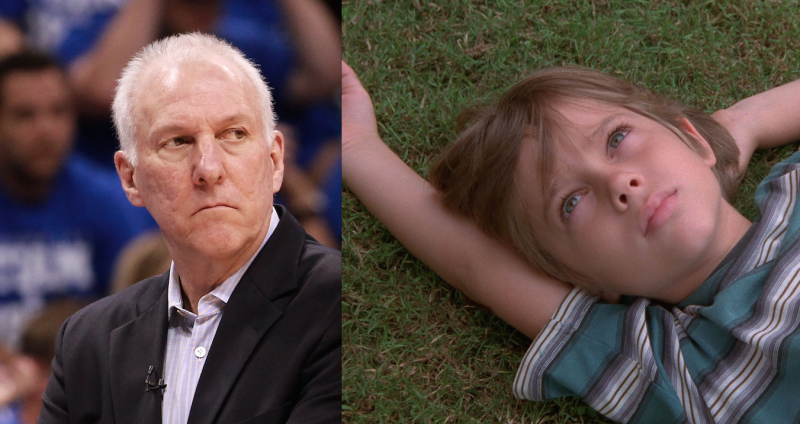 BEST PICTURE:
Boyhood is… the San Antonio Spurs.
The film glances over all the banalities and mediocre moments of life that, if not organized into a curated narrative, would be indistinguishable from any others. But at the end of day, or 12 years of days, we understand the significance and beauty of the small things. For the Spurs, it may take more than 12 years, and four championships, to give them the respect they deserve. But I think we sports, and film, fans are finally coming around to respecting the little man. (Also, Boyhood director Richard Linklater partially filmed the film in south Texas, but that's just cheap icing.)
Birdman is… soccer.
No cuts. Fluid motions. Aggressive overacting. Flopping, on the stage and on the pitch. Directed by a Spanish-speaking guy with great hair and a tilda in his last name. It's hard for the average American sports fan or filmgoer to appreciate either of these crafts because of their abstract goals and tireless procedure, but both are wildly enjoyed by the well-versed critics and explain basic human nature and ability.
American Sniper is… steroids in Major League Baseball.
Lots of controversy here. We love home runs that save us from nine-inning snoozers and we love American military heroes who save us from "the enemy". But are we willing to sacrifice ethics and the antihero truth behind the myth to see our fantasies realized? Clint Eastwood's ode to Chris Kyle has taken heat from both sides of the aisle for multiple reasons: glossing over Kyle's potentially deranged jingoism, neglecting to give the Iraqi antagonists a sympathetic face, replacing real babies with fake plastic babies and expecting the audience not to notice.
Still, the film broke the record for domestic opening weekend gross in January, and actually drew comparisons to modern-day superhero flicks with its popularity. It's generally seen as a great success. Hall of Fame voters aside, the American public is similarly coming around to forgiving or glossing over the wrongs of steroid use, as long as the player involved apologized, broke a vaunted record or isn't Alex Rodriguez.
Whiplash is… Indiana basketball under Bob Knight.
This terrifying film doesn't shock viewers with any gore - though there's plenty of blood - and it doesn't amaze with spectacle - though Whiplash's sound is intoxicatingly smooth. The tension comes from the film and its characters thriving off of intensity, stress and emotional violence. Under Bob Knight, Indiana became one of the most successful basketball teams in the mid-70s, which included the Hoosiers' perfect season in 1976. But Knight, trained at West Point, was an aggressive general and had a knack for yelling at and hitting players. Conflict breeds greatness, and facilitates chair tossing.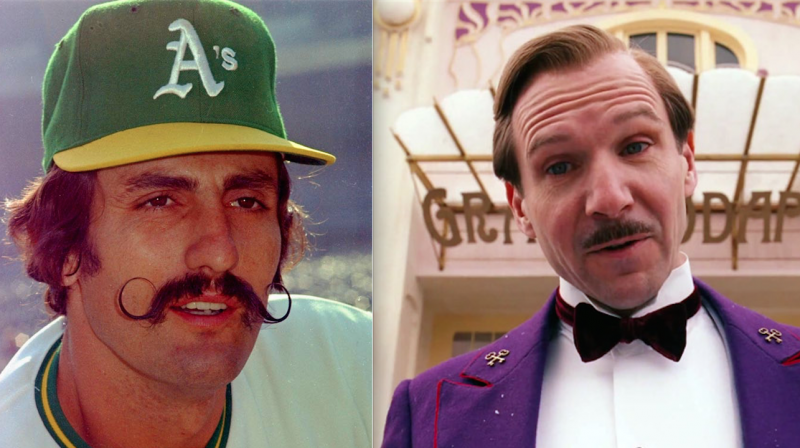 The Grand Budapest Hotel is… baseball in the 1970s.
Four words: Mustaches and quirky outfits.
The Imitation Game is… the New England Patriots.
This spy thriller...WAIT, DID SOMEONE SAY SPY? (Looking at you, Bill Belichick.) All jokes aside, the storyline about Alan Turing being imprisoned for being a homosexual after he single-handedly taking down an uncrackable German code was emotionally deflating…
I'll see myself out.
The Theory of Everything is… the ALS Ice Bucket Challenge.
The parallel is easy to decipher here, at least on the surface. The great scientist Stephen Hawking, played deftly by Eddie Redmayne in this movie, suffers from ALS and relies on a wheelchair and speech-generating device to communicate his findings to the world. Over the summer, everybody and their stepmother were taking time to throw frigid water over their heads because it raised awareness for ALS, somehow; the campaign gained steam and developed into an insufferable Facebook meme.
However, the movie and the campaign are equally shallow and simple. Call me a cynic, but while the "performances" in both cases are stirring, the backbones of the projects are weak. TOE grasps at too many straws without drawing a concrete conclusion on love and science. The irritating Ice Bucket Challenge, though raising "awareness", also developed into a example of Internet faux-lanthropy, along the lines of Hashtag Activism, that garnered way more attention than the actual cause.
Selma is… Jackie Robinson.
Believe it or not, Selma is the token black project/person nominated in the top six categories. Might as well compare it to one of the iconic sports moments when there was just one black representative in a world of angry white men…back in 1947. Some things never change, and then some people say things are gonna change to not seem racist, and then some things continue to never change.
BEST ACTOR:
Michael Keaton (Birdman) is… Pete Carroll.
The most meta-moment of this year's films is Keaton's turn as a superhero actor-turned-thespian tryhard. Of course, Keaton also played Batman in the early 90s and is now nominated for an Oscar; the symmetry is beautiful. Carroll's journey towards reinvention is similar, though not very meta. Once a mediocre head coach of the Patriots and Jets, he took a brief reprieve from the NFL at a small football school in Los Angeles, only to be reborn as a legendary professional head coach with the Seahawks. Still, Keaton's character's decision to shoot himself in the face on stage is still a better climactic last-minute move than to NOT GIVE TO BALL TO BEAST MODE ON THE ONE-YARD LINE.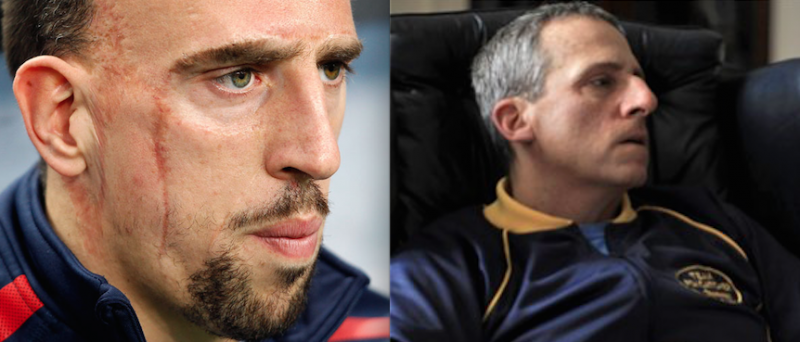 Steve Carell (Foxcatcher) is… Franck Ribery.
Nose goes.
BEST ACTRESS:
Julianne Moore (Still Alice) is… Jim Kelly.
Moore is one of the greatly under-appreciated actress of our generation, and of that before us, and most likely of that after us. How's this for a resume? The Big Lebowski. The Hours. A Single Man. The Kids Are All Right. Game Change. And how could I forget the great indie flick, The Hunger Games: Mockingjay - Part 1?
She's been nominated four times for an Academy Award and has won zero. Jim Kelly, the great Bills QB and legendary second fiddle to Dolphins legend Dan Marino, took Buffalo to four straight Super Bowls and won zero. These fated titans of their industries haven't received their rightful recognition because they haven't won. Hopefully, that'll change for one of them this Sunday.
Rosamund Pike (Gone Girl) is… Kurt Busch's trained assassin ex-girlfriend.
If the shallow Tinder-ed millennial dating culture didn't do it already, Pike's performance as a psychotic and vengeful wife completely turned me off from ever pursuing a romantic relationship. But they don't come crazier than Patricia Driscoll, the NASCAR hothead's serially violent ex-bae. Busch testified that she once met him in a blood-spattered evening gown and a trench coat; in other words, she's every man's nightmare. The moral of the story: marriage isn't the answer, unless your prefer your answers splattered in human plasma.
Reese Witherspoon (Wild) is… Daniel Norris.
In Wild, Witherspoon plays Cheryl Strayed, who chooses to live like a vagabond and hike the Pacific Crest Trail to find herself. Like Strayed, Norris, a Blue Jays prospect, chooses to live an alternative lifestyle. In the offseason, Norris lives in a van down by the river, specifically a 1978 Volkswagen Westfalia microbus, in an effort to find peace and God. Of course, Witherspoon, Strayed and Norris have all reaped millions of dollars for their dirtiness, but it's the anti-materialist thought that counts.
BEST SUPPORTING ACTOR:
J.K. Simmons (Whiplash) is… Will Muschamp.
How you like them veins? These dictatorial hotheads tried to get the most of the impressive talent they recruited to their colleges, but ended up getting fired because they couldn't properly corral their talent. Also, it looks funny when they yell.
Robert Duvall (The Judge) is… golf.
You had a nice run, guys. From being the Don's consigliere to being the top leisure sport for powerful white alcoholics. From "I love the smell of Napalm in the morning" to "A tradition unlike any other." These powerhouses in their respective fields had their time in the sun, but are now shells of their former selves. Duvall literally shits himself in this latest film and only got nominated because of his aura and past work, while golf execs are shitting themselves trying to find the next Tiger Woods, salvaging the game's ratings and redeveloping youth interest in the archaic activity.
BEST SUPPORTING ACTRESS:
Meryl Streep (Into the Woods) is… Serena Williams.
Easily the greatest in their lines of work, and possibly the G.O.A.T., Meryl and Serena are known on a first name basis and are queens of their court. Whether they win their respective competitions is solely on their terms. It's Meryl and Serena's world and we're just twirling in it.
BEST DIRECTOR: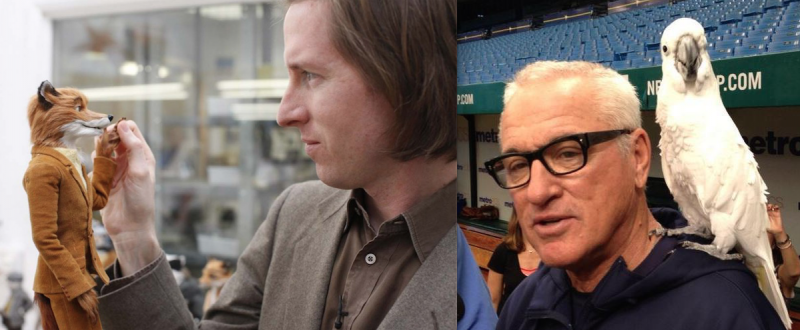 Wes Anderson (The Grand Budapest Hotel) is… Joe Maddon.
Call them quirky masters, call them crazy geniuses: these two are downright provocative. Anderson's symmetrical niche comedies are enjoyed by the larger populace, but never respected by the Academy. Maddox's lax style of coaching - allowing animals in the locker room is just one example - translated into nine years of making something out of nothing in Tampa Bay. Despite his best efforts, he still couldn't get his cash-strapped Rays over the hump and win them a World Series.
This year, the tide may be turning for both Anderson and Maddon. The former is receiving his highest marks for his work in Budapest and finally nabbed a Best Director nomination; and the latter earned what he called his "dream job" in Chicago and will have near unlimited money at his disposal to buy a championship.
Morten Tyldum (The Imitation Game) is… Mike Budenholzer.
Who? Unless you're an expert in Norwegian film or NBA assistant coaches, you hadn't heard of either of these guys until this season. Tyldum's suspenseful direction of The Imitation Game has won him recognition and Budenholzer has turned the floundering Hawks franchise into a team with real championship potential. Still, put these two in a lineup and you probably couldn't tell who's who.
————
My Oscar Predictions
Best Picture
Should Win: Birdman
Will Win: Boyhood
Dissed and Dismissed: Nightcrawler
Best Actor
Should Win: Eddie Redmayne (The Theory of Everything)
Will Win: Redmayne
Dissed and Dismissed: Jake Gyllenhaal (Nightcrawler)
Best Actress
Should Win: Julianne Moore (Still Alice)
Will Win: Moore
Dissed and Dismissed: Jennifer Aniston (Cake)
Best Supporting Actor
Should Win: J.K. Simmons (Whiplash)
Will Win: Simmons
Dissed and Dismissed: Andy Serkis (Dawn of the Planet of the Apes)
Best Supporting Actress
Should Win: Meryl Streep (Into the Woods)
Will Win: Patricia Arquette (Boyhood)
Dissed and Dismissed: Jessica Chastain (A Most Violent Year)
Best Director
Should Win: Alejandro G. Inarritu (Birdman)
Will Win: Richard Linklater (Boyhood)
Dissed and Dismissed: Ava DuVernay (Selma)
Reach Sports Director Jeremy Bergman here. Follow him on Twitter @JABergman.