Food
Newly Opened Rewts Tea Bar Brings CreaTEAvity to University Park
Rewts, a newly opened tea bar and coffee house in the North University Park area, has an unassuming storefront, but inside, you will find a tea revolution.
Located a short walk from campus, Rewts Tea Bar offers a diverse range of organic, high quality tea drinks, from an energizing matcha tea to a rich tiramisu tea. Rewts makes its boba fresh daily, using organic ingredients and no added preservatives. Those familiar with boba, the tapioca pearls mixed into traditional Taiwanese milk tea, will notice that Rewts's boba has a noticeably lighter brown color.
According to the store's manager, Tony, Rewts is not a standard boba place– it is a tea bar. What exactly is a tea bar? I sat down with Tony for some tea talk, and he elaborated on his vision for Rewts.
Tony describes a tea bar as a middle ground of sorts between a formal cafe and a bar– an upscale open space to either keep to yourself or to engage socially with others around you.
"I see a lot of potential in this corner of the University Park campus," Tony said. "The concept was to be open-minded in our business model and the space that we set up. It was designed to be less restrictive."
The geometric triangle desks along the wall are ideal for studying, while larger tables allow for groups to socialize over tea drinks.
The counter is consistent with how Tony envisioned the ambience of Rewts: "To bring something new to the neighborhood, something more upscale hopefully and something better in quality as far as a place where people can go hang out and grab a drink."
When it comes to the drinks, Rewts takes pride in its products. "We are a tea bar that happens to sell boba, as opposed to just another boba place," Tony said. "We actually put more effort into making our drinks than our boba." However, Tony pointed out that the all-natural tapioca pearls Rewts uses are more labor intensive to make than traditional boba.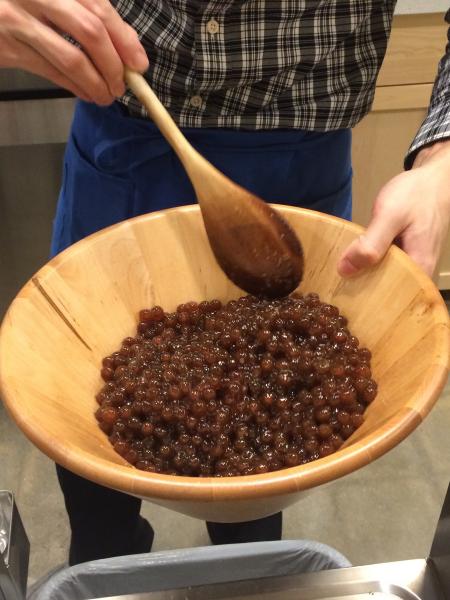 The drink menu is divided into four categories: sweet tea, "lattèa" (milk teas), tea sangria and ice blended drinks. Each lattèa possesses a unique flavor profile: the London Fog (a robust Earl Grey), the Matcha (a strong, caffeinated green tea), the House Blend (a classic, subtly sweet black milk tea), the Taro milk tea (rich, sweet and authentic in flavor) and the Tiramusu (a combination of nutty coffee and herbal tea). Customers can also adjust the level of sweetness to fit their tastes, creating a customizable experience.
What sets Rewts apart from other tea houses is its tea-making process and progressive vision. The store aims to recreate, reinvent and ultimately revamp the stale paradigm of tea. Instead of relying on high-calorie, artificial syrups, Rewts uses natural sweeteners, soy and almond milks and real fruit juices.
With the store's dedication to customer service and its motto of "creaTEAvity," Rewts aims to reinvent tea time.
"I'm trying to change how people consume tea," Tony said. "Without sounding too much like a dreamer, I'm trying to do what Starbucks did with coffee."
And indeed, Rewts is reminiscent of the popular coffeehouse, catering to many different spheres of clientele all at once in its simple yet modern interior. Whether you're in need of an inspiring study spot or a place to catch up with friends, or tea time to-go, Rewts is the place for you.
Contact Staff Reporter Giselle Dizon here. Follow her on Instagram here.