Arts+Culture
Recording L.A.'s Art History At East Of Borneo's Wikipedia Edit-A-Thons
While some publications make history, others prefer to record it.
East of Borneo (EoB), an online magazine focusing on modern art and its context in Los Angeles, set out in 2010 to document contemporary art in Los Angeles on a platform more accessible than pamphlets or paperbacks – the Internet.
Beginning in July 2013, East of Borneo launched its "Unforgetting L.A." event series, a string of Wikipedia "Edit-a-Thons" to further enlarge the Internet's archives of Los Angeles art.
This Saturday marked East of Borneo's eighth Edit-a-Thon. Dozens of art enthusiasts gathered at the Getty Research Institute to edit architecture and design pages on Wikipedia.
The event is part of EoB's more largely focused initiative to encourage volunteers to share their work publicly, therefore expanding the Internet's archives of Los Angeles art.
READ MORE: One Arts District To Rule Them All
Although the magazine publishes much of its own original content, like interviews with artists and original essays, its true claim to fame is its archive of videos, images and historical texts, which encourage the reader to explore new trains of thought based on a previously known- or unknown- piece of work.
"When we started this magazine, we were interested in doing something that could be collaborative and incorporate a number of voices," said Stacey Allan, co-founder and editor of East of Borneo. "Especially if you're writing about art history, particularly on the West Coast where a lot of it is still word-of-mouth and personal histories, the idea was that we might get a more complete picture of the art that's been created here if we allowed a way to have more people participate in the writing of it."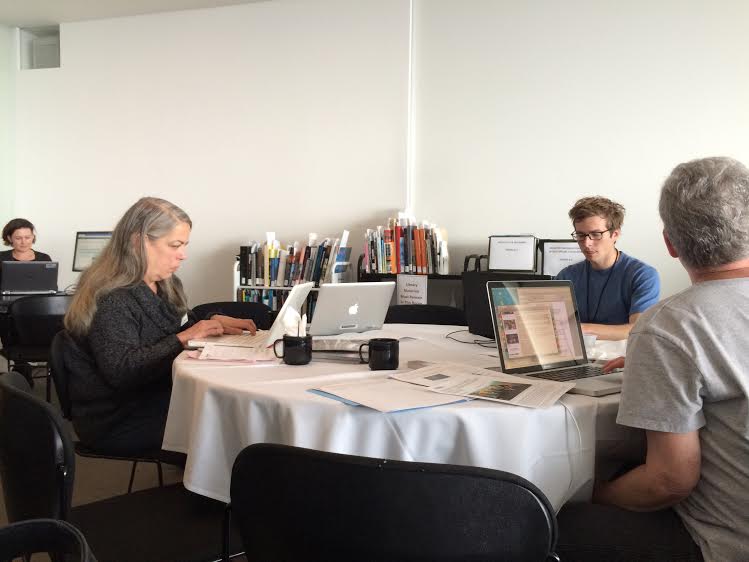 Five years and one
Kickstarter
later, the site boasts a collaborate archive of over 670 items, filled with everything from a profile on artist
Wu Tsang
to a photograph from the late Allan Sekula's
Dear Bill Gates
series from 1999.
READ MORE: L.A. Zine Fest Embraces Community And DIY Spirit
In order to expand EoB's art history knowledge to a broader audience, Allan became interested in editing and creating Wikipedia pages as well.
"Within the magazine, it's only going to be the people who are interested in contemporary art history [who are reading]," said Allan. "I like the idea that with Wikipedia, we can take our more specialized knowledge of that field and add it to a repository that is the world's encyclopedia that was meant to be the sum of all human knowledge… we could do more to make sure art was part of that."
With the advent of the Internet, history has become documented increasingly more so by volunteers, many of whom do not specialize in any one area, but have a passion for filling the gaps of the Internet's extensive database.
"Even when you come down to YouTube or other things like Instagram, more than ever I think it's become this sharing economy," said Allan. "Everyone is producing things and sharing them with people. It's definitely part of a larger trend."
Historians believe that humans have been recording history since the invention of writing, which began around 3500 B.C.E. in both Egypt and Mesopotamia. Early records detail pharaohs and their reigns, primarily through pictographs.
5500 years later, English Wikipedia, one of over 250 languages Wikipedia publishes in, has over 24 million registered users to date. 1,364 of those users are assigned to patrol the site, assuring the information going up is validated and grammatically correct. With every edit-a-thon EoB hosts, this number grows.
"In the past, there have been barriers to participation," said Allan. "I like the idea that more people can participate in the writing of the history of their own artistic community."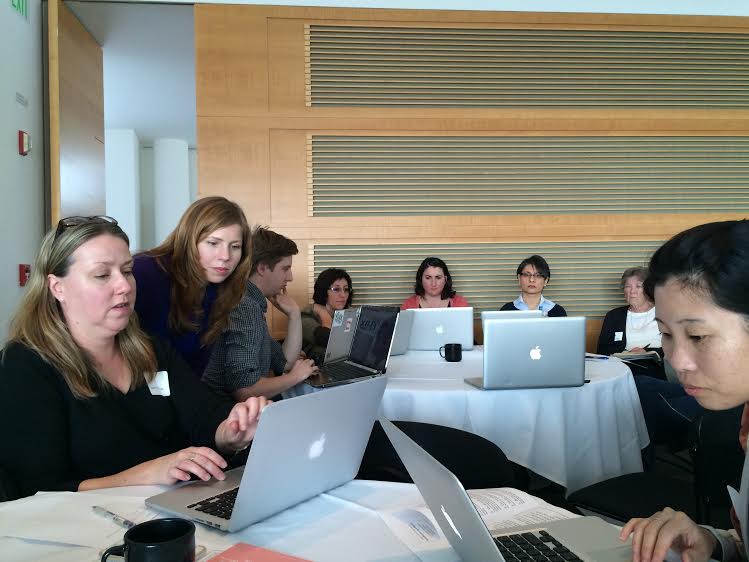 After sitting in on two previous edit-a-thons, Associate Reference Librarian Sarah Sherman concocted the idea to host the event at the Research Institute, which holds one of the most comprehensive art history libraries in the world.
According to Sherman, such meet-ups are becoming more commonplace at research institutes, where books and artifacts to update archives are plentiful.
"These events are becoming more of a trend in libraries, museums and archives since we have resources," said Sherman.
On Wikipedia, users may click on the source of any facts in an article. Such a feature is useful for curious readers to continue reading up beyond the basics that Wikipedia provides.
Sherman hopes that inquisitive users will use these newly updated Wikipedia pages as a jumping point for further research on the art and architecture of L.A., perhaps even going so far as to visit her library at the Getty Center.
"This is just a starting point for deeper research," Sherman said. Since Wikipedia pages always show up at the top of Google searches, she said, it is useful for the articles to be well kept and link to more useful sources. "This event allows people to know about our organizations. They can come back and use our library."
Contact Staff Reporter Morgan Greenwald here.