Food
Plant-Based Basics: Four Easy Recipes For The Novice Vegan Chef
Changing your eating habits requires more than just desire and commitment. It's also important that you know a thing or two about cooking in order to have any real understanding and control over your nutrition. Many people, especially those who are just developing a baseline level of culinary skill, are reluctant to try a plant-based diet simply because "it's too hard." What do vegans and vegetarians eat? How on earth do you cook a vegan meal?
Vegans and vegetarians eat a lot of the same foods that the typical omnivore eats (i.e. pancakes and ice cream). And you certainly won't have to bumble around and frustrate yourself trying to cook a simple plant-based meal. Whether you're thinking of going vegan or vegetarian, or you're just looking to learn easy, delicious and healthy recipes, you're in luck.
I've done most of the legwork for you here and created four staple recipes for the vegan chef. These were developed through trial and error in my own tiny apartment kitchen, and if I can make them, so can you. Happy eating!
Healthy Whole Wheat Pancakes
I firmly believe that pancakes are an essential part of a balanced diet. They are and have always been a comfort food, symbolic of the laziness of Sunday mornings. I've tried several recipes for vegan pancakes and created a few pancake recipes of my own. After extensive research and development, I present you with a very simple, versatile and healthy approach to the humble pancake. These bad boys are vegan, oil-free, and sweetened with pure maple syrup instead of refined sugar. Also, did I mention that they're fantastic?
The key ingredient packing a punch in this pancake stack is whole wheat flour. According to Vegan Health Guide, whole wheat flour has a higher fiber content than traditional all-purpose (white) flour. It also contains the nutritional benefits of a wide range of vitamins and minerals that are removed in the processing of most flours.
Wheat consumption (for those who do not have a gluten allergy) may reduce the risk of metabolic syndrome, promote a healthy gastrointestinal tract, lower the risk of type 2 diabetes, help prevent gallstones and help prevent cancer and heart disease. Remember to look for whole wheat flour (not just wheat flour) next time you're at the store for a complete grain.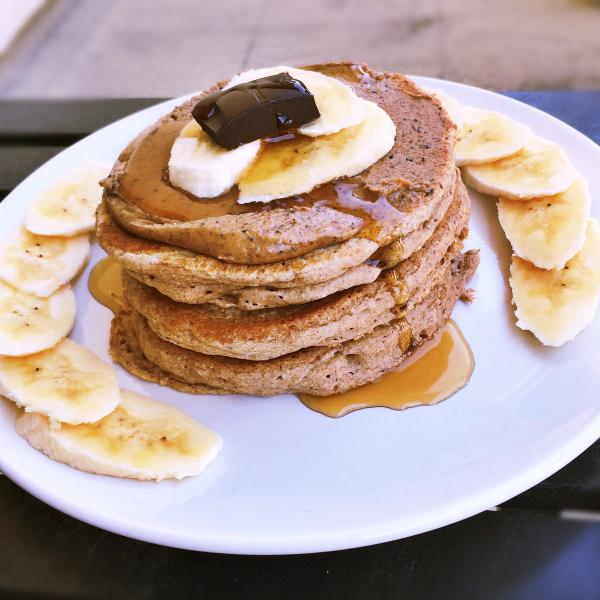 Healthy Whole Wheat Pancakes

Ingredients:
1/2 cup whole wheat flour
1/2 tbsp baking powder
1/2 tsp cinnamon
Dash of nutmeg
Pinch of salt
3/4 cup unsweetened non-dairy milk of choice
1 tbsp pure maple syrup

Serves 1

1. In a medium bowl, whisk together dry ingredients, then mix in wet ingredients until just combined. Let batter sit for 10 minutes.
2. Meanwhile, heat a nonstick skillet over medium heat and spray with cooking spray. Pour 1/4 cup spoonfuls of batter into the skillet and cook pancakes until the bottoms are golden brown and bubbles form on top, about 3 minutes on each side. Garnish with toppings of choice and serve. (In this picture, I used vanilla-espresso almond butter, maple syrup, sliced banana and dark chocolate).
Classic Tofu Scramble
Tofu gets a lot of grief as a meat substitute for containing femented soybeans (for a more in-depth look at the tofu debate, click here) and for just being a little...funky-looking. However, the general consensus on tofu is positive, and its health benefits speak for themselves: according to Jo Lewin, a nutritional therapist for the BBC, tofu is a complete source of protein, meaning that it contains all eight essential amino acids.
If you're thinking about eliminating meat from your diet or just looking to expand your culinary skillset, you should probably learn how to cook tofu. An 100-gram serving contains 8.2 grams of protein. Tofu is also rich in iron and calcium and contains a wealth of vitamins and minerals.
This simple recipe for tofu scramble is a perfect introduction to cooking with tofu, because it is super easy, can be made with whatever vegetables you have in the kitchen and is a perfect substitute for scrambled eggs. In fact, I'd even dare to say it's better than scrambled eggs— it keeps in the fridge like a charm and reheats well in the microwave, meaning that you can make a big batch at the beginning of the week and have breakfast ready for those days when you're struggling to get out of bed.
This dish also shines as an easy lunch or dinner! In the photo below, I made it for lunch with brussels sprouts and toast.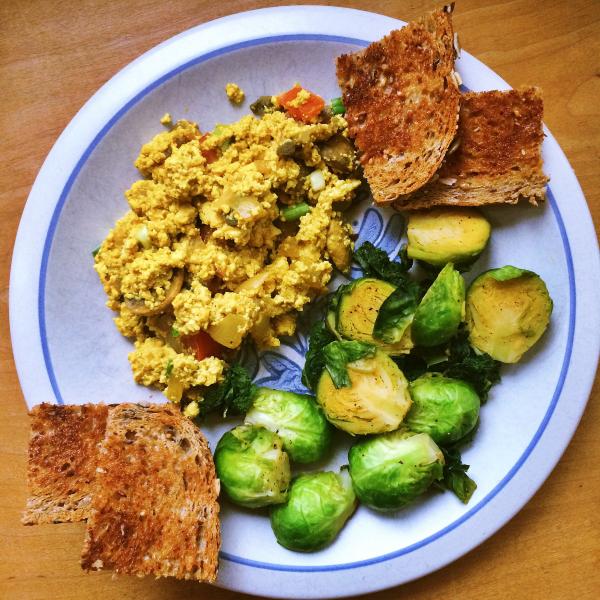 Classic Tofu Scramble

Ingredients:
2 tbsp vegetable stock (plus more to sauté)
1/2 large yellow onion, diced
4-6 cremini or button mushrooms, sliced
2 cloves garlic, minced
1 tsp curry powder
1 1/2 tsp miso paste
Salt, black pepper, turmeric, paprika, and cayenne to taste
1 14-ounce package of firm or extra-firm tofu
8 cherry tomatoes, chopped

Serves 4.
1. Drain the liquid from the tofu and squeeze it with a kitchen towel until completely dry.
2. In a large non-stick pan, sauté onions, mushrooms and garlic in 2 tbsp vegetable stock over medium-high heat until the onion has become translucent. Reduce heat and add a splash more vegetable stock if necessary. Add curry powder, miso paste and additional spices and stir for approximately 3-5 minutes.
3. Remove your tofu from the towel, pat it dry again with paper towel and crumble it with your hands into the pan. It's squishy, and it's also kind of fun. Add the tomatoes and stir gently to incorporate into the scramble. If desired, add baby greens or spinach to the pan at this time. Serve immediately.
Kale Chips
We've all heard the hype– kale chips are the trendiest snack food right now. But they're popular for a good reason, and that reason is that kale is incredibly nutritious!
Kale is a powerhouse among vegetables, ranking at the top of the U.S. Department of Agriculture National Nutrient Database analysis of nutrient-dense vegetables. In addition to the vitamins highlighted in that ranking, a nutrient breakdown by Authority Nutrition shows that kale is rich in Vitamin A and Manganese and contains many other trace vitamins and minerals, plus it is high in fiber.
Unfortunately kale is also very texturally tough and not all that flavorful...which is where my kale chip recipe comes in!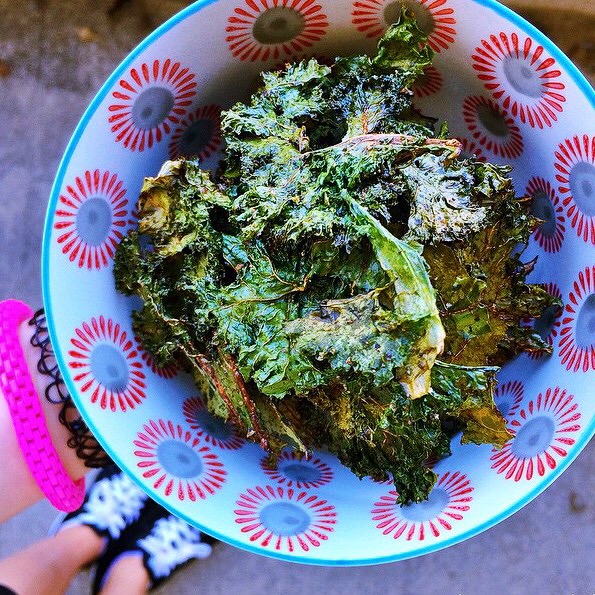 Kale Chips

Ingredients:
1 bunch curly kale
1 tbsp olive oil
1 tsp garlic powder
1/2 tsp onion powder
1/2 tsp sea salt
1/2 tsp black pepper
Serves 2.
1. Pre-heat oven to 350 degrees Fahrenheit. Wash and dry (yes, dry) your kale leaves with a kitchen towel. Trust me. If you don't dry them thoroughly, they won't crisp up in the oven. Remove the woody stalk from each leaf with your hands or with scissors, then tear the leaves into bite-sized pieces. It's ok to err on the larger size, they'll shrink a little in the oven.
2. In a small bowl, whisk together olive oil and seasonings. Feel free to mix it up with different spices or add more/less of the spices based on personal taste.
3. Spread kale leaves evenly on a large baking sheet and pour olive oil mixture over. Using your hands, massage the mixture into the kale and add more oil if necessary to evenly coat all of the kale. Arrange your kale pieces into a single layer on the tray.
4. Bake for 12 minutes, then rotate the baking tray in the oven and bake for an additional 12 minutes. Keep an eye on the kale chips as they cook— when they start to brown up a little on the edges, they are ready.
4. "Nice Cream"
This is by far the easiest recipe on my list, and that may have to do with the fact that it's a dessert item. I'm impatient, and when I want ice cream, I want ice cream immediately. "Nice cream" is a term for dairy-free ice cream made from one ingredient: frozen bananas. I promise, it's nowhere as lame as it sounds! Bananas are very sweet and incredibly creamy when frozen, plus you can add literally anything to your nice cream base to customize the flavor! In the photo below, I added cacao powder to one half and peanut butter to the other half for a decadent peanut butter cup sundae!
There are a lot of advantages to choosing nice cream over ice cream. Bananas are naturally low in calories and fat free. In addition, Medical News Today states that banana consumption can help maintain a healthy blood pressure, prevent the development of asthma among children, protect against cancer and diabetes, support a healthy heart, maintain bone density, preserve memory, and boost mood. I'll take a heaping bowl full of that!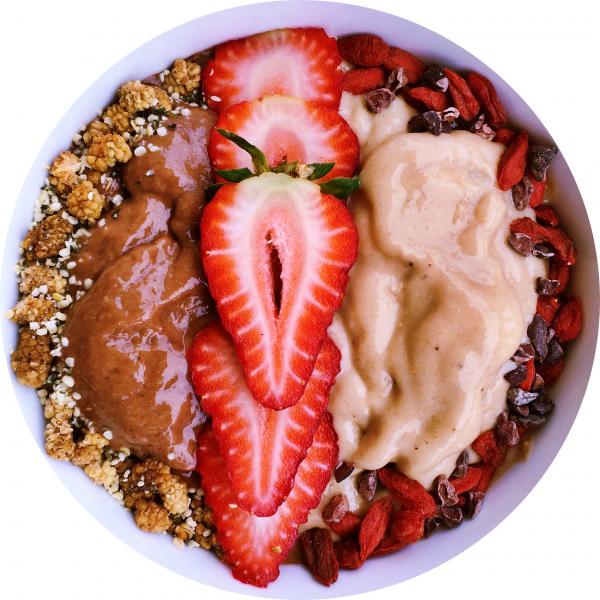 Vegan Ice Cream

Ingredients:
3 ripe bananas (the spottier the better!)
Splash of water or dairy-free milk
NOTE: This recipe requires a high-powered blender such as a Vitamix or Blendtec, or a food processor
Serves 1.
1. Peel bananas, break them up into small pieces and freeze overnight in a plastic bag. Pulverize frozen bananas in a blender or food processor, adding a little water or dairy-free milk as necessary and regularly scraping down the sides of the blender with a spoon or rubber spatula. Add additional fruits and flavorings such as vanilla or almond extract, top with more goodies and serve.
Contact Staff Contributor Kristen Siefert here. Follow her on Instagram here.