Opinion
Olympic Games Won't Bring 'Ordem E Progresso' To Brazil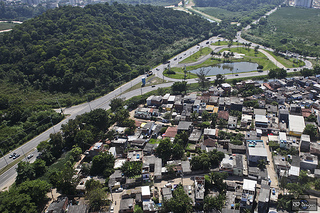 In the past decade, Brazil has made major progress in uplifting an estimated
40 million people
from extreme poverty and helping them assimilate into urban society.
However, around 1.8 million of Brazil's 200 million people continue to be homeless and an estimated one million live in slums or as the locals call them, "favelas." Many citizens, particularly those who identify as non-white, continue to suffer from a lack of adequate health care system, lack of education and generalized income inequality. As major issues continue to persist, Brazilian activists want to see drastic changes in the handling of government funds so that the gap is bridged between the rich and the poor.
After hosting the World Cup in 2014, Brazil is preparing for the Summer 2016 Olympic Games. In order to make space for a series of Olympic projects, many families have been evicted from their homes. While columnists and sports fanatics spend time making a case for which country will take home the most medals, the citizens of Brazil have a number of issues on their minds that have nothing to do with a single game. Rather than hosting mega events such as the Olympic Games and spending billions, many Brazilians strongly request that the government help the country by building schools and hospitals that will improve current socioeconomic conditions.
READ MORE: Keeping Score: Social Cleansing For The Cup
Recently, Brazilians living in the Vila Autodromo favela in Rio de Janeiro have been forced out from their homes to make room for the new Olympic Park. However, about 50 families refuse to leave their homes, despite the inability to meet their daily water and electricity needs. The majority of these homeowners are holding out because they are convinced that the government will use their properties to build luxury homes and apartments after the Olympic Games have passed.
Consequently, instead of leaving and giving the national government the land they so desperately want, some Vila Autodromo citizens are asking authorities for more money to relocate. For instance, some residents who received support from Brazilian lawyers and activists were reportedly able to receive about 1.1 million dollars.
Other citizens who are very much aware of the fact that the government has used taxpayer funds to build the World Cup and Olympic stadiums, are refusing to go down without a fight, as is evident from their rallying cry "Para Quem?" which translates into "For Whom?" A small but articulate group of activists say that hosting international events such as the Olympic Games in a country that faces extreme poverty and social inequality, only benefits the rich.
In 2014, the tourism ministry in Brazil estimated that the summer World Cup created one million new jobs and brought $13.2 billion to the country. However, when the Labor Ministry reported the country's job creation numbers, it became evident that Brazil had experienced one of the worst job creation periods since the summer of 1998. Many officials, such as Labor Minister Manoel Dias, believe that the events associated with the World Cup are partly to blame because they caused a consumption decrease that ultimately led to people working less days and companies hiring less workers. Seeing as an estimated 11.63 billion dollars which equates to about 61 percent of the educational budget was spent in all the many World Cup preparations (transportation and arenas) and a noticeable GDP boost was not seen, Brazilians argue that the continuation of building for the Olympic Games will only result in an even greater loss of funds.
Similarly, during 2010 when South Africa hosted the World Cup, FIFA and many government associations promised that the country's GDP would increase by 3 percent. Yet, once the World Cup passed, the South African Finance Ministry informed citizens that there had only been an overall 0.4 percent GDP increase. Essentially, the arenas that were used for the soccer games were too grand for citizens to use for their own events and therefore became a waste of space and money.
Throughout Rio de Janeiro, four out of 12 arenas are also expected to become "white elephants," venues that are too big for local use. In a country where the majority of citizens earn around $313 a month and are facing an annual inflation rate of 6.5 percent, activists argue that taxpayer funds and financial resources should be used to fix these problems. Furthermore, many locals living in favelas or slums do not have access to health care or schools to send their children. Considering that Brazil is undergoing a socioeconomic crisis, citizens are refusing to be ignored by a government that could be using taxpayer money to help people facing extreme poverty conditions.
In spite of it all, the national Brazilian government refuses to recognize how the taxpayer funds used to finance both the World Cup and Olympic Games could have been used in a more benevolent manner. Violent protests and acts by impoverished locals will surely continue past the Olympic Games because it is simply incomprehensible how wealth is being distributed. Looks like Brazil's motto "Ordem e Progresso" will not be achieved any time soon.
READ MORE: Keeping Score: Rioting For More Than Football
In order to begin to resolve the major socioeconomic issues happening in Brazil, politicians need to be held responsible for their repressive actions and communicate with all the people that they are influencing, rich and poor. Moreover, instead of looking to stabilize the economy by hosting mega sporting events, the Brazilian government needs to find ways to better distribute the wealth by providing people with jobs that will last and not those that will end once the party is over. When deciding where international events such as the World Cup and the Olympic Games will be held, their agencies should take into account the opinion of the majority of the citizens in the country, because they are the ones that will be directly affected by their decisions.
Well, at least people will be able to see Usain Bolt put on a 10 second show during the 100 meter dash in Rio. Maybe by then Brazilians will see how a series of games helps their country.
Maybe, maybe not.
Reach Contributor Marina Peña here.