Los Angeles
MyFigueroa Project Delayed Yet Again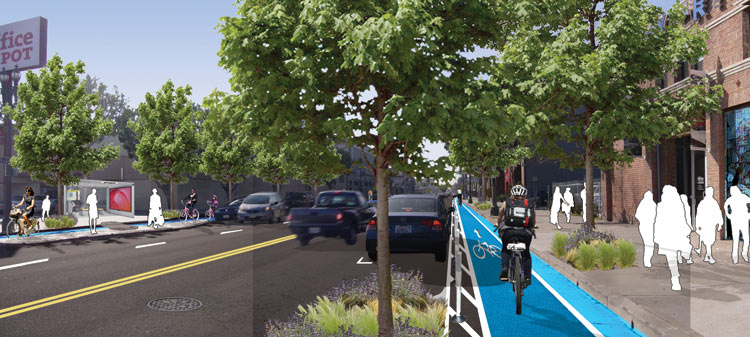 MyFigueroa, a transformative city project that will make one of L.A.'s wide boulevards bike- pedestrian- and transit-friendly, will not happen this year.
The design includes more visible crosswalks, upgraded bus stops, better lighting and a bike lane separated from motor traffic by a concrete curb. It would be the first protected bike lane in the city. In addition to Figueroa Street, the project includes improvements to parts of 11th Street and Martin Luther King Jr. Blvd.
Originally, construction was to start last January, and had to wrap up by December, 2014 in order to receive state funding. The new timeline represents a delay of two years.
SEE ALSO: L.A. Cycling: Benefits, Challenges And A Vision For The Future
This is not the first time MyFigueroa's timeline has been pushed back.
The project was held up last year by a legal challenge by Shammas Auto Group, owner of multiple car dealerships on Figueroa.
After the challenge was withdrawn in May, Tim Fremaux of LADOT told Streetsblog L.A. that construction could begin "by January 2015." So far new streetlights have been installed but it will be nearly a year until major construction begins.
An update letter to the community announced, "MyFigueroa has also been granted a time extension by the State of California Housing and Community Development Department. Construction is now required to be completed by December, 2016."
"Under the new timeline, the Bureau of Engineering plans to have MyFigueroa out to bid to potential contractors by Summer 2015 so that contractors may begin construction by January 2016 and complete construction by December 2016."
The project has also been watered down since it was first proposed. Currently, MyFigueroa does not include protected bike lanes between 11th and 21st Streets, and south of Exposition. According to the project's website, in these areas "bike lanes will not be physically protected with on street barriers, or separate bike signals at intersections."
Reach Contributor Axel Hellman here.