Food
Jeni's Splendid Ice Creams Brings Socially-Conscious Dessert to Los Angeles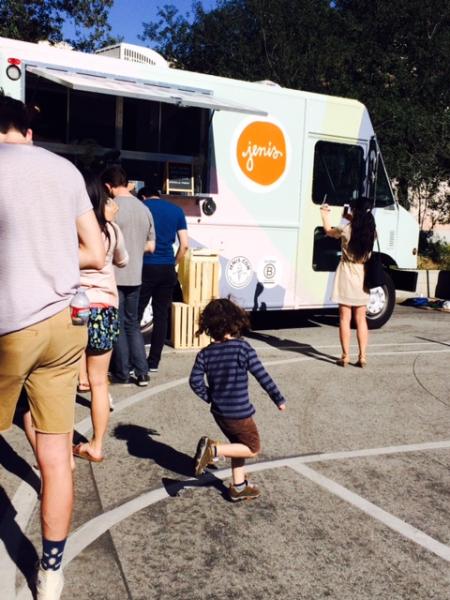 Jeni's Splendid Ice Creams, the Ohio-based dessert company known for its innovative ice cream flavors made using seasonal ingredients, plans to unveil its first West Coast store in Los Feliz in March. In preparation for the grand opening, the Jeni's team has embarked upon a ice cream tour of Los Angeles in its pastel-colored scoop truck.

During the truck's most recent stop at the Silverlake Flea Market last weekend, a small crowd waited in line for a taste of Jeni's signature creations. Maybe it was the heat or the free scoops that attracted droves of shoppers to the truck. With flavors such as Brambleberry Crisp, Riesling Poached Pear Sorbet and Yazoo Sue with Rosemary Bar Nuts, it was evident that Jeni's was no ordinary ice cream truck.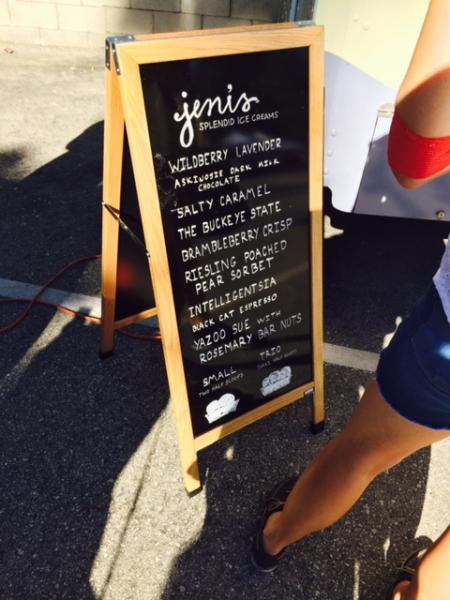 In fact, the company's owner and founder Jeni Britton Bauer is anything but ordinary, a quality that has made her a prominent force in the sustainable culinary industry.
As an art student at Ohio State University, she was a bakery employee and an avid collector of perfumes and essential oils. Bauer's interest in flavor creation inspired her to found Jeni's Splendid Ice Creams in 2002.
Bauer has also written a James-Beard award winning cookbook, Jeni's Ice Creams at Home, earning her one of the most prestigious honors in culinary literature.
What makes Jeni's different from other major brands is the ingredients. The objective behind Jeni's is to create artisanal foods that support community businesses. Inspired by this core mission, Jeni's Splendid Ice Creams became a Certified B Corporation. Endorsed by B Lab, an international nonprofit, the company must adhere to high standards of social and environmental performance, accountability and transparency.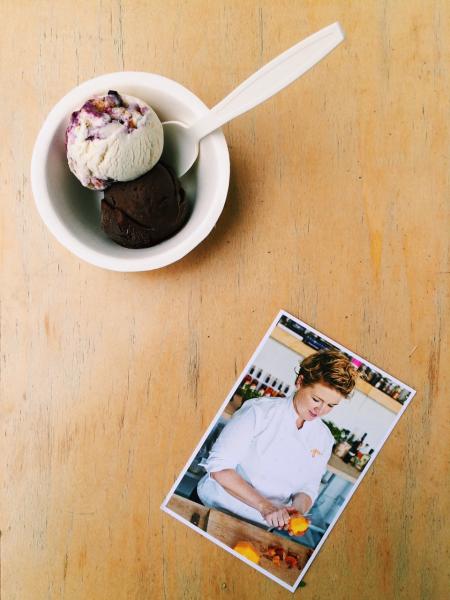 In 2014 alone, the company purchased 800,000 pounds of goods from local growers and producers. Jeni's has extended its reach as far as Uganda, where it buys fair-trade-certified vanilla beans.
Jeni's commitment to sourcing high-quality ingredients comes through in the flavor of its products. For the Brambleberry Crisp ice cream, bright swirls of blackberry jam and clusters of oat streusel are folded into a creamy vanilla base. The Dark Chocolate ice cream is rich and decadent, resembling the inside of a truffle.
Since its creation, Jeni's now has a string of 18 shops nationally and a robust online ordering system. True to its Certified B Corporation label, the ice cream company has a ship-back program where customers can easily return the styrofoam coolers used to transport ice cream to their homes.
Evidently, Jeni's is much more than just an average ice cream company. Many are simply customers of the shop because they have heard about the intriguing flavors and friendly employees. Yet, each customer dollar contributes to the sustainable and local food movement. The mission of Jeni's is commendable and important, making its forthcoming Los Feliz shop a destination to look forward to.
Reach Staff Contributor Caroline Feda here.