Technology
It's Tired Of Your Jokes: The 2015 Honda Civic Si Coupe, Reviewed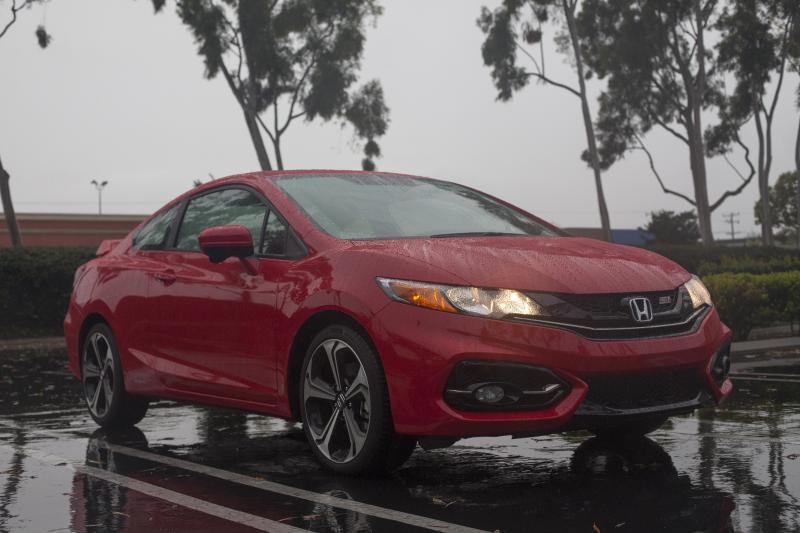 If you've ever owned a Honda Civic, or any other Honda, you've probably heard your fair share of Honda jokes. "Hondas don't make any torque," they say. "Hondas are just lawnmowers."
These people tend to forget that Honda has made a handful of great cars in their time, such as the NSX, the Civic, Integra and Accord Type-R, and my personal favorite, the Honda S2000. Honda has also been heavily involved in motorsport, where their engines powered McLaren's Formula 1 cars. The question now is, can the 2015 Civic Si Coupe earn a spot in Honda royalty?
You first lay your eyes on the Civic Si and notice that it is visually different from the standard Civic. New 18-inch Alloy wheels and tires, Si badging and a rear spoiler grab your attention, while i-VTEC DOHC decals on the side and a chrome exhaust finisher complete the sporty aesthetic.
Thankfully, the Si trim isn't all style and no subtance, as it also adds serious upgrades underneath. The 1.8-liter engine from the standard Civic has been replaced with a larger, more powerful 2.4-liter "K24Z7," making 205 horsepower at 7,000 rpm and 174 lb-ft of torque at 4,400 rpm. The engine is paired exclusively to a close ratio six-speed manual transmission (no automatic is available). Thanks to the close-ratio gearbox, the engine flies through the revs extremely quickly. This gear configuration makes the car a good choice for automotive events, where fast acceleration through corners or in a straight line is preferred.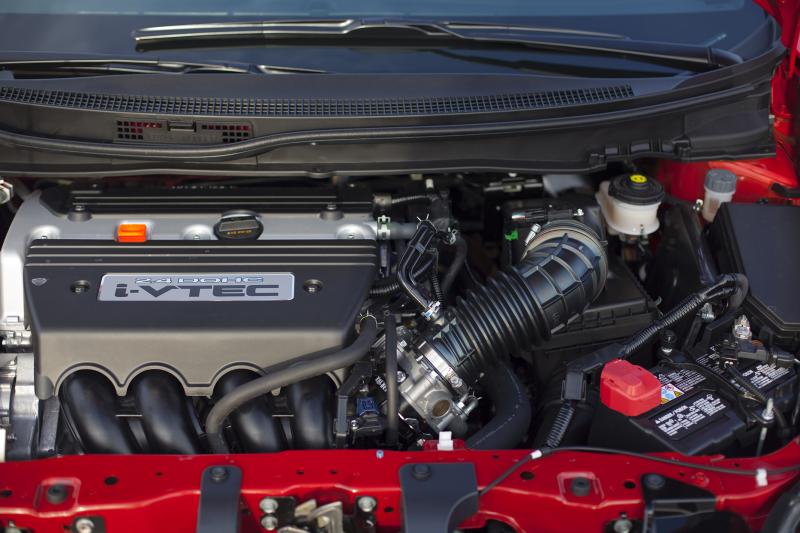 In day-to-day driving however, the close-ratio gears bring down fuel efficiency, as higher engine RPMs lead to worse fuel economy. Additionally, a helical limited-slip differential has been added to help plant down the increased power, and in our tested model, the car came fitted with 225/40R18 Continental ContiSportContact summer tires to help the car with corners. Using premium fuel (91 octane or higher) is highly recommended, in order to prevent power loss and engine knocking.
Inside, the layout of the car is nearly identical to the standard Civic, with a few notable changes. The interior sports a black and red theme on the seats and gauges, while the center console and surrounding areas get a fake carbon fiber trim. The Si logo has been placed all over the interior - on the floor mats, on the seats, and on the bottom of the steering wheel, to let all the passengers know this isn't an ordinary car.
Aside from these changes, the equipment is largely the same. You get the same 360-watt seven-speaker stereo, a seven-inch display audio system, the i-MID system, Honda Lanewatch and a backup camera. The Honda Lanewatch system is particularly useful, using a camera mounted on the right door mirror to allow you to see your blind spot while driving.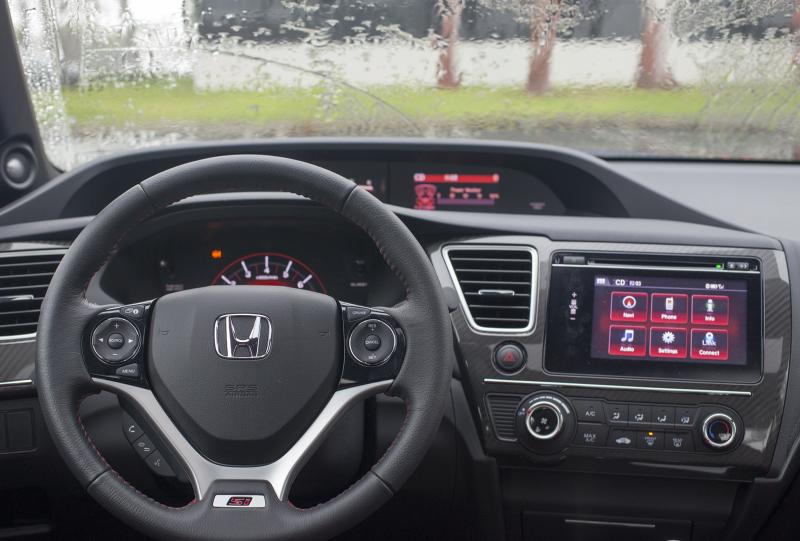 The Display Audio interface feels outdated, and the menu transitions are sluggish. The left side of the touchscreen has four buttons that turn on and off depending on what menu you're in. Using the display audio, you can activate the Navigation system (if equipped), phone functions, Information, Audio, settings and HondaLink. This is where things start to go bad, as the car's Display Audio system feels largely unfinished. The HondaLink service allows you to use a certain set of services with the car using your smartphone and a Honda account. If you have an iPhone, you'll need an HDMI cable and a HDMI-to-lightning adapter to connect your phone. Note that if you've just spent over 20 grand on a car, however, you may not want to shell out the extra money to use these add-ons. Since I didn't have an adapter or an HDMI cable, I was unable to test this feature.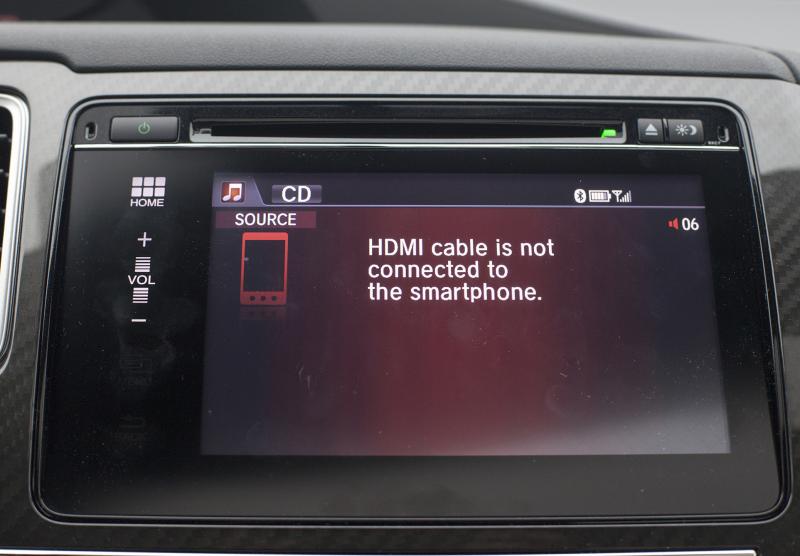 The Intelligent Multi-Information Display (i-MID for short) is located to the right of the fuel gauge and acts as a secondary screen, complementing the tachometer and speedometer. There are multiple screens to choose from using a button on the steering wheel. Navigation directions are directed onto the i-MID screen, allowing you to get directions for turns at a glance. To the left of the speedometer is a rev limit and i-VTEC indicator, which notifies you when the i-VTEC system is active and uses six sequential lights to tell you when to shift up. The rev limit and i-VTEC light is a feature exclusive to the Civic Si and tells passengers, "VTEC kicked in yo!" when activated.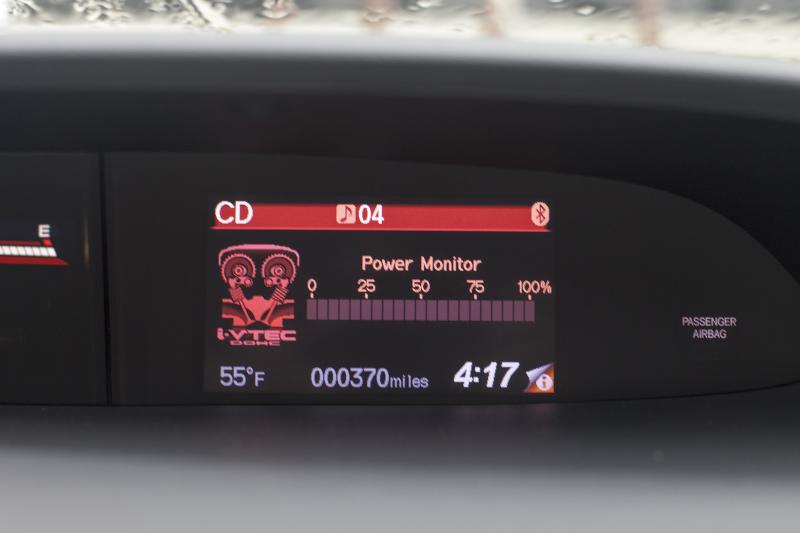 The Bluetooth function for the phone works well for calling and streaming music, and first-time pairing is fairly speedy. On some phones, particular older Android models, the music will stream through Bluetooth just fine, although certain information such as the song title, artist and album covers will not be able to load. The voice control system needs more work as well, as it had problems dictating my voice on most occasions, attempting to call people I didn't want to call. The stereo produces strong bass with strong mids, but treble is not as crisp as you'd expect.
In spite of everything, the biggest downfall of this car's infotainment is that there is no auxiliary input jack. Instead, your music is controlled either via bluetooth or through a USB port. After testing the system extensively I discovered that there are some bugs in the system that need to be fixed. The system cannot load data quickly, so if you're the type of person that likes to spam the skip button on a playlist or album, you'll find a large amount of lag. In one instance, I found that the skipping had completely frozen my iPod and that the car refused to recognize my iPod until I reset it.
While using the iPod via the USB, there is no option to pause your songs either. The car prevents you from pairing a bluetooth device when the car is in motion, so if you've hit traffic on a freeway, you'll have to pair your device beforehand or wait until you're moving again. What was wrong with fitting an aux input again?
The fabric on the seats feels low-rent, but the seats are ultimately very comfortable and supportive. The rest of the interior materials are solid. Being a coupe, the space in the backseat is considerably smaller than the sedan variant. Unless your passengers are short adults or children, they won't be able to sit in the back comfortably for long periods of time. At nearly 12 cubic feet, the trunk isn't as large as you'd expect, but I still managed to fit a cooler, a box, a boxed computer tower and 24-inch monitor without encountering any issues. If you've owned an earlier generation of the Civic, you can cry tears of joy as the hateful trunk keyhole has finally been replaced with a trunk release button. The rear seats can be folded down by pulling two levers located in the trunk to increase storage space.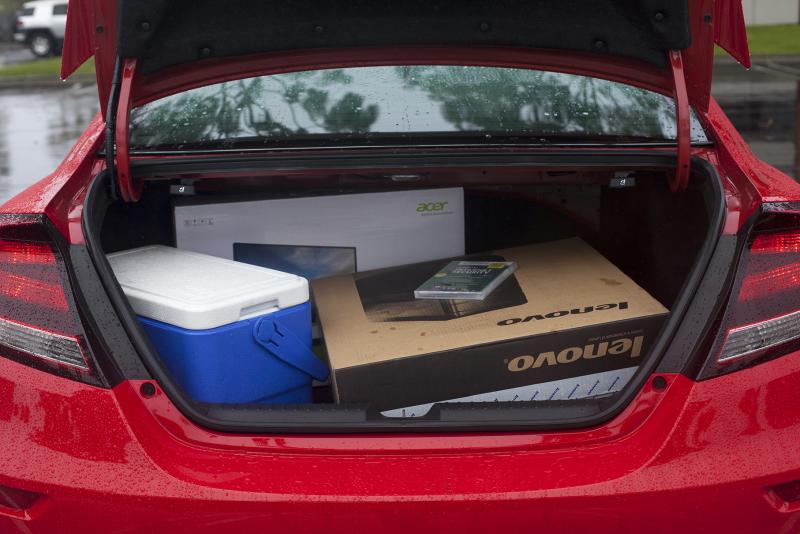 On the road, the car is both easy and difficult to drive. The clutch has a relatively low engagement and engages easily and smoothly. When coupled with the slick, accurate shifter, gear changes are easy and hassle-free. Reverse can be engaged by simply moving the shifter all the way to the right and backwards - there are no rings to pull up or anything to push down. The close-ratio gearing in the lower gears makes the engine revs skyrocket very quickly, forcing you to have a featherlight downpress when driving economically. The flipside is that the large size of the 2.4 liter gives more torque and lower down in the power band, forgoing the need to rev the engine out in daily driving. Due to the upgraded suspension, the car forces you to feel a majority of the road's imperfections instead of glossing over them. The suspension isn't necessarily uncomfortable, but it is reasonably stiffer and less comfortable than our benchmark vehicle, the Toyota Corolla S. When traveling over rough roads at higher speeds, the ride becomes very jiggly and you will be greeted with a wave of road and wind noise.
On the freeway, the short gearing will come back to bite you. Despite 6th gear being a tall overdrive gear as opposed to gears 1 to 5, the car manages 80 mph at around 3,500 RPM, which is much higher than I expected it to be. In comparison, the Toyota Corolla S I reviewed last week did 80 mph at 2,000 RPM, and a 2003 Honda Civic with a 4-speed automatic does 80 mph at around 3,200 RPM. Having the engine rotate at a higher speed not only decreases fuel economy, it increases engine noise and wear as well. If you're a commuter who has to travel long distances or goes on road trips frequently, you may want to take this fact into consideration. Thanks to the easy clutch and shifter, driving in stop-and-go traffic is reasonably stress-free.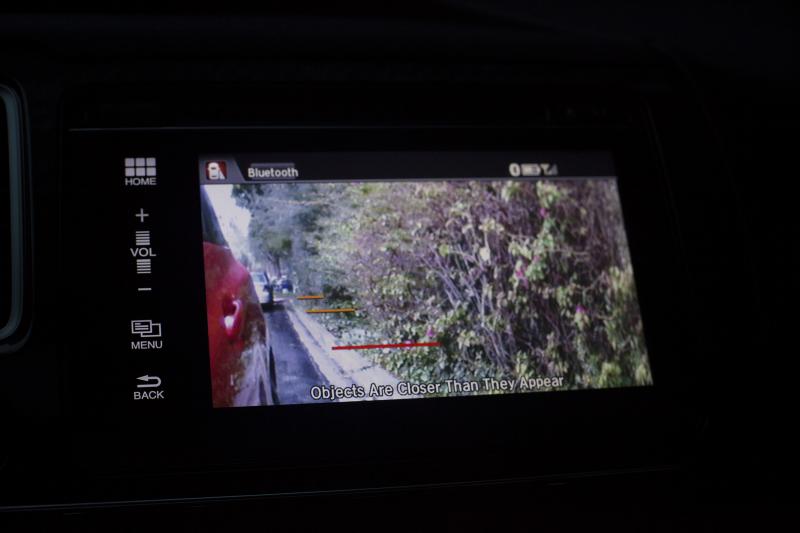 On the third day of our road test, I encountered a large amount of rain that allowed me to test how the car would act in a wet weather situation. Despite having summer tires, the car didn't encounter any wheelspin or traction loss during normal driving. On the freeway, it was extremely stable, showing no signs of waywardness or instability. Even though I accidentally stepped in a large puddle and had wet shoes, the rubber grips on the pedals stopped my foot from slipping off the clutch and stalling the car. Nonetheless, I strongly recommend you don't get carried away while driving in the rain.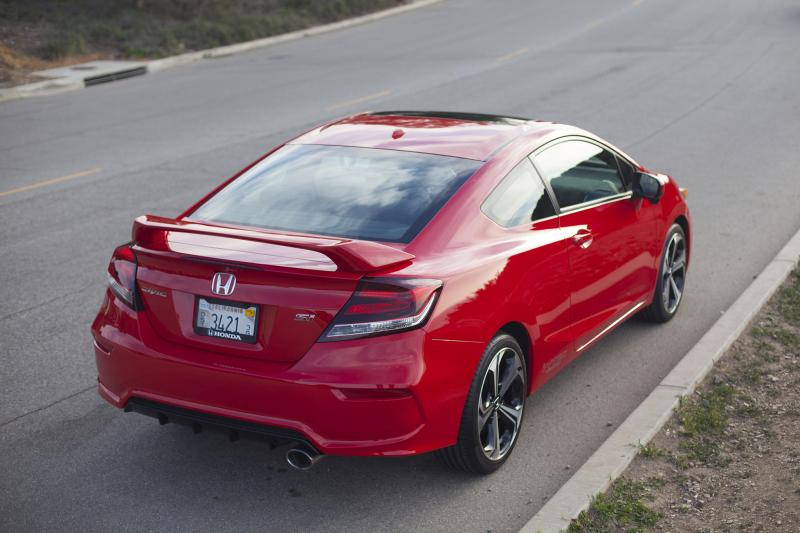 If you've been put off by the Civic Si by what you've read so far, fear not, as in our performance tests the Civic Si's scored two As. With exceptionally responsive and lively steering, coupled with a helical limited slip differential and summer tires, the car was able to handle anything I threw at it without reaching the limits of its grip. The quick steering should also help greatly in any emergency maneuver.
Understeer and oversteer never showed up even when maneuvering tight hairpin turns; torque steer is virtually non-existent. The suspension manages body roll very well, appearing only occasionally when pushing the car very hard in the corners. As I mentioned earlier, the engine flies through revs, and when the VTEC system engages, the engine enters its sweet spot and a surge of power propels you forward, the engine shouting angrily as it does so. The engine produces more torque by default and produces it lower in the rev range, making daily drives easier and giving the car more punch. The smooth shifter and nicely weighted clutch make every gearshift an absolute joy, with a shift throw that isn't too short and isn't too long. A short, firm brake pedal with strong brakes puts the icing on the cake. Even in 4th gear, the car shows that it's got enough power to provide good acceleration from the middle of the rev range. There is no doubt that this car is a strong choice for autocross or any track event you choose to compete in.
Unlike the standard Civic, this Si is not built for the masses. Honda has transformed the standard Civic into a serious enthusiast's performance vehicle, at a price that won't break the bank. While good value for the money, the car isn't without its faults, especially in its infotainment systems. If you're ready to trade some comfort and ease of use for performance, look no further. If, however you can't drive a manual transmission and you don't particularly care for performance, this car isn't for you.
Overall Score: A
Compact Class Score: B+
Hot Cars under $30,000 score: A-
Front Wheel Drive Performance score: A
Vehicle Class: Compact
Neon Tommy Class: Hot cars under $30,000*, Front Wheel Drive Performance*
Price as tested: $24,590 MSRP
At-a-Glance Specifications:
Engine: 2.4L DOHC 16-valve Multi-point Fuel Injected inline-four with i-VTEC "K24Z7"
Horsepower: 205 @ 7,000 RPM
Torque: 174 lb-ft @ 4,400 RPM
Transmission: 6-speed close-ratio manual transmission only
Tire size: 225/40R18
Tire: Continental ContiSportContact Summer Tire
Curb Weight: 3,002 lbs
Weight Distribution F/R: 61/39
Cargo Volume: 11.7 Cubic feet
Our combined MPG : 28.9
Fuel Capacity: 13.2 gal.
Range: 288 miles
MPG (EPA Estimated)(City/Highway/Combined): 22/31/25
*This vehicle is the benchmark vehicle for this class.
Reach Staff Reporter Amou (Joe) Seto here. Follow him on Twitter here.