Los Angeles
Home Care Workers Rally In Downtown Los Angeles For Overdue Overtime Pay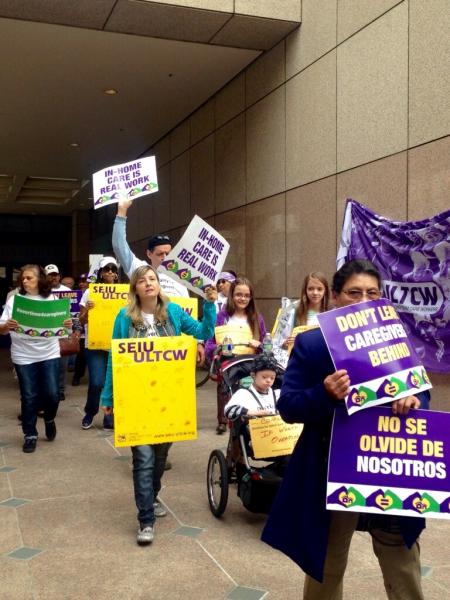 "What do we want? Overtime! When do we want it? Now!"
That chant echoed outside of the Ronald Reagan State Building on Spring Street Thursday morning amongst protestors rallying in support of the United Long Term Care Workers union's effort to regain overtime compensation that was slated to take effect Jan. 1.
Some protestors participated in a 24-hour fast, which started at 11 a.m. Thursday morning and was expected to last until the same time Friday.
President Obama first approved the fought-for legislation in September 2013 when the U.S. Department of Labor issued a ruling extending basic federal minimum wage and overtime protections to almost two million home care workers. Following suit, California Gov. Jerry Brown approved and signed Senate Bill 855 in June 2014, which authorized payment of overtime, wait time and travel time to tens of thousands of home care workers who work in excess of 40 hours per week.
Shortly after, private home care associations filed suit in federal court challenging the ruling. In Dec. 2014 presiding Judge Richard Leon ruled in favor of the private associations, repealing the ruling, which in turn caused Brown to halt the allocation of overtime pay. The U.S. Department of Labor has filed an appeal to the U.S. Court of Appeals for The District of Columbia Circuit. Both parties have since filed briefs to the court of appeals and no oral arguments are scheduled. The halt in legislation caused uproar amongst union members as they rallied Thursday afternoon.
Many workers anticipated and prepared for the implementation of overtime pay. Cynthia Villarreal, a home care worker in Los Angeles, feels Brown's promise has been broken.
"Governor Brown recognized that we worked overtime last year and he promised this. He prepared us, trained us and changed our time sheets to reflect overtime, and in January he stopped it from happening," said Villarreal.
SEE ALSO: South L.A. Residents Continue To Demand Change Nearly 50 Years After Watts Riots
This halt in overtime pay left many home care workers living below the poverty line, with some workers receiving pay that falls under California's base $9.00 minimum wage.
Another home care worker is worried that despite working seven days a week, she won't be able to support her two children.
"I believe Governor Brown wants the state of California to do better, but this overtime delay is unfair and unnecessary. I have two kids in college, and I'm telling my kids, 'mom can help you, don't worry,' but now I have to explain to my kids that the governor let me down, and the checks aren't there," said Alaina Brooks, Nursing Assistant to disabled adults.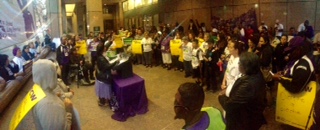 Kimberly Evon, secretary treasurer of the ULTCW union, feels her workers should be protected under the Fair Labor Standards Act, and that a decision made at the federal level shouldn't stop Brown from dispersing the previously allocated funds.
"He made a commitment, the funds are here, these workers should have the same protections as any other worker, and he should do the right thing. It's really about equality and workers rights. This is a workforce that's predominately women, women of color who are living in impoverished communities, caring for our most vulnerable citizens. A caregiver should not be living in poverty and they should not have to fight for the same economic rights as everyone else," said Evon. protected under the Fair Labor Standards Act, and that a decision made at the federal level shouldn't stop Brown from dispersing the previously allocated funds.
The Long Term Care Workers local union represents 180,000 in-home care providers, assisted living and nursing home workers throughout the state. It is an affiliate of the 2-million member Service Employees International Union (SEIU), the fastest growing union in the nation.
Those opposing the implementation of overtime pay say the change will only cost home care workers more money in the long run, with industry officials claiming the new rule would cause an increase in Medicare spending and raise costs for families that use these services, resulting in fewer jobs for home care workers.
"In theory, it's great, but at the ballot box, I'd veto it. After the cutbacks implemented with Obamacare, nobody wants any more money taken out of their paychecks to pay someone else's overtime," Officer Robert Thomas of the Los Angeles County Sheriff's Department said.
Opposing views did little to stifle the spirit and vigor of the protestors on Spring Street. After an afternoon of fasting and marching, more than 100 protestors gathered once more Thursday night around the Ronald Reagan State Building for a candlelit vigil and a prayer for change, and for a call to action on a promise they believe has been broken.
You can reach Staff Reporter Mona Khalifeh here.
A message of equality is delivered at a candlelit vigil as protestors continue to march and chant on Spring Street. #ULTCW #ASCJ

— Mona Khalifeh (@mtothekhalifeh) February 27, 2015
After worker testimonials & a group prayer, rallying & marching continues at the Ronald Reagan Building in DTLA. Fasting & vigil to follow.

— Mona Khalifeh (@mtothekhalifeh) February 26, 2015