Music
Hidden Charms Talks L.A. Show, Upcoming EP, And More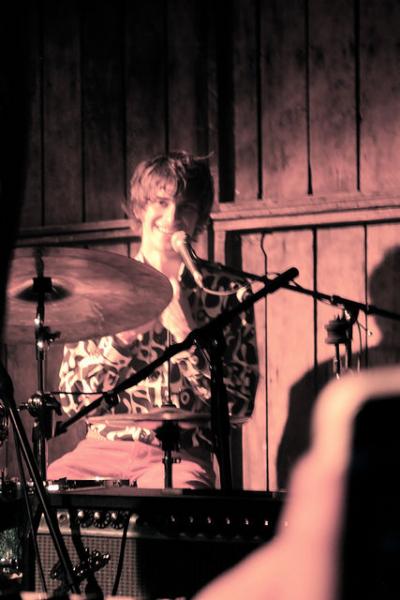 On Thursday, February 19, British rock band
Hidden Charms
performed in the innate, indie vibe of the
Lyric Theatre
in Los Angeles.
This eclectic venue sprinkled throughout with quotes, definitely provided the modern, retro and artsy vibe that can be found in the refurbished 60s, Beatles-like sound that the Hidden Charms have.
The band, originating from London, is made up of four young guys: Vincent (Vinny) Davies (vocals, bass, guitar), Ranald Macdonald (vocals, keys, guitar, bass) Josh Lewis (guitar, bass), and Oscar Robertson (drums). The group has worked with famous producer Shel Talmy, who produced The Who's "My Generation" and The Kinks' "You Really Got Me."
READ MORE: Life Records With Anna Arboles: Interview + Playlist
The guys were all friendly, down-to-earth, and really just great. Open jokesters, the guys didn't hesitate to throw in some silly banter while I had the opportunity to find out more about them, as well as get to know their band and the reasons behind their sound and feel.
Can you guys tell me what it's like to be coming into the American realm of the music scene?
Vinny: It's really cool. It's full of a lot of bands that we like, like The Growlers, Blank Tapes, Allah Las, Mac Demarco. We like a lot of the bands here, and we've found a lot of new bands while playing in L.A.
Oscar: There's been a big influence on us from being here – and that's transferred into our sound.
Ranald: We are mostly focused on the U.K., not necessarily trying to break here first. If the opportunity arises here, we'll take it.
Josh: We actually have a manager here and one in the U.K., and that helps get us gigs in both places.
What's it been like working with legendary producer, Shel Talmy?
Josh: Brilliant, an absolute dream.
Ranald: We had studied his records he's produced like The Kinks and The Who.
Vinny: He had that dance-y, rhythm and blues sound, and we also wanted that garage-y sound.
Josh: He contacted us! Which was great.
Oscar: He's a good friend of ours now. We actually just went over and had dinner with him the other night.
Ranald: He's really boosted our confidence, and it's been great working with him.
When can we expect your EP?
Oscar: We have a single due out in May, and our EP will be out in summer.
What kind of songs can we expect from it?
Vinny: Good ones. We're moving on in sound… it's similar to "It's Time" and "Sunny Side." Touring has really exposed us and caused us to move on from the core. We feel we've grown as writers.
[If you want to hear a couple of songs from the EP, listen to Chris Carter's British Invasion, on Little Steven's Underground Garage (Sirius XM Channel 21) sometime in next 2 weeks, which will also feature an interview with Hidden Charms and producer Shel Talmy.]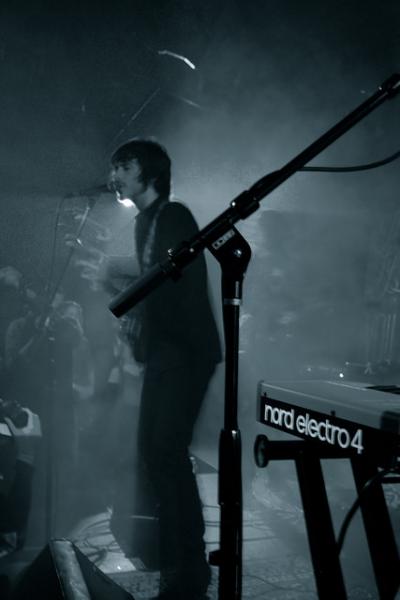 Where do you draw inspiration from?
Ranald: Blues music, the Beatles, the Stones, different eras.
Vinny: AC/DC, Elvis, pretty much anything and everywhere, like going to new places.
Josh: Every cup of coffee.
Vinny: The first time we came to LA our sound changed. We're also influenced by every band we hear.
Oscar: Some other things are like the sound of the rainforest...
Ranald: Whale songs, jungle cats, crickets…
What inspired you to get into music?
Vinny: We fell into it growing up. Grew up listening to it, and fell into playing it.
Oscar: I fell into a drum shop, and it hurt at first. Made such a loud noise.
Vinny: You try things out and realize you don't like that, don't like that - ooo, this works. And apparently it's a job.
So, why the name Hidden Charms?
Josh: We had the name in mind, it was a Howlin' Wolf song.
Vinny: We really like that kind of stuff, and it stuck.
Oscar: Now we use it on posters and stuff.
Josh: Blues were what really turned us on to music.
What bands/musicians would you say you look up to?
Vinny: All of them. All have good qualities.
Oscar: I like 50 Cent… Used to like Afroman.
Josh: Also Jack White, the way he does everything is strange. Everything he does is great, except his guacamole…
Ranald: Too spicy.
What's the reason behind your sound?
Vinny: Mix between common influences, and been together for awhile. We have gone through so much together. Our lives are so similar right now.
Oscar: We eat, breathe, and live the same shit.
Vinny: Naturally, our sound is all developing together. Coming together, naturally we all have different ideas around the same core.
Josh: Once you start a band, it's like a marriage. If it goes off in some direction after some months you kind of just go with it, unless it's awful. Not too awful right now.
Vinny: I quite like the sound.
Oscar: Pretty decent, man.
What was your first album? First concert?
Vinny: Mullethead was my first concert.
Ranald: "Electric Ladyland" by Jimi Hendrix.
Oscar: "Boots" by Nancy Sinatra, then it was something else.
Josh: My first concert was Madness.
Vinny: It was probably some kid learning thing like "Postman Pat." Probably ones that your parents want you to get, unlike how I'd want to get a [Rolling] Stones.
Ranald: I asked for a CD from my uncle for Christmas one year, ["Let Go" by] Avril Lavigne and "Sgt. Pepper's [Lonely Hearts Band" by the Beatles]. I enjoyed "Sk8er Boi" [by Avril Lavigne].
Oscar: "Complicated" [by Avril Lavigne] I preferred.
Your ideal performance space?
Vinny: Here, tonight.
Oscar: Or University of Southern California.
Vinny: Wembley [Stadium in London] or Madison Square Garden. We like the closeness of clubs, the small, intimate sweaty shows. We've only done small clubs.
Ranald: We can look them [the crowd] more in the eye. On a big stage [it's] so distant, can't really see anything.
Josh: Better vibe from smaller crowd.
Vinny: Something special about being so close to people. No segregation.
So you like to be able to connect with your audience?
Oscar: Yes, or touch them, preferably touch them. I like to be within spitting distance or else it's not worth the show.
Now for a kind of fun question… I know that U.S. girls swoon at the thought of a guy with a British accent. Is it the same for you with girls that have American accents?
Vinny: Love it. Love American accents.
Oscar: So accustomed to it, when you hear it you don't really realize it and it's not something to get really excited about.
Have you guys visited the U.S. before?
Josh: Twice before, once to record.
Vinny: This is our first time with shows. Now we're out in the open.
Would you say there is a difference compared to being here and in London?
Vinny: You get treated a lot nicer here. Sun shines on your back.
Oscar: cigarettes are much cheaper, people smile at you. Oh, and people get you pizza!
READ MORE: Where Entertainment Meets Education
That last comment promptly ended our interview, as the starving artists eagerly went after their fresh and pleasant pizza delivery.
Hidden Charms went on around 9:45 P.M. and thoroughly rocked it. The standing room-only crowd was electrified and thrilled by the infectious and classic sound of the emerging group. The stage was set with heavy fog and red, blue, and orange lighting.
The band started with one of their songs not already free to the public ear, quickly followed by their already released singles, "It's Time" and "Sunny Side," as well as the Shel Talmy-produced "One More Night," which had audience members singing along to their sensational serenade.
The guys appeared to be having just as much of a good time as the crowd. Constantly moving, and becoming one with their music, Hidden Charms left the crowd completely stoked and yearning for more. When the final song finished, the people pleaded for an encore, but the band had to make their way off stage in order for the next band to play.
Hidden Charms is an underground band that's making its way to the surface, and in a time when resurfaced, real music is hitting the stands with full force. Their classic rock tunes will have everyone tapping their foot along to their robust and ear-poppin' songs. The US is in for yet another British Invasion in the music scene this upcoming season!
Reach Staff Reporter Abbie Stellar here.