Music
The Frozen Flame Tour At Glass House: Review And Interview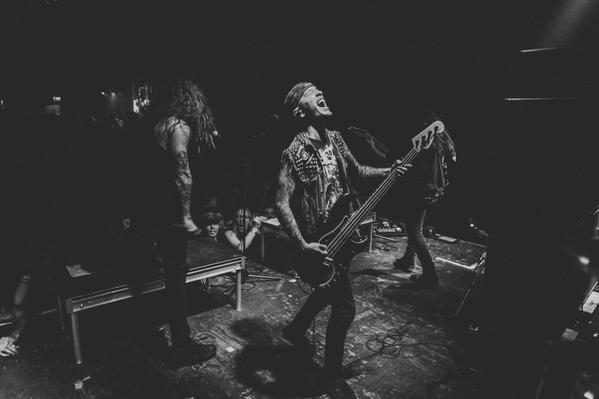 Not really a fan of metal? Don't worry about it, there was something for everyone at Friday's show in Pomona—The Frozen Flame Tour, headlined by August Burns Red. Supporting acts on the tour include Erra, Fit For A King, Northlane, and Miss May I.
Before the show, I had the chance to sit down with Josh and Marcus of Northlane, and Levi of Miss May I! Let's take a look at what each band brought to the show:
READ MORE: Less Than Jake And Reel Big Fish At The Grove Of Anaheim: Review

Erra started the night with a prog-infused take on metalcore, a unique sound built on the formidable vocal chops of heavyweight screamer Ian Eubanks, and singer Jesse Cash.
Cash doubles as the band's lead guitarist, flying through intricate, technical riffs while pulling out near-studio quality clean vocals. Watch out for these guys: supporting act today, headlining legends tomorrow.

Christian metal band Fit For A King followed, offering up fun, rowdy metalcore strengthened by a great stage presence. Ryan O'Leary's moves with a bass were outstanding, though his clean vocals lacked pitch and accuracy. Even though the band was second to open, every kid in the crowd was eating it up; bouncing, moshing, and head-banging to every tune.
READ MORE: You've Never Heard Of Adventures' 'Supersonic Home' But You'll Love It
Northlane kept the energy up by starting their set with "Quantum Flux", a catchy, powerful track off the band's sophomore album, "Singularity." Marcus Bridge, who joined the band as vocalist just months ago, appeared confident and passionate on stage.
Marcus told us before the show this was his first tour in America, and while it's been extremely cold in comparison to the band's home in Australia, they're all loving their time on the road with Frozen Flame.
Josh Smith, guitarist, said that Marcus has made a great addition to the band, refreshing their approach to Northlane's sound. Everyone is looking forward to their upcoming album release this summer. Get a taste of what's to come with Northlane's jaw-dropping new single, "Rot". Brace yourself.
Miss May I nearly brought the house down in a wild, old school thrash style set highlighted by a strong and dynamic vocal performance by Levi Benton.
Before the show, I asked Levi what Miss May I had to offer that was different from other bands:
"I try to add a lot of dynamic. There isn't a lot of that in metalcore. I do highs, lows, some nasty throaty singing stuff, sort of like Lamb of God. There's not really a metal core band that does that with singing. We definitely bring that into it. We grew up listening to [Killswitch Engage] and As I Lay Dying. Instead of going with the times now and wearing hardcore shirts or sweats and stuff... We grew up when there were chains, long hair, jeans, drinking beer on stage. We're just trying to be that old school metal band."
All of these elements played into a great set that captivated the scene kids and veterans of metal alike. It was beautiful to see a band like Miss May I bring two different fanbases together. Levi also clued us into the band's plans following Frozen Flame:
"We're getting ready to tour the US and Canada the most we've ever toured in the next year or two. Last two years we focused internationally, so we're excited to focus more local. Everyone can look forward to that. Stay metal."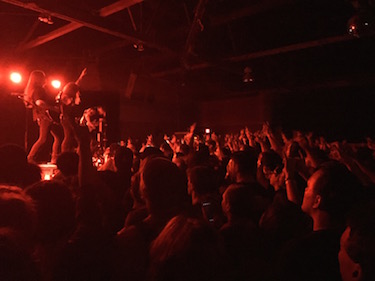 To close the night, August Burns Red dominated Pomona's Glass House with their signature sound and skill, a smooth fusion of brutal metal and ethereal, sweeping melodic hardcore. The stark contrast between the two generates an overwhelmingly powerful performance, supported by well-executed, extremely active stage lighting and a competent sound mix.
The crowd ate up every second of the Christian metal band's 75 minute performance, moshing and jumping along with ABR's tight and skilled lineup. A performance such as this can only be witnessed in person to truly be believed—make no mistake, this is the stuff of legend.
Still not a fan of metal? You might want to reconsider.
Reach Staff Reporter Carson Beck here.