Media
Disney's Bob Iger & Vanity Fair's Graydon Carter Talk Managing Media At USC Annenberg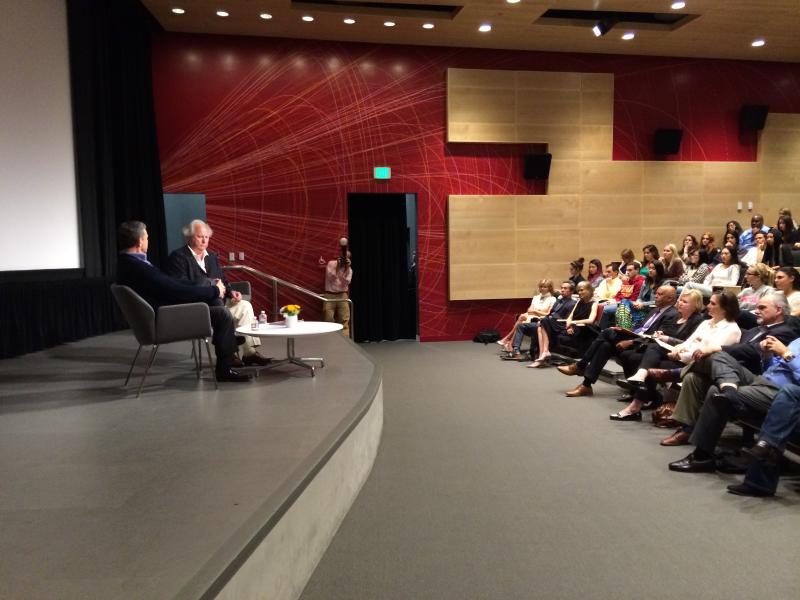 The USC Annenberg auditorium was packed Tuesday with students and faculty who attended a discussion on the changing media landscape given by Chairman and CEO of Disney Bob Iger and Vanity Fair Editor Graydon Carter.
The tables were turned as Willow Bay, director of the USC Annenberg School of Journalism, handed off the mic to Iger, her husband. The Disney executive and Carter tossed thoughts to one another regarding changes their respective media companies have made to adapt to today's digital age.
Iger raised a question that has been looming in the changing media industry of whether or not having a magazine in "atoms or bits" is more important.
Carter's response was that if he were to start a magazine company as big as Vanity Fair today, in the digital age, he would not even start at all. However, he went on to further explain that if he were to start a magazine of a scale such as Spy, he would not publish in print, but go digital, signifying the immense pressures print publications face in the digital era.
Iger then went on to talk about his leadership role in a "dynamic world...that is ever-changing [and] that's rapidly changing right in front of our eyes, all the time." He went on to further state that technology is simply not going to go away, and that we must face that fact.
He continued by unpacking the stigma of "technology as a disruptive force." Iger said in order to be a successful leader in today's evolving media landscape, it's crucial to "identify the change and don't be daunted by [the change]."
Under Iger's leadership, Disney has acquired notable companies such as Pixar Animation Studios, Marvel Entertainment and Lucasfilms, contributing to the company's success.
At the end of the discussion, students and faculty were given the opportunity to ask the two media executives questions regarding the changing industry landscape, and for some students, how an education at USC Annenberg could help them land a job at media companies such as Disney and Vanity Fair.
Iger urged students to show an interest in "learning and doing." Carter's parting advice was to "learn how to write [with] charm...honest[y] and no typos."
Reach Staff Reporter Michelle Tak here. Follow her on Twitter here.