Sports
Dior Hall Takes American Junior Hurdles Record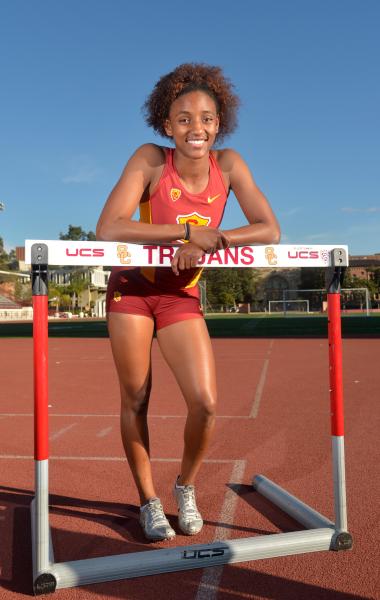 It seems almost inevitable that Dior Hall, 19, would be a hurdler—and a fast one. She's been doing exactly that for "a very, very long time," she said.

The USC freshman's mom first put out small collapsible practice hurdles for her daughter when Hall was just two years old. By the time Hall was five, she was running track at the local recreational center under her mother's old coach. And, that coach knew a thing or two. After all, Hall's mom, Yolanda Johnson, was a hurdling star in her own right, named the 1986 National Gatorade Girls Track & Field Athlete of the Year.

Plenty of 19-year-olds get tired, though, of following in their parents' footsteps. They get tired, too, of working so hard.

"I have my days where I'm tired of it, but never enough that I would want to quit," said Hall. "It's been such a big part of my life. A part of me would be gone without track."

And, she's not slowing down now.

Last weekend, Hall set an indoor American junior record for the 60-meter hurdles at the Don Kirby Invite. Her time of 8.07 seconds also positions her to be a contender this weekend at the Mountain Pacific Sports Federation (MPSF) championship meet, and at the national indoor championship meet in March. She is, currently, the only freshman ranked in the top 20 nationally in the hurdles.

"It'd be great if she could be MPSF champion as a freshman," said USC track and field coach Caryl Smith Gilbert. But, said Gilbert, it's more important that Hall focuses on the techniques they've been practicing and that she runs the best race she can.

It seems so inevitable too, in retrospect, that Hall would end up at USC under Gilbert. Gilbert and Hall's mom were friends as kids and ran together in high school in Colorado, both as sprinters at the same high school Hall ran for.

"I was there when she was born," said Gilbert of her freshman hurdler.

Hall's mom got to be there too last weekend in Alberqueque, N.M., when her daughter set the new American junior record. She watched alongside Hall's father and grandfather. And, Hall's mom has been there by phone to give advice this whole freshman year.

It's advice Hall has needed at times.

"My mom told me it's nothing like high school," she said of college track and field. Practice, for one, is more intense and longer. The team trains about 20 hours each week in the spring, and travels on weekends to meets.

The other thing that's different: not winning right away.

Some high school stars, especially those of Hall's caliber, can struggle with not winning every meet as soon as they get to college, said Gilbert. Hall wasn't just a three-time high school state champion in Colorado. She also set the national high school record and took second at the junior world championships last summer. But, in her first race for USC, she was third.

"That's a tough experience," said Gilbert.

Add to that the fact that Hall hurt her back at practice in the fall and struggled some as a freshman far from home. Eating well is challenging, Hall said, as was trying to find a balance with track and her classes.

"Bio 120 was not my friend," she joked. (Of course, she still managed a 3.3. GPA and plans to give biology another shot.)

Working hard to come back from an injury, getting in a rhythm in practice and school, and making impressive drops in her times is "a pretty big deal for a freshman," said Gilbert.

Of course, maybe it was inevitable.

Hall has no plans to stop soon. Her goal is to drop her 60-meter hurdle time to 7.9 seconds. In the coming weeks, she'll then turn her attention to outdoor, where the hurdles race is 100 meters long. She also is part of a fast USC female sprint squad, led by a number of speedy freshman, that has plans to "put SC on the map," she said.

"She's a pretty special kid," said Gilbert. "She's special to me, and she's special anyway."

Reach Staff Reporter Kelly O'Mara here.