NFL
Deflate This: Patriots Oust Seahawks In Super Bowl XLIX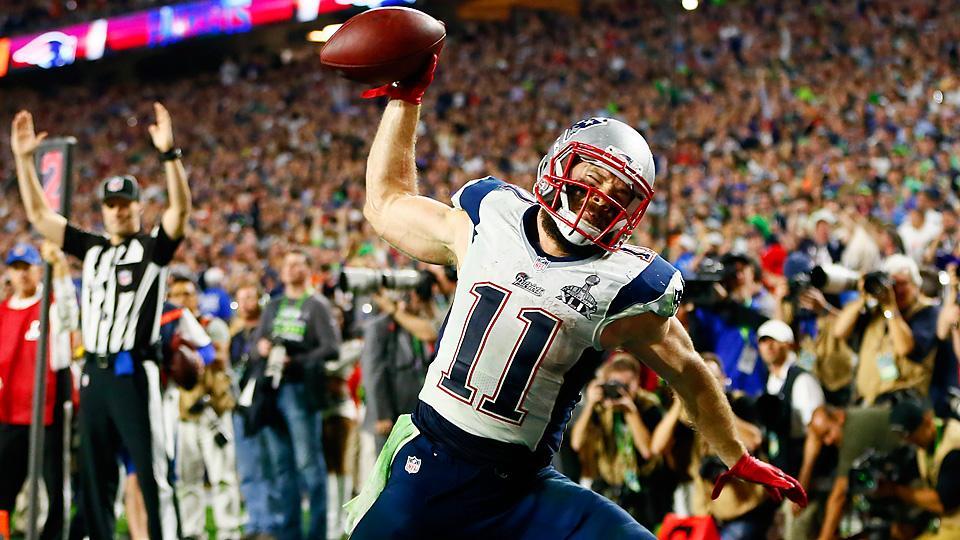 If the football gods were ever to think it upon themselves to craft the epitome of a perfect football game, Sunday night's Super Bowl XLIX may be a close resemblance to what their creation would be.
This game was everything last year's game was propped up to be. An evenly matched, closely contested bout between two teams whose reputations as the two best teams in the game preceded them, and whose rightful place in the sport's biggest game was never questioned.
But after the Seahawks took apart Peyton Manning and the Denver Broncos piece-by-piece, Denver's place in the game was immediately revoked, though in all fairness, there was no one who was getting past that Seattle team.
This Seattle team, however, was different. Nevertheless they were great in their own right, clearly talented enough to take another shot at a title—something very few Super Bowl teams can do—but compared to last year's juggernaut, there was some slight regression that set them apart.
The differentiation between that Seattle squad and this one must be made. Not in an attempt to form an excuse or a reason for the Patriots 28-24 title victory, but rather as recognition of the difficulty that is finding continued success in the National Football League.
So, it must only be fitting that the last team to display that daunting and relentless consistency of success throughout this century made their long-awaited return to the podium Sunday night. After a myriad of 10 years, countless AFC East titles and a couple of ill-fated trips to the Super Bowl, the Lombardi trophy found itself in the hands of the New England Patriots for the fourth time.
It was no easy journey. Not over the course of the season, not over the course of the playoffs and certainly not over the course of this game.
--
READ MORE: Super Bowl XLIX: A Social Media Recap
The game commenced at an incredibly rapid pace, barely giving anyone time to even ponder the question of who had looked better early on. It didn't help that, as the first quarter flew by, the score was still–in utmost soccer fashion—nil-nil.
A Tom Brady interception was the only thing of some value to come out of those first 15 minutes, and though it halted a potential scoring drive, the Patriots made sure to circumvent it by holding the Seahawks offense at bay, impeding them from taking advantage.
It took five more minutes into the second quarter for the Patriots' offense finally to cap off a drive with a score and place them ahead; an advantage that seemed long overdue.
Control of the game was never ascribed out to either team in the first half, but the Patriots, through a quarter and a half were holding up better than many expected.
Defensively, they were initially bulletproof. There was no clearer indication of this than when Russell Wilson found himself with enough time to count blades of grass in the backfield, yet was still unable to find an open receiver after what seemed like an eternity.
It did not take until the 2:16 mark in the second quarter for Marshawn Lynch to finally break through and tie the game. In retrospect, Lynch's breakthrough also stood for a larger rupture in which both teams made it their duty to get going anf score once more before the half.
A quick touchdown drive by the Patriots rendered a Rob Gronkowski score and spike, leaving a seemingly meaningless 31 seconds left on the clock. It appeared New England would possess some type of minute control headed into the half, but Russell Wilson and Pete Carroll had other plans.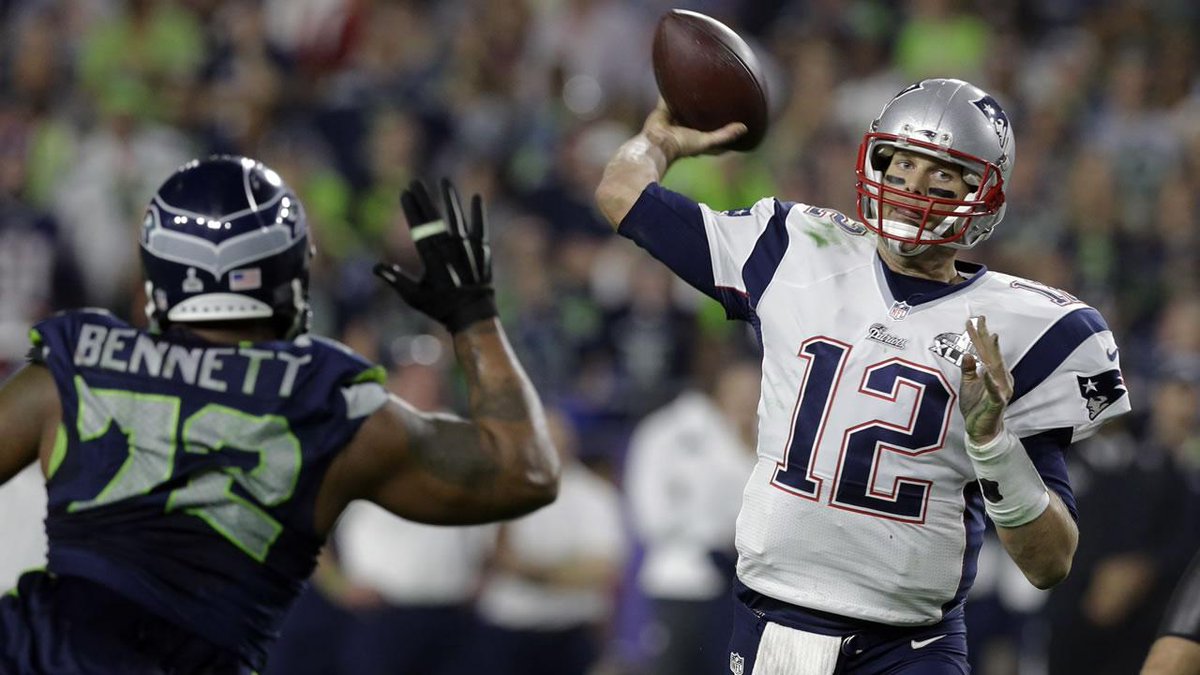 Five plays and 80 yards later, the Seahawks had turned 29 seconds worth of leftovers into a gourmet meal in the form of a game-tying touchdown drive. That control of the game the Patriots seemed to have was now barely palpable, as 30 minutes in, we were back to where it all began.
The Patriots ventured out to the second half in a tough spot. Not truly able to complain over their status, but surely wondering how they could have easily been up by a leg or two.
--
The lingering effects of the 'what if's' did their damage, as the Seahawks came out and owned the third quarter through and through. Couple a 155-12 total yard advantage over those 15 minutes with two scoring drives, and the game had suddenly and abruptly turned the tables.
The New England game plan of short slants and dump-off screens suddenly felt ineffective. By the product of their own incapability of forging a bigger lead and instead allowing a Seahawks takeover, the Patriots were now behind, unable to perfect their game plan, needing miracles to find their foothold back on the ledge of game control.
"They are who we thought they were" was the constant thought throughout the third when the Legion of Doom awoke and both Wilson and Lynch aptly followed suit. And who we thought they were was an incredibly overpowering team that left its opponent feeling incapable of ever getting back into the game. For a quarter, that looked to be the case. So much so that a 10-point game with 15 minutes left felt controlled by Seattle and its result all but cemented in stone.
What everyone seemed to bypass and ignore was that this put the Patriots into a place they were quite familiar with. A place of vulnerability, but almost never a place of resignation. A place of danger, but almost never a place of surefire defeat. Strangely enough, this was a place of comfort for Bill Belichick and his crew.
Thanks, in large part, to their defense that never let the game fully get away, 10 points was not an impossible hill to climb. It only felt like it.
Just as it felt like the Patriots, as they had come to be known, were done after a punishing blowout by the Chiefs in Week 4. Just as it felt like the Ravens had the game in hand when up by 14 in the divisional round. Just as it felt like the Ravens, had the game in hand when up by 14 in the divisional round...a second time.
The ominous "feeling" once again found a place in this year's Super Bowl, when the Patriots had yet another hill to climb, another comeback to forge and a few more doubters to silence.
Surprisingly enough, they weren't complacent nor were they overambitious. They stuck to their game plan by sheer force of will. Meticulously, as only the Patriots know how, they got behind Tom Brady and manufactured not one, but two crucial 4-minute touchdown drives that suddenly put them ahead.
Leaving two minutes on the clock inevitably brought up the ghost of Arizona's past wherein the Patriots left just enough time on the clock to lose their only game of the 2007-08 season, their biggest one and their final one all in one unfathomable sub-2 minute New York Giants' drive.
READ MORE: Super Bowl XLIX: Returning To The Scene Of The Crime
It was only right, not only for thrill, but for a larger symbolic purpose that the improbability of that drive was replicated almost to the letter of the David Tyree 'Helmet Catch' law when Jermaine Kearse's acrobatic, bouncing-ball grab placed the Seahawks in the red-zone with a minute left. Another forthcoming, unstoppable touchdown seemed inevitable, as did the Patriots once again falling to the bowels of heartbreaking defeat for a third Super Bowl.
Yet once again the Patriots were left to do the improbable themselves, and both by the quizzical play-calling of Pete Carroll and the instinctive reaction of safety Malcolm Butler, a goal line interception closed the book on the season and sealed the Patriot logo on a fourth ring in 14 years.
--
Leaving the most casual of fans breathless, this game ended rightfully on a play by a player who encompasses and personifies the curriculum and mindset Bill Belichick has instilled in New England. But it doesn't stop or start with Butler, as some of the most crucial contributors in the game were once outcaste then brought in by Belichick who helped vault them beyond simple relevancy.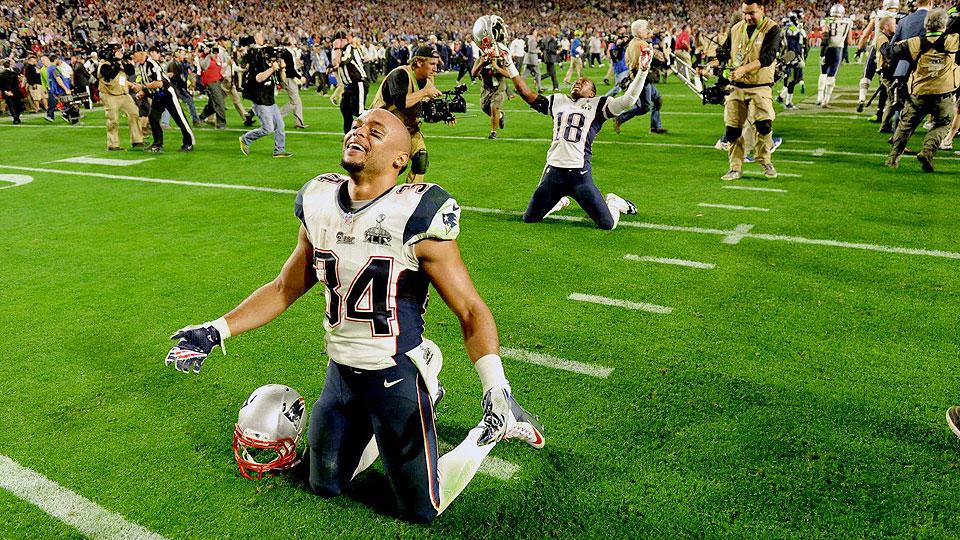 Undrafted free agent Malcolm Butler was not a starter, but out of necessity he was in the game and made the biggest play of his career in the most timely and perfect manner. Out of the backfield came Shane Vereen, over and over again, the unheralded, ignored tailback consistently became Brady's invaluable safety valve. Wide receiver Julian Edelman was all over the field—a 7th round pick nonetheless—finding openings where they seems scarce and catching passes at will when necessary, especially the eventual game-winner.
Then of course, there's Brady himself. The 199th pick of his own draft, ignored and overlooked by many, now he's second to none.
Though the past two weeks were laced with controversy and allegations that followed the Patriots on their footsteps, they clearly never let the chatter enter their front door. Not only unaffected, but also defiant, they set out to make those conspiracies irrelevant, to leave those criticisms unfounded.
By the relentlessness of their offense, the resurgence of their defense and the genius of their head coach, the Patriots are back on the throne of excellence proving that consistency, whether over the course of a game, a season or 14 years, will reap the fitting results and in this case, the ultimate reward: A Super Bowl.
Reach Associate Sports Editor Paolo Ugetti here, or follow him on Twitter at @PaoloUggetti.