Los Angeles
Congested Los Feliz Intersection Remains a Neighborhood Burden
Los Angeles is a city known for its gruesome traffic, but few areas come close to the infamous six-point intersection in Los Feliz, a gargantuan junction connecting Hollywood Boulevard, Hillhurst Avenue, Sunset Boulevard and Virgil Avenue into one confusing mess for drivers, pedestrians and cyclists alike.
"I try to avoid it," said Damien Newton, a cyclist advocate and editor of the sustainable-transportation focused website Streetsblog LA. "I don't find it to be a particularly welcome place to ride a bicycle … there's more that could be done to make it safer."
In a 1987 write-up on the intersection, the L.A. Times dubbed the area a "chaotic crossroads," detailing it as a dangerously confusing pass and a common site for traffic accidents. In the nearly 30 years since then, it is tough to tell if much has changed.
"This is an especially complex and difficult intersection to cross," said Ryan Snyder, president of the urbanist transportation consulting firm Ryan Snyder and Associates. "It's very complicated. It really is. There aren't too many in the city quite like that."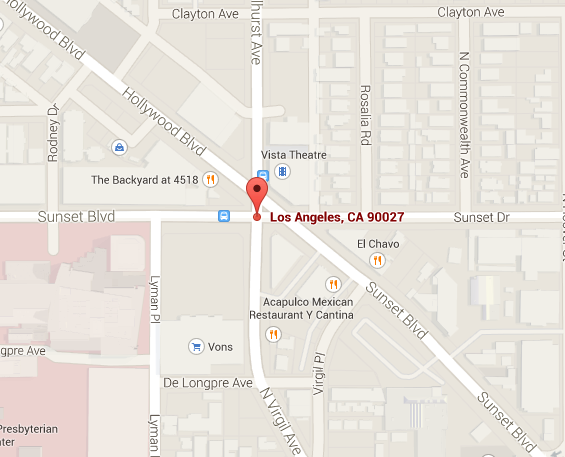 Sunset and Hollywood boulevards come from the west to meet one another, with the former turning into the smaller Sunset Drive and the latter assuming the continuing Sunset Boulevard. Hillhurst Avenue heads south to inexplicably morph into Virgil Avenue. All together, this massive juncture forms a six-point intersection that is double the length of a typical crossing, creating excessive pedestrian crossing times and puzzled drivers.
"Extremely dangerous comes to mind when I think of this intersection," said one employee at Crossroads Trading Co., a used-clothing store that faces the intersection. "I've seen quite a few accidents."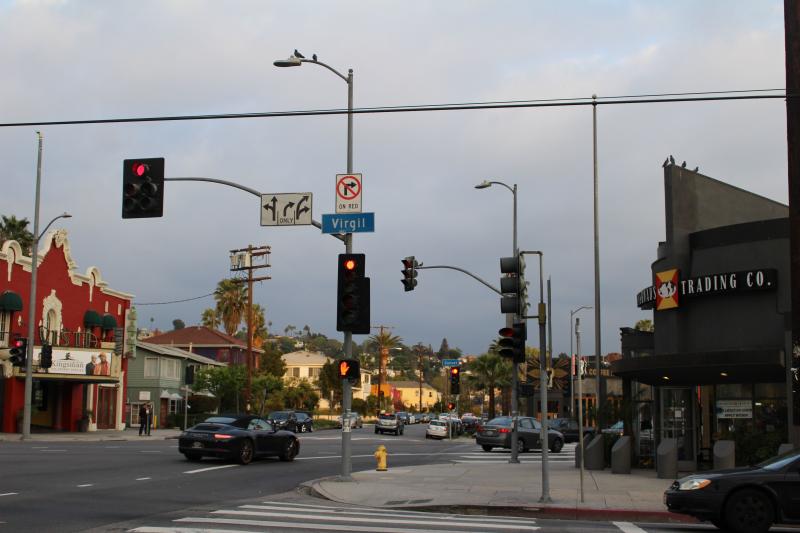 The worker, who asked to remain anonymous in order to speak as a Crossroads employee, does not believe the intersection's unfriendliness toward pedestrians hinders business, but noted it can often be a safety hazard.
"Drivers will stop almost mid-intersection," the employee said. "I know going from Sunset Boulevard onto Sunset Drive there's a confusion on which lane you go on and people are swerving over."
As residents of the Los Feliz neighborhood head to the polls on March 3 to vote for their new District 4 City Council member, the intersection has once again become a point of debate. At a Feb. 15 forum hosted by the Los Feliz Neighborhood Council, candidate Carolyn Ramsay was questioned on how she would alleviate "L.A.s most bizarre and congested intersection."
Ramsay, currently on leave as current 4th District Councilman Tom LaBonge's chief-of-staff, recommended a working relationship between the Los Angeles Dept. of Transportation, or DOT, and Google to study driver's patterns and reroute them to alternative paths.
"Google would analyze the traffic patterns, figure out where people are going when they go through that intersection and then help us identify ways to send them in different directions," Ramsay said. "Or just catching them at the pass and sending them on a different path once we find out where we are going."
In an email to Neon Tommy, Ramsay elaborated that the City should share the data it collects from intersection sensors with Google and other tech companies. She said that the relationship would not be one written in stone, but rather a shared stream of information.
"We should be using new technology and problem solving to help manage and decrease traffic congestion," she wrote. "It's more about open data than a formal contract."
The DOT said they currently do not have any active projects at the intersection. They have recently, however, met with the Los Feliz Neighborhood Council to address issues with the junction.
Snyder, who has drawn up four concepts to improve the intersection, is not convinced that rerouting is the answer.
"That doesn't strike me as the first approach I would take, as you're just going to shift the traffic somewhere else," he said. "People take the course of travel they do because there's something they need to get to there. It's hard to reroute them."
His recommendations range from the least intrusive, such as building curb extensions in order to broaden pedestrian visibility and lessen crossing time, to the much more radical: Replacing the stoplight-centric intersection entirely with a roundabout.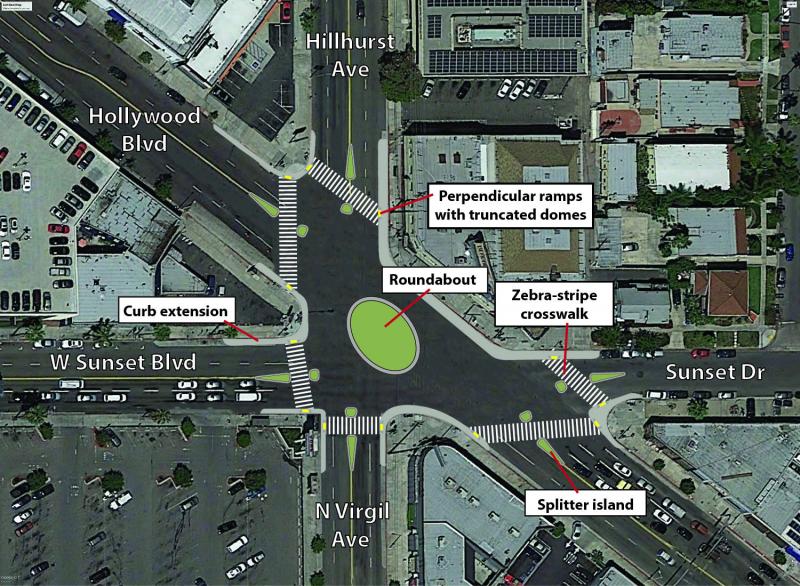 "The timing of the signals is such you have to wait a long time," he said. "The roundabout might help traffic flow better, even if it was just one lane in each direction."
Snyder noted any progress on the intersection would require further DOT formal analysis, and then action from the City Council and ideally public input. Even then, however, he warned fixing one issue could create another.
"It could become a really great intersection and a great place for people, but the trade off is it might back up traffic a little bit," he said. "The question is, are you more interested in making it a better and safer intersection for the neighborhood, or are you interested in keeping traffic flowing?"
Contact Staff Reporter Matt Lemas here and follow him on Twitter here.
Note: This post has been updated to include a statement from the Department of Transportation.