NFL
Breaking Down What Really Happened In Super Bowl 49
The ending of Super Bowl 49 is still a blur. The best offense in the league was pitted against the best defense in recent memory, and it came right down to the wire.
I'll essentially be breaking down what each team tried to do and how well they executed it. If you're more interested in what happens between the white lines than you are about debating Tom Brady's or Pete Carroll's legacies, you've come to the right place.
I'll start with what happened when the Patriots had the ball on offense.
Anyone watching the game could see how much the Patriots emphasized the short passing attack. They repeatedly used a slant/flat combination route to take advantage of Seattle's zone coverage: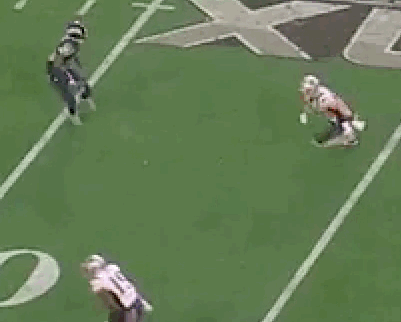 In Seattle's cover-3 defense, the outside cornerback usually plays "bail" technique, and is responsible for making sure nobody gets behind him. He can't bite on shorter routes (slants, curls, etc.) for fear he might get beat over the top by abandoning his zone.
Therefore, when the slant/flat is run correctly, the "hook" defender is put in a bind. In this case, it's Jeremy Lane (pictured more toward the middle of the field). He has to choose between either taking away the throwing lane on the slant route or pursuing the receiver into the flat, and his first responsibility is the slant route. This is the perfect playcall against a cover-3, and one that New England had repeated success on during the game.
Following along the same theme of breaking a zone defense, New England had some relatively basic, yet well-executed and effective play designs for beating Seattle's zone. Like this: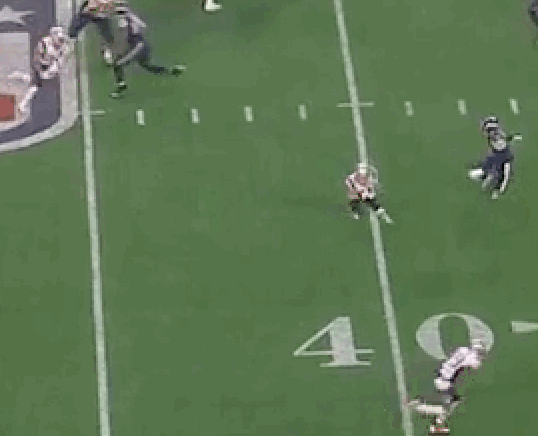 New England basically runs two receivers deep to clear the deep third defender (not pictured) and then the underneath outside zone defender (looks like 41 Byron Maxwell) in order to give Shane Vereen some space underneath. This wasn't even that big of a gain, but it netted New England a third down conversion and got the job done.
And here's another example of a quick flat route that worked, again for a first down: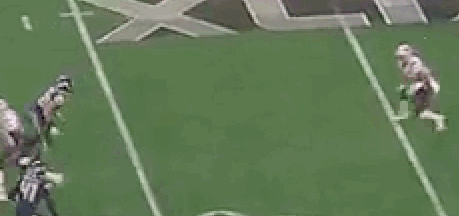 KJ Wright has to play his zone toward the middle of the field initially, which makes it relatively easy for Vereen to gain outside leverage. From there, it's simple pitch-and-catch.
However, while New England found some soft spots in Seattle's underneath zone coverage at times, the results when the Seahawks were in man coverage were much more severe.
Here's another slant/flat combo, but this time against man coverage: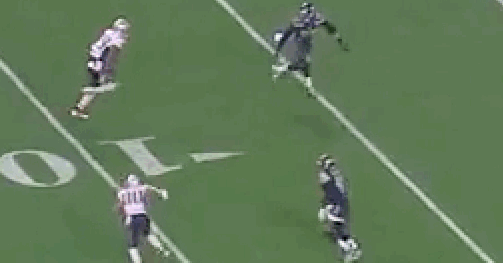 Byron Maxwell takes away the flat route, but since there's nobody in zone underneath to take away the slant, it's open for a touchdown.
I'm not totally sure what Simon is doing here. He's playing deep-third bail technique, and is in no position to plant and drive on the ball, even though he's in man coverage at the goal line. He almost invited the slant route by playing outside leverage as if he expects help underneath--you can see Bobby Wagner come in late at the bottom of your screen, and maybe he was supposed to get wider and provide Simon with support underneath. Either way, not a very sound defensive effort by Seattle here.
Tharold Simon gave up this touchdown, and was picked on for much of the game after he was forced into action when Jeremy Lane was injured. While I do think Simon is big and talented, and perfect for Seattle's cover-3 system, the Seahawks put him in a lot more man coverage than I would've expected. Simon may be big and strong, but quickly changing direction is not the strength of most large defensive backs. Therefore, those in-breaking routes with smaller, quicker receivers were very tough on Simon.
Jeremy Lane, who was knocked out of this game, is smaller and faster than Simon, and I think having a player who could have kept up with Edelman on those crossing routes is where Seattle really missed Lane.
Here's another play where Simon struggled on an in-breaking route: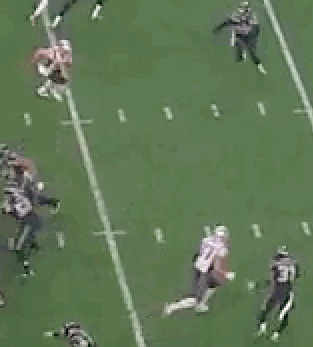 Tracking Julian Edelman across the field like this is no easy task for any corner. Failing to keep up isn't necessarily a huge indictment on Simon; he simply isn't the type of player who should be asked to do this often. Credit to New England for taking advantage of man coverage, which they did repeatedly.
Like here, on the 23-yard touchdown to Rob Gronkowski: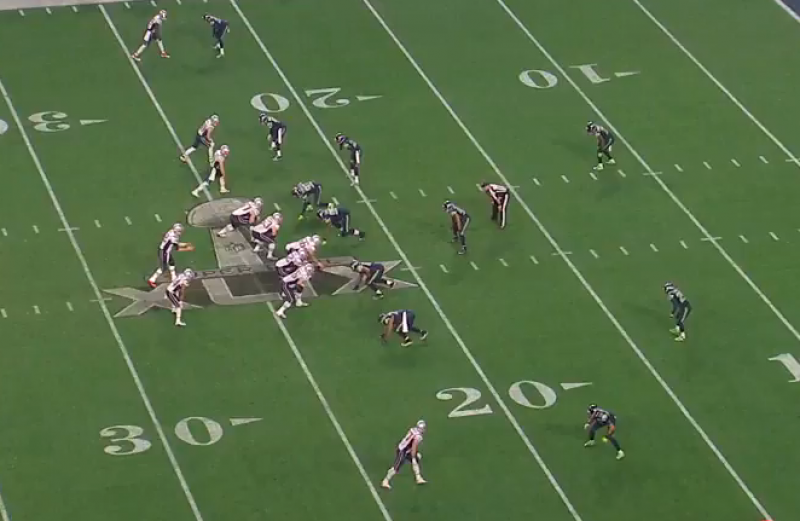 Seattle doesn't even try to hide the fact that they're playing man. You can see Richard Sherman on the far side of the formation in the slot across from Edelman--for those of you who don't know, Sherman doesn't move from the defensive left side unless he's tracking a receiver in man coverage.
Another obvious giveaway is KJ Wright at the bottom of the screen lined up across from Gronk. Post-snap, Earl Thomas (close-side safety) steps up to cover the running back out of the backfield, and Kam Chancellor (far-side safety) assumes a single-high zone. This is an easy read for Brady, who immediately knows he has Gronk with no safety help in single coverage with a linebacker, who is promptly beaten over the top for a touchdown.
And when Seattle called one of my favorite plays on defense, cover-1 robber, the Pats had an answer for that too: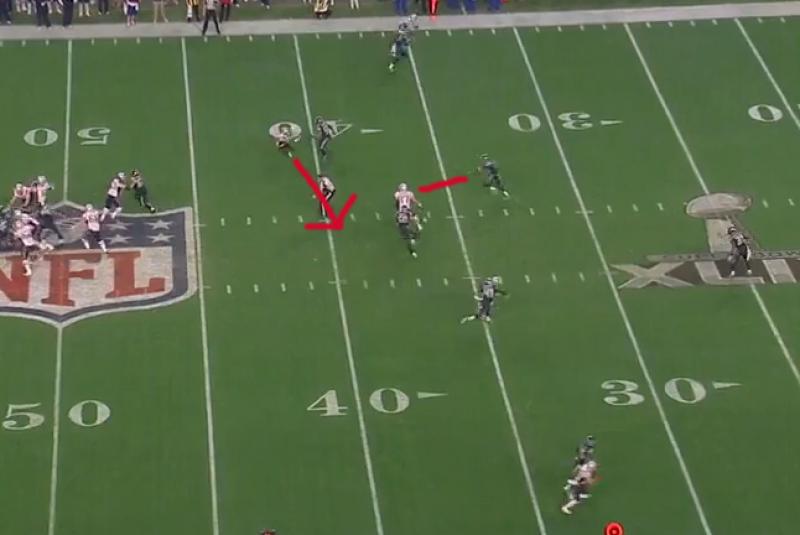 Cover-1 robber is man-coverage across the board, but with a little extra spice thrown in -- the "robber," or safety whose job it is to jump crossing routes or make big hits on unsuspecting receivers over the middle.
You can see Earl Thomas is the "robber" on this play (pictured at the 34-yard line connected by my line to Gronk), but Gronk on his crossing route runs interference on Thomas, leaving Bobby Wagner with no help with Vereen (pictured at the 41) over the middle. Vereen runs a simple "arrow" route, and is too quick for Wagner on his way to a first down. Yet another example of finding mismatches on Seattle's defense when in man coverage.
As I mentioned earlier, I was surprised how often Seattle got away from their zone coverage in this game. Sure, the Patriots drew up some cool zone-beaters, but none of them really ripped off huge chunks of yards. In fact, this is the way the Seahawks want it--their whole defensive philosophy encourages offenses to check the ball down underneath, because 1) the Seahawks are a phenomenal tackling team who limit yards-after-catch and 2) they think their defensive talent will force the offense into making mistakes more often than not. This philosophy has worked pretty well over the Pete Carroll era, to say the least.
It was therefore surprising to me how Seattle got away from their zone defense, especially with the Patriots exploiting them so well in man coverage. Also, it should be noted that both of Brady's interceptions came when Seattle was in zone.
Here's an example of some sound zone defense: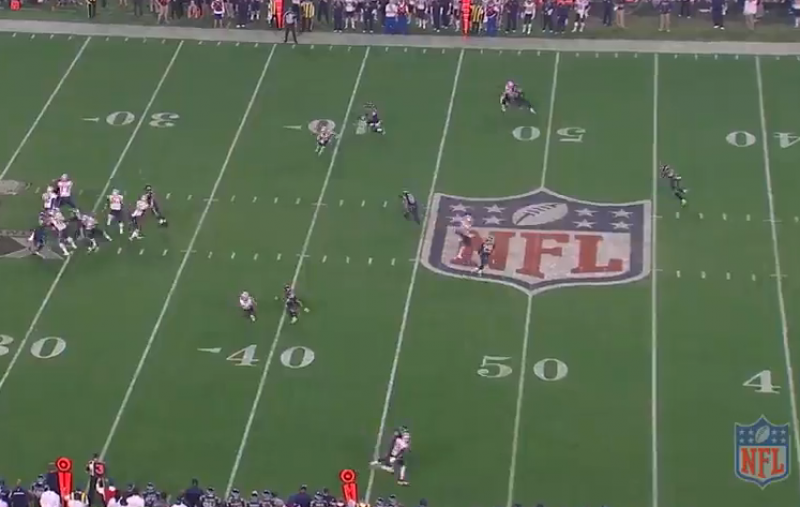 New England tries to run a zone-breaker, with Gronk (pictured at the 47) theoretically occupying middle linebacker Bobby Wagner, clearing space for Amendola (at the 39) to run in underneath. However, Seattle's defense has such good chemistry that Wagner seamlessly passes of Gronk to Earl Thomas, staying in his zone and making the hit on Amendola to force the incompletion.
The Pats had some success against Seattle's zone defense, but the plays New England made were notably harder to come by and more contested than they were when the Hawks were in man: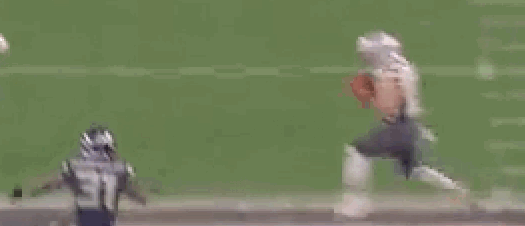 Edelman makes an awesome grab, but the window was tiny and there were no yards after catch. Also, check out that vicious yet completely legal hit.
Sorry for the graininess on this one, but this is Amendola's touchdown reception: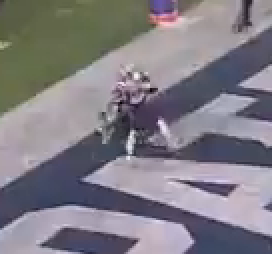 This is against zone coverage, but again, the catch is very contested, which is pretty much all you can ask for.
While re-watching this game, I noticed that Seattle played a lot of zone coverage particularly in the third quarter.
However, in the fourth quarter, for whatever reason, they went man-heavy, and here's some of what happened: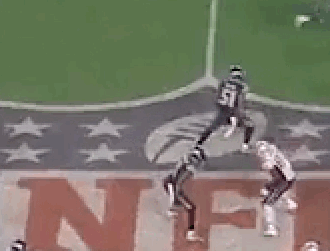 Gronk beats Chancellor in single coverage on a crossing route. Easy.
And more man coverage: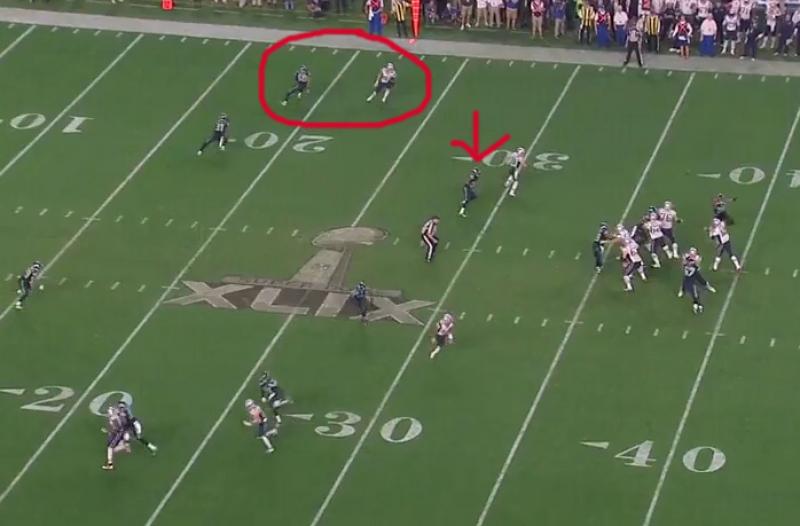 Again, Sherman (under the arrow) not playing on his usual left outside spot is a dead man-coverage giveaway, as is Wright covering Gronk on the outside. Because Wright was beaten for a touchdown earlier in the game, he plays off-coverage, conceding the easy ten-yard comeback.
Points allowed during the third, zone-heavy quarter by the Seahawks: 0.
Points allowed duirng the fourth quarter, where significantly more man coverage was played: 14.
Before I go on, I'd like to point out that Michael Bennett (72) snap-to-snap was probably the best player on the field last Sunday.
GIFs!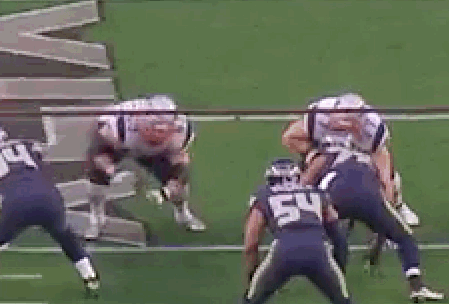 Nate Solder, New England's most athletic offensive lineman, barely gets a hand on Bennett here, who gets into the backfield to slow down LaGarrette Blount.
And here: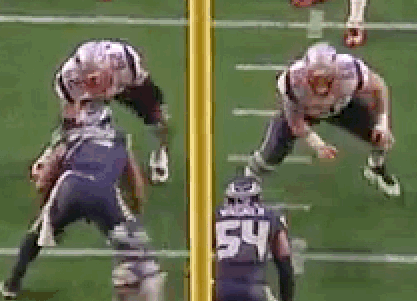 Bennett puts a J.J. Watt-esque swim move on Ryan Wendell and stuffs the running play.
These are just two examples (I chose run plays because they often get overlooked in favor of flashier pass rushing plays), but I can assure you that Bennett (who played 65 of 70 defensive snaps, by the way) brought the heat all game long.
Now for the other side of the game: Seattle's offense vs. New England's defense.
Seattle's offensive line looked pretty overmatched early on, especially in the run game. Check out the Patriots bringing the wood to Seattle's offensive front--
Jamie Collins (91) jacks Max Unger (60) before getting in on the tackle: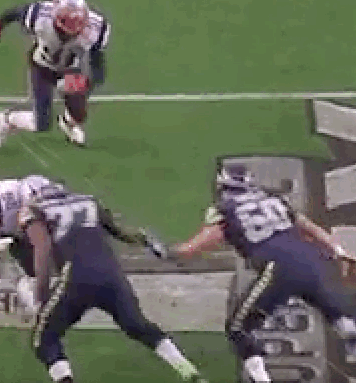 Dont'a Hightower (54) jacking up James Carpenter (77), clogging the run lane: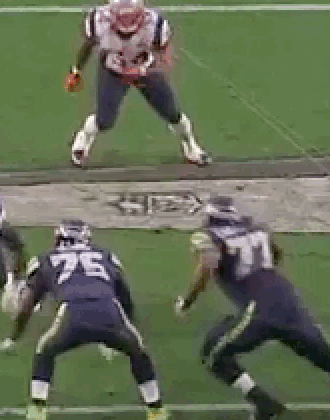 And big Vince Wilfork (75), who had a really nice game against Justin Britt: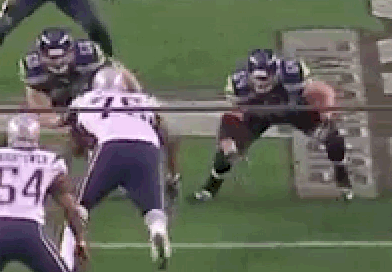 And 260-pound Chandler Jones (95) stacks and sheds 330-pound James Carpenter here on his way to a tackle (it's all about leverage, kids):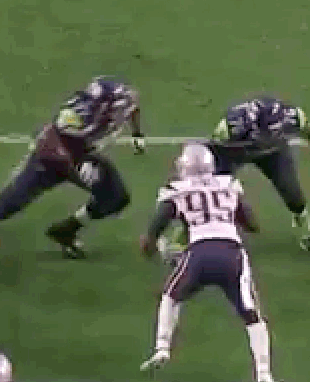 You get the point. Seattle's offensive line was not very good run blocking for a lot of this game.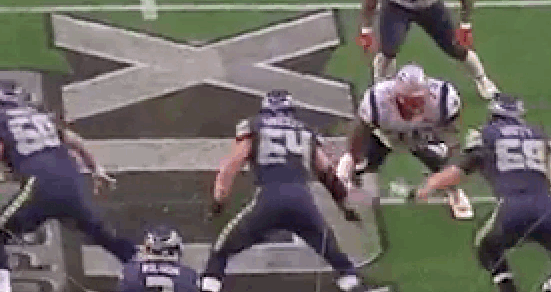 On the above play, JR Sweezy (64) needs to stay on the double team longer and help Justin Britt (68) on Vince Wilfork. What Sweezy actually does barely qualifies as a double-team, and he kinda leaves Britt out to dry.
It really is quite impressive that Marshawn Lynch was so productive on the day in spite of such inconsistent blocking. He truly transcends the talent around him, and that is why Seattle is trying to extend his contract.
Interestingly enough, their pass blocking was much better, contrary to what their body of work would suggest. However, this is probably at least somewhat in part to the Patriots "mush rushing" the Seahawks--that is, trying to contain Russell Wilson rather than getting upfield and going after him.
From watching the broadcast version of this game, the audience probably thinks that New England's coverage smothered Seattle's receivers on almost every play. While this was true at times, there were some open receivers and plays to be made that simply weren't.
Like here: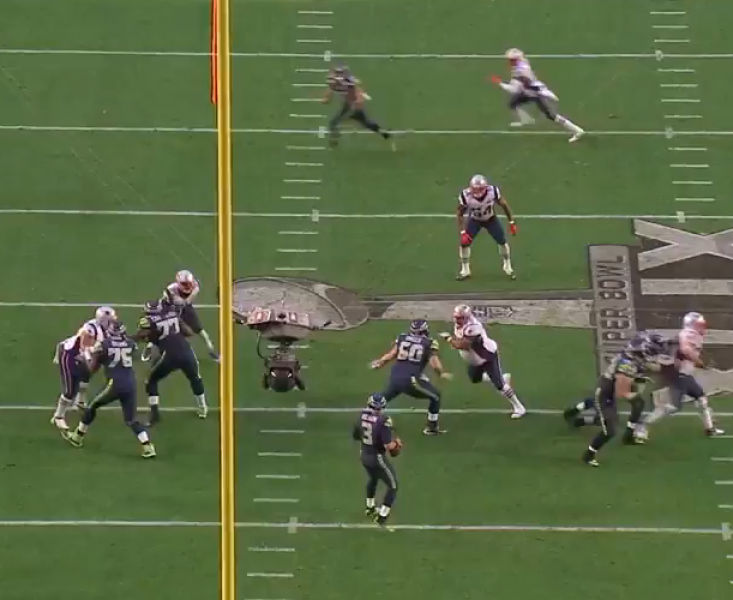 Wilson has Doug Baldwin, who has Revis beaten by about two steps, open over the middle of the field. Baldwin actually beat Revis a few times on these in-breaking routes, but for whatever reason, Wilson couldn't find him.
And this play, on Seattle's first offensive series: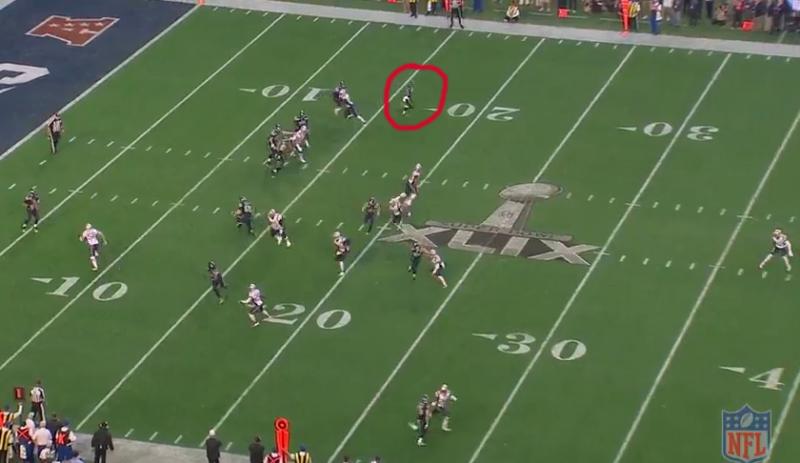 The play called for a fake reverse to Ricard Lockette (circled), who then proceeded to run up the opposite sideline, forgotten at this point by the defense. It even appears that Wilson is looking right at him, but fails to pull the trigger.
Lockette had one of the biggest receiving games of his career, and even though he couldn't come up with the game-winning touchdown, I'm excited at the prospect of a more expanded role next season. Not many people know about him, but he's big (6'2", 215 pounds) and fast (DII track 200 meter champion, 4.34 40 yard dash at the Combine), and has a lot more room to grow. He is already 28 years old, but if he can continue to get better, he could even take on a starting role for the Seahawks next year.
And of course, this game can't be talked about without mentioning Chris Matthews' contributions.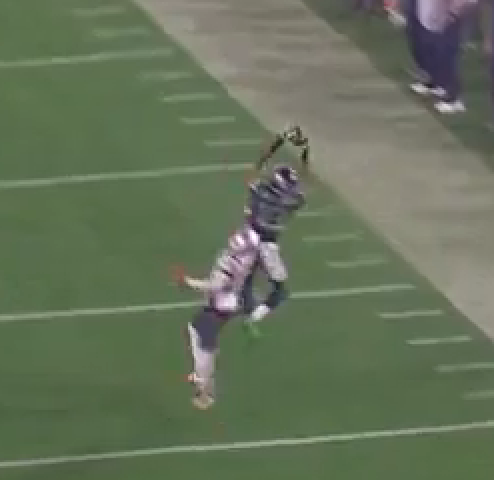 He perfectly shields the defender using his body, and high-points the crap out of that ball. That is a beautiful play.
What's interesting to me is the fact that Seattle didn't throw once to one of their tight ends. Luke Willson is a pretty athletic player, and you'd figure they could have found some way to at least get him in a favorable matchup.
Jamie Collins, who I really like as a player, was surprisngly mediocre on the day. He definitely made some nice plays in the run game, but there were times when he lost his gap. He was also beaten by Marshawn Lynch multiple times in the passing game, and was barely able to lay a finger on Russell Wilson on a scramble. I'm very excited at what Collins can do if he gets better, but this game is a reminder that he still isn't there yet.
Overall, New England did a really nice job of containing Lynch, even though he was able to find some room at times, who was clearly going to be Seattle's main source of offense from the beginning. The Pats played single-high safety quite often, trusting their corners in single coverage. I'd say that New England's DBs won those single matchups during the game more often than not, but Seattle's receivers obviously still did enough to get within one yard of the win.
I don't think the perception that Seattle's receiving corps is vastly subpar is fair. After all, the same things were said about last year's group, and now Golden Tate is coming off a Pro Bowl year in Detroit. My point is, Seattle's offense isn't a high-volume passing system, so no receiver is going to play for Seattle and look particularly good compared to the rest of the league.
Seattle doesn't have an elite NFL receiver like a Dez Bryant or an Antonio Brown, but their receivers are good enough. I think many would be surprised what Baldwin, Lockette and Kearse could do if they played on a more pass-heavy team like Denver, Pittsburgh or Indianapolis.
Okay, rant over.
As far as the last play call, I don't have much of an issue with the fact that it was a pass--rather, a pass away from the traffic in the middle of the field (i.e. less risky) would have surely served the Seahawks better. Situations like that is where Seattle misses the presence of a truly elite receiver to dictate a defense's coverage.
***
There it is, the final post-game analysis of the 2014-15 NFL season. We have a long offseason ahead of us, but that just means more NFL Game Rewind for me. I'll definitely be breaking down more stuff from this past year that I didn't have a chance to get to in-season, so watch out for that.
Until then, don't let the duldrums of the offseason get you down too bad.