Film and TV
Best Of Jimmy Kimmel's Mean Tweets
Social media, especially Twitter, has become notorious for the haters to come out and play. Jimmy Kimmel has made a game out of the horrible things people say online by having celebrities read the absolute worst things that are said about them online. Here are a few of the best mean tweets of all time:
Celebs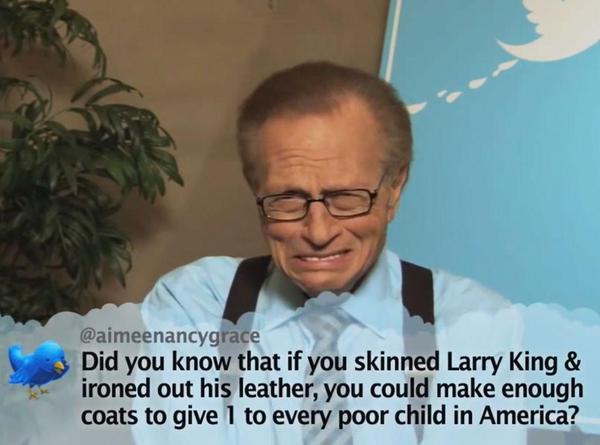 "Ty Burrell looks like Jon Hamm if Jon Hamm was a crack addict" @SupeMatheson
"I hope you all have a great weekend! Except you, Lisa Kudrow. F**k you!" @ryanoflan
"Jennifer Garner looks like a duck's vagina. Literally, a duck's t**t" @gogorenfro
"Emma Stone looks like she smells like cat piss." @cle_84
"Kid Rock looks like he would smell like stale farts & cigarettes" @kcbeerminx
"Did you know that if you skinned Larry King & ironed out his leather, you could make enough coats to give 1 to every poor child in America?" @aimeenancygrace
"Too bad they don't give an Oscar for blowing a** because Matt Damon would win every year. Go buy another zoo and live in it, Bourne I-d**khead. #NODISRESPECTTOBENAFFLECK" @jimmykimmel
READ MORE: "Best Celebrity Talk Show Appearances Of All Time"
Music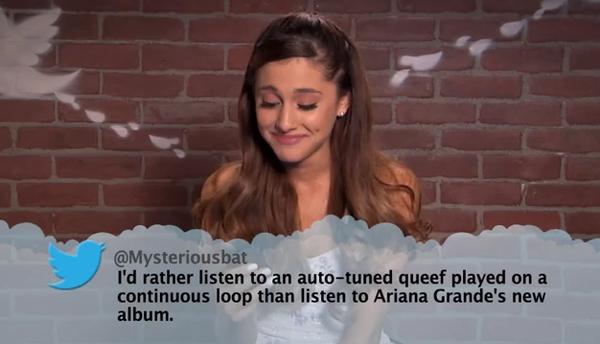 "@JohnLegend seems like he cries after sex" @kendra305
"I'd rather hear Morgan Freeman talk me through masturbation than hear @Dariusrucker sing a power ballad" @trainedhedonist
"@ladyantebellum singing the national anthem actually kind of makes me hate America" @glenyrd
"pharrell looks like a sewer rat" @drunkdate
"Would you rather: listen to josh groban OR have diarhea ladled into your ear? Hard choice, amirite?" @dasack
"Pitbull is starting to grow on me….kidding I hope his voice box gets destroyed by a gorilla d**k" @MrMyerss
"I'd rather listen to an auto-tuned queef played on a continuous loop than listen to Ariana Grande's new album." @Mysteriousbat
READ MORE: "Kanye And Kimmel Feud: Kanye's Best Tweets"
Sports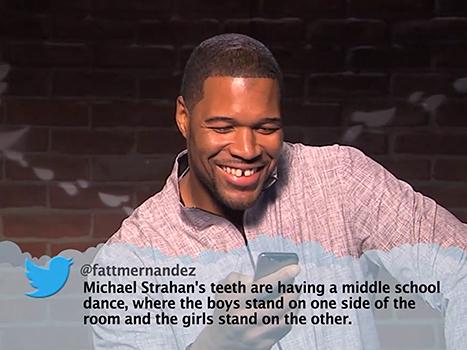 "Michael Strahan's teeth are having a middle school dance, where the boys stand on one side of the room and the girls stand on the other" @fattmernandez
"Dez Bryant is a baby back BitCh" @datrudeboi
"If anything happens to the guy that does the voice for Cookie Monster… I can sleep at night knowing we have Dikembe Mutumbo as backup" @watchj
"Stephen Curry's facial hair is a little pubeyyyy. And while we're on the subject, your teeth need some work" @aerienari
"Is it me or doese rajon rondo look like that Turtle Name Franklin on Nick Jr?" @bigblack
"Lou holtz looks like a creepy ventriloquist puppet and sounds like daffy duck." @88ampr
"Scott Van Pelt still look like a penis… get this penis man off my screen" @Pacman_RLES
Reach Staff Reporter Noah Camarena here and follow him on Twitter here.