Music
11 Surprising Songwriters Behind Your Favorite Hits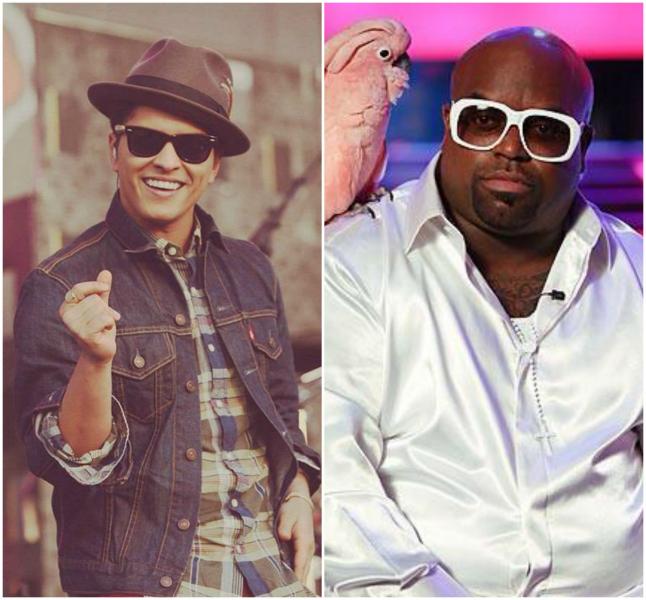 In the world of pop music, it's not surprising that some artists don't write their own songs, or at the very least have a lot of co-writers to work with.
Take that statement how you will on the state of music today, but songwriting is definitely a great way for aspiring musicians to get a foot in the door leading to stardom and for established artists to prove their worth in the industry.
In fact, some of today's biggest stars got their start writing hits for other artists - many of which you'll no doubt recognize if you've been paying attention for the past two decades. Others have proven there's more to them than their role as performers through songwriting, they're amazing lyricists, producers, and composers as well!
SEE ALSO: KONGOS' Johnny Kongos Talks 'Lunatic Tour,' New Music And More
Here are the surprising geniuses behind 11 of your favorite pop tunes. (Note: these aren't necessarily the complete list of songwriters!)
"F*ck You," Written By Bruno Mars and Performed By Cee-Lo Green
Before "The Voice" and before questionable tweets about rape and consent, Cee-Lo Green was ruling the airwaves with his 2010 hit "F*ck You" (or the more radio-friendly "Forget You"). In many ways, it's no surprise that "Uptown Funk" singer Bruno Mars helped pen this doo-wop-inspired hit. Mars has also written multiple songs for Sean Kingston, Far East Movement, and Alicia Keys.
"Don't Cha," Written By Cee-Lo Green, Busta Rhymes & Sir Mix-a-Lot and Performed By the Pussycat Dolls
Speaking of Cee-Lo... Did you know that he helped write one of the Pussycat Dolls' most well-known songs to date? That's right, he wrote and produced "Don't Cha," along with Busta Rhymes (who's featured on the track) and Sir Mix-a-Lot, whose song "Swass" is sampled. However, Green actually intended for the song to go to someone named Tori Alamaze, who recorded and released "Don't Cha" as a single... Only to never be heard from again.
"Whataya Want From Me," Written By P!nk and Performed By Adam Lambert
When you hear the guitar intro to "Whataya Want From Me," it makes perfect sense that this song could've easily fit in with the rest of P!nk's 2008 album "Funhouse." Instead, the track was given to "American Idol" alum Adam Lambert for use on his debut record "For Your Entertainment" (2009) and went double platinum as a single.
"I Look to You," Written By R. Kelly and Performed By Whitney Houston
You might be surprised by the mastermind behind the title track from Whitney Houston's seventh studio record "I Look to You" (2009). "Ignition (Remix)" singer R. Kelly wrote two tracks on the album, including "I Look to You." He performed the song at Houston's homegoing service in 2012 and "I Look to You" was later re-recorded as a duet for Houston's posthumous compilation record "I Will Always Love You: The Best of Whitney Houston" (2012).
"Bump, Bump, Bump," Written By R. Kelly and Performed By B2K
R. Kelly also helped write and produce B2K's first top 10 Billboard hit "Bump, Bump, Bump," which features P. Diddy and is definitely more of what you'd expect from Kelly than "I Look to You." You might also see the name Tremaine Neverson listed in the song credits as backup vocals... But you probably know him better as Trey Songz.
"Till the World Ends," Written By Kesha and Performed By Britney Spears
Not many people would expect a dance-pop artist like Kesha to be a prolific songwriter... And yet it's really not shocking to hear that she - along with hitmakers like Max Martin and Dr. Luke - helped pen "Till the World Ends," one of Britney Spears' many songs to reach number one on the charts. The Femme Fatale Remix of the track features vocals from Kesha herself, as well as Nicki Minaj.
"Break the Ice," Written By Keri Hilson and Performed By Britney Spears
Another one of Spears' killer tunes "Break the Ice" - off her 2007 album "Blackout" - was written by Keri Hilson, who's also written tracks for Omarion ("Ice Box"), Mary J. Blige ("Take Me As I Am"), and the Pussycat Dolls ("Wait a Minute").
"Party In the USA," Written By Jessie J and Performed By Miley Cyrus
Before Miley Cyrus twerked her way into infamy, there was "Hannah Montana" Miley (who was unfortunately murdered, according to "SNL"). One of Cyrus' biggest hits early in her career was "Party In the USA," which was written by Jessie J before she broke into the industry with "Domino" and wanted to "Bang Bang" all over you.
"Breakaway," Written By Avril Lavigne and Performed By Kelly Clarkson
The instrumentation, the lyrics... "Breakaway" sounds exactly like it belongs on Avril Lavigne's debut record "Let Go" (2002), but her label Arista Records didn't think the song fit in with the rest of the album. However, not all was lost and the "Breakaway" became was Kelly Clarkson's title song on her second studio album two years later.
"Little Things," Written By Ed Sheeran and Performed By One Direction
Before rumors of tensions with certain members of One Direction and before he became a pop sensation with "The A Team," Ed Sheeran helped pen "Little Things," One Direction's second single off "Take Me Home" (2012). Other tracks he's written for the boy band include "Moments," "Over Again," and "Summer Love."
"Irreplaceable," Written By Ne-Yo and Performed By Beyoncé
"To the left, to the left"... You can thank Ne-Yo for Beyoncé's unforgettable breakout hit "Irreplaceable." According to an interview he did with VH1, "We took country guitars and put a hip-hop verse over it [with] urban-feeling drums. It's a country hip-hop song... An experiment that worked." Ne-Yo's also written major hits for Rihanna and Pitbull.
Reach Associate Entertainment Editor Michelle Tiu here and follow her on Twitter.