USC Sports
Women of Troy Sweep ITA Tourney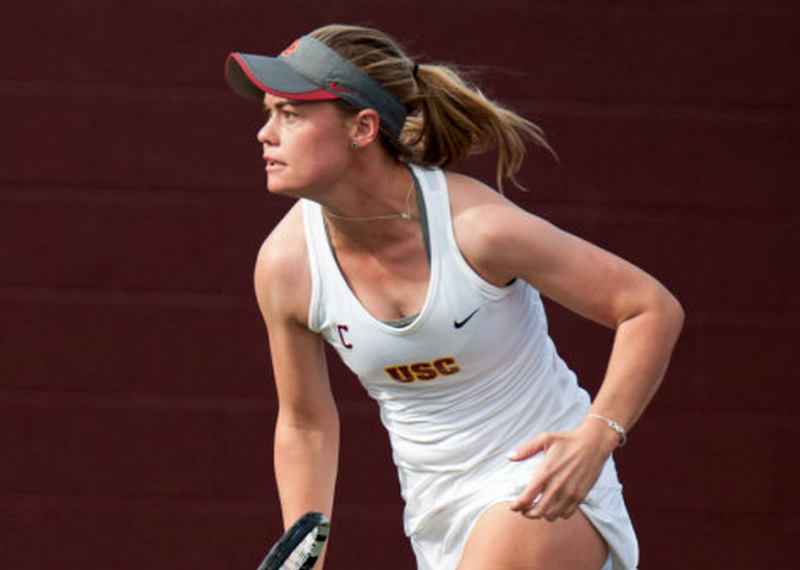 No. 14 USC Women's Tennis shut out No. 27 Pepperdine on their way to the ITA National Team qualifying championship over the weekend.
USC was the host of the ITA tourney over the weekend, competing against both Denver and Pepperdine.
On Saturday afternoon the Women of Troy destroyed Denver with an impressive 4-0 win in which they only dropped one set before the match was clinched.
The Women of Troy were supported by an unusually large crowd in their home opener, which pleasantly surprised senior Zoë Scandalis.
Scandalis was happy to see the crowd and said it helped her get in a "great mood."
The Women of Troy were looking to get their nerves out on their home court for the first time this spring, and they did that with skill and a killer instinct.
USC won the doubles point with the senior freshman duo of Gabriella DeSimone and Meredith Xepoleas who won their set 6-2, followed by a 6-4 victory courtesy of junior Giuliana Olmos and senior Zoë Scandalis.
Play then switched to the singles side of things where the Women of Troy cruised past an overmatched Denver squad.
No. 41 Olmos, playing in the #2 spot smashed her opponent 6-2, 6-1, and freshman Xepoleas came up clutch for USC again on Saturday, winning her match with a commanding score of 6-2, 6-2.
To clinch the match for the Women of Troy, fellow freshman Gabby Smith closed out a convincing win 6-2, 6-2.
"The freshman were outstanding," said associate head coach West Nott. "They were handling the pressure well, and just taking it to their opponents."
MORE USC SPORTS: Women of Troy Taken Out on Girls Night Out
The Women of Troy moved on to the championship round Sunday where they faced Pepperdine who beat Wichita State 4-3 Saturday prior to the USC match.
USC swept Pepperdine cruising to a 4-0 victory. To clinch the doubles point, Olmos and Scandalis won in commanding fashion 6-1 and Zoë Katz and senior Sabrina Santamaria defeated their opponent 6-3.
Santamaria made an impact on the singles side of the court as well with an impressive 6-1, 6-0 dominating victory.
Xepoleas also took care of business and ended her match 6-1, 6-1, and No. 98 DeSimone clinched the victory for the Women of Troy with a 6-3, 6-1 win.
In three matches this season, USC has swept their opponent all three times, and Coach Nott has said he is expecting "spectacular things this season" for his team.
"I was really proud of the team for showing up ready to compete and taking care of business," said Nott. "I really love the personality of this team."
Looking ahead, the Women of Troy will travel to Malibu to take on Pepperdine on their home court this Friday.
Reach Staff Reporter Hailey Tucker here.