Health
Riverside School Bans 66 Kids Without Measles Vaccinations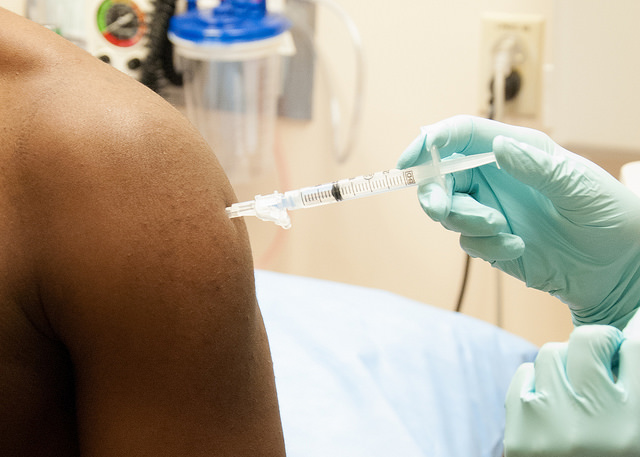 As the measles outbreak that originated at Disneyland continues to spread across eight states, one California high school dismissed almost 70 students from school because they have not been vaccinated for the highly contagious virus. The students will not be allowed to return to Palm Desert High School for two weeks—or until they provide proof of immunization. The decision comes after one student may have contracted measles. However, the case has not been confirmed and the student has already been cleared to return to school by the Riverside County Public Health Department.
People who are unvaccinated not only put themselves, but others at severe risk to contract viruses. The MMR vaccine, which helps build immunity to measles, mumps, and rubella, is one of the most effective vaccines out there. Two doses of the vaccine is 97 percent effective against infection.
READ MORE: "California Leads Measles Outbreak"
For the other people who might still be able to contract the virus, either because the vaccine was not completely effective or they have other health problems that prevent them from getting the vaccine, they have to completely rely on the people around them to avoid contracting measles. If only 90 percent of the population is vaccinated against measles, it becomes much harder to maintain what epidemiologists call "herd immunity" and outbreaks like the one at Disneyland get out of hand.
This particular outbreak started last December at Disneyland when nearly 20 cases of measles were confirmed after visits to the popular California theme park. Since then, measles has spread across state lines and the number of confirmed cases is up to 95. There's even been confirmed cases in Mexico linked to the Disneyland outbreak.
Arizona is the state with the second-most measles cases (after California). While none of the schools have banned kids yet, state health officials are monitoring about 1,000 people in Phoenix who may have been exposed to the virus. Those that are unvaccinated are being asked to stay home for 21 days.
READ MORE: "The Flu Shot Controversy: Get a Vaccine Or Get Fired?"
A high school in Huntington Beach has also taken a similar measure to prevent the spread of measles. One student with measles came attended classes at Huntington Beach High School after winter break. Twenty unvaccinated kids were not allowed to attend school for 21 days, starting in early January.
California law requires children to be immunized to attend school. According to the California Department of Education, to enter kindergarten and seventh grade, students must show proof of the MMR vaccine, which helps build immunity to measles, mumps, and rubella. Some students may get exemptions from this requirement if their parents submit a statement that immunization is contrary to their beliefs or that the immunization is not considered safe for their child (like if the child has cancer or an anaphylaxis reaction to vaccine ingredients).
This isn't the first time that California schools have banned students from school because the lacked the innoculation. According to The L.A. Times, some 50,000 students were told not to return to school until they had gotten vaccinated. Most were back within days, and the number of measles cases dropped.
Related Links
"California school bans 66 kids without measles vaccination" - The L.A. Times
"Arizona measles outbreaks reaches 'criticial point'" - USA Today
"Why did vaccinated people get measles at Disneyland? Blame the unvaccinated" - Wired
"Disney's sick history with measles epidemics" - The Daily Beast
"Arizona monitoring 1,000 people for measles linked to Disneyland" - CBS News
Contact Web Producer Meghan Coyle here.