Los Angeles
Poop And Plants Vs. Textbooks And Classrooms?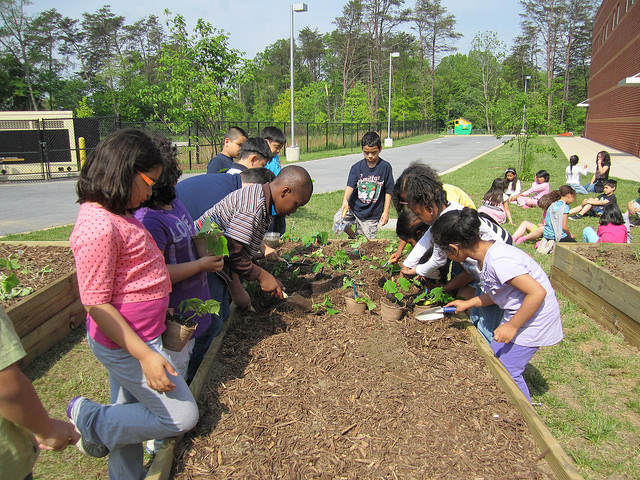 The climate (and science's understanding of it) is changing so rapidly, it's hard to imagine textbooks can keep up. Given that today's students are going to have to face tomorrow's environmental problems, that's kind of a scary thought.
Some schools in Los Angeles, though, are going beyond the bounds of the textbook to teach kids about the physical world in hopes of instilling them with a practical understanding of their changing environment.
Third and fourth graders from The Center for Early Education, an independent LA-area school visited the Hyperion Treatment Plant for an unconventional lesson about water and waste.
The plant incorporates an environmental learning center allowing visitors to see firsthand how the treatment plant turns wastewater into irrigation water, and helping students learn about the environment through interactive games.
The young students enthusiastically boarded a Disneyland-like tram tour that cruised around the facility that treats over 400 million gallons of waste each year.
The smell of sewage water permeated the air, causing the students to pinch their little noses, squealing "ew" and "gross" and making funny faces.
Students got up close to the machines, watching enormous claws combing debris out of the murky black water. Tour guide Nancy Carr said everyday waste items like toilet paper, towel rags, feminine products and condoms are commonly sifted out, but they've even found motorcycles and utility poles in the sludge.
Though the Hyperion Treatment Center is the six largest water plant in the world, as students learned, it does not treat waste from storm drains. Water from the storm drains automatically goes into the Santa Monica Bay, taking any trash or debris along with it and posing a threat to marine life, hence the importance of keeping streets litter-free.
READ MORE: It May Be Raining, But The Drought's Not Over
In the sewage plant's Environmental Learning Center, students learned about water and energy conservation.
The tour guide pointed out a 120 gallon water tank that, at 10 feet tall, towered above the students, telling them that represented how much water they each used per day.
The kids shook their heads in disbelief, many exclaiming "I don't use that much!"
Their teacher, Roseanna Chafino, explained to the students that with simple tasks like bathing, brushing their teeth and helping their parents with dishes, water usage adds up quickly.
Though the school did not allow the students to be interviewed, Chafino shared what she observed about her students' experience.
"It has an impact on them rather than just watching a video or reading about something. It's really different when they can touch and see what's happening," she said.
The students also learned how almost everything could be recycled at the treatment plant—even poop. According to the guides, methane gas extracted from poop produces enough energy to power nearly 25,000 homes.
Chuck Sawyer, director of events at The Center for Early Education was so impressed by the field trip that he suggested anyone living in LA should be mandated to go here so they can actually see the process and learn new ways to be more mindful.
"This is probably the best field trip we've done. You don't realize how much sledge and crap that people just throw out and not think about how it goes into the ocean," Sawyer said.
Sawyer said the kids spread the knowledge they learn on these field trips both at home and back at school.
"They will go home and yell at their parents if their parents aren't doing the right thing," Sawyer said.
READ MORE: Climate Change And California Agriculture
Other programs bring out-of-the-classroom environmental education right to campus, such as LA Works, a nonprofit whose volunteers help schools set up gardens for their students to plant, tend and harvest.
Eighteen years ago, the garden at Daniel Webster Middle School was just dirt. There was no green in sight—not even weeds or grass. Now it boasts Pima cotton plants, strawberry bushes, yucca, kale, arugula, basil and lavender, as well as lemon, plum, apricot, nectarine, avocado, pine and palm trees.
Cynthia Knerr-Eftimiu, a former teacher at Daniel Webster, said the change came when she took it upon herself to turn this piece of land into a place for hand-on learning.
Knerr-Eftimiu is now one of the organizers for the LA Works 'Spruce It Up' garden event and an environmental science teacher at Hawkins Elementary School in South LA.
"Gardening teaches you about life. Plants need humans more than water. Humans can see what needs to be trimmed in order to be healthy," Knerr-Eftimiu said.
She said that students learn about the environment by tending to the plants and later competing in a cook-off using the vegetables and fruits harvested from their garden.
"This is to teach them that this is a life cycle. Everything starts with the plant," Knerr-Eftimiu said.
The students learn about plants' life cycle by measuring the growth of the plants and watching them change from seed to plant to fruit.
LA Works volunteer Skylar Laham said gardening is important, especially in urban areas. Laham is an environmental studies student at Harvard University who volunteered with the organization during winter break.
"With climate change, we're going to change society and our point of view. We need to integrate gardening into urban areas. We're already hitting half of the world's oil. That is why [oil companies] are fracking to go deeper into the earth to get it," Laham said.
Another school implementing environmental education beyond classroom walls is at Normandie Elementary School.
The elementary school in South LA has a colorful school bus that runs on vegetable oil proudly parked outside. Near the bus, thyme and rosemary are in an herb garden planted by children. Apple and pear orchids on campus may soon supply students' afternoon snack.
Normandie Elementary principal, Gustavo Ortiz, said programs like these are crucial to raising awareness about the environment at a time when climate change is worsening.
"The kids are the future and they should learn about taking care of the environment," Ortiz said.
READ MORE: Science Education Gets Political Then Fails
Third grade student, Zion Woods, shared how she lends her helping hand.
"One way to keep the earth clean is that we throw away any trash we find and help clean up on the beach and other places," Woods said.
Principal Ortiz walked through the "mini-farm" and fruit garden, proudly sharing that his students and volunteers planted everything themselves.
"This is one of the ways the students are contributing to maintain the planet," Ortiz said.
Ortiz's goal of environmental education is to plant a seed in the students' mind that one day they could invent something that can help the environment.
Third grade student Aurora Arroyo, for one, hopes to make her principal's goal a reality.
"I want to invent a car that does not run on gas, but on air," said Arroyo.
"I've learned that you gotta make sure you don't pick any flowers 'cause that's just causing every bee to die," Arroyo said, sharing some of what she's learned at Normandie Elementary "If you kill the plants than the bugs would die. That's called the life cycle."
The educators from these schools agreed that teaching students about the environment from an early age is the best way to teach them healthy habits they can build on throughout their lives. Whether the students learn in inside or beyond classroom walls, they all seem to enjoy doing their part for the environment.
Programs like LA Works offer ways for the community to get involved with environmental education projects. Find schedules and sign-ups for volunteer events here.
Reach contributor Haiphie Hua here. Follow her on Twitter here.