Music
Night Terrors Of 1927 At The Roxy: Show Review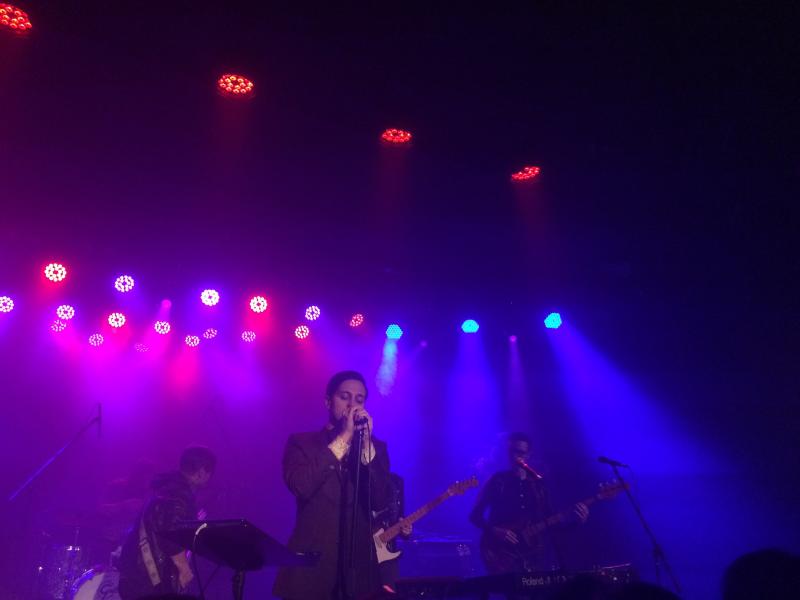 If you haven't heard of indie rock group Night Terrors of 1927 before, the best thing to do is to go see them live first. They brought the house down Friday night at the Roxy while celebrating the release of their first album, "Everything's Coming Up Roses." Both Top 40 listeners and indie lovers will be surprised by their ability to draw the crowd in.
Santa Barbara-based indie/electronic band FMLYBND started off the night by getting the audience in the mood to enjoy a night of indie music. Their hit song picked up by FIFA, "Come Alive," had a heavy EDM feel while songs like "Colors" let the audience slow jam to the soft vocals. Their high energy performance was all about getting people to let loose and dance, and they achieved that goal.
After much anticipation from the crowd, Night Terrors of 1927 finally appeared onstage. Guitarist Blake Sennett and singer Jarrod Gorbel's silhouettes showed up among the hazy cloud.
Right from the first song, this indie-rock band emphasized strong vocals so the instrumentals blended in to Gorbel's voice, not the other way around. The band started off with their older songs, including "When You Were Mine," featuring Tegan and Sara. Instead of the Canadian indie-pop duo joining them on stage, the band brought out singer-songwriter Madi Diaz to sing the part. Her crystal clear voice hit the high notes in the right places and made a good counterpart to Gorbel's voice.
The band's more intimate, slow songs, such as "Fall Into You," had the audience grooving to the music and singing along in silence. Perhaps the most mellow song, it seemed to put the crowd in a reflective state.
They had a variety of selections for their fans, ranging from heavy electronic to stripped-down vocals. They knew when to have overpowering instrumentals and when to tone it down, and that gave us more chances to appreciate all aspects of their musical style.
But it was when the band played their last song, ditching all the heavy instrumentals and drums, that they stood out the most. They closed off the show with their new song from the album, "Shine." It was the perfect choice to showcase their strengths. The studio version doesn't do justice to the slowed down and personal performance characterized by emotional sincerity. Sennett playing soothing arpeggio on his electric guitar against the careful and, at times, edgy tone of Gorbel's singing concluded the show on a perfect note (pun intended).
Contact Entertainment Producer Diana Lee here and follow her on Twitter here.