NFL
NFC Championship: A Thrilling Game Of Inches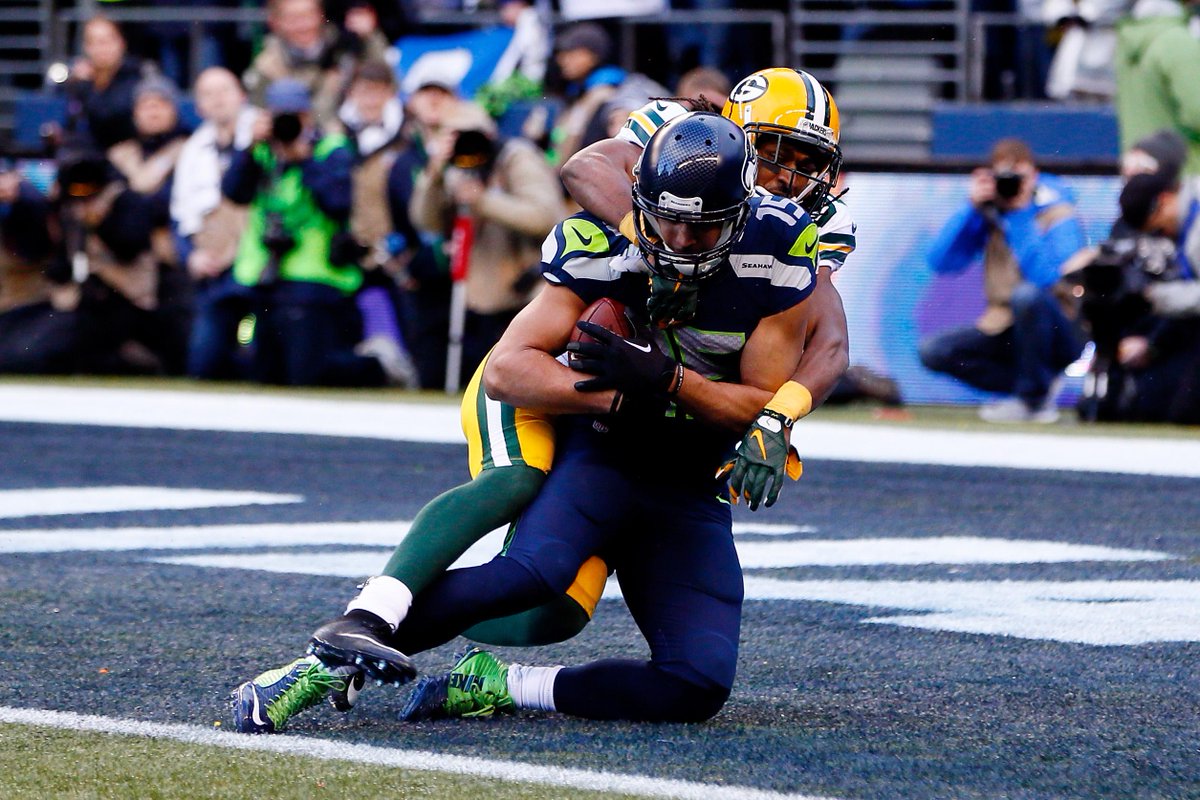 A fake field goal, a touchdown, an onside kick, another touchdown, a two-point conversion and a third and final touchdown in overtime.
For some teams, that's a full game's work. For the Super Bowl-bound Seattle Seahawks that was the final sequence they needed to grab hold of the NFC Championship, capping off an improbable, unreal and incredibly dramatic victory.
In a game where the Seahawks fell behind and stayed behind, they never seemed to throw in the towel. Aided by the coaching blunders of Mike McCarthy, who refused to go for two 4th-and-1 situations near the goal-line in the first quarter, the Seahawks threw aside their own mistakes in the form of turnovers and pulled it all together just in time.
A continuously sloppy game somehow turned into one of the greatest second-halves of playoff football, thanks in large part to the disparaging differences in game plans and in the executions of such game plans.
The expectancy of coming into the game as the underdogs placed the Packers in an uncomfortable and surprising position early when they found themselves with the ball for a whopping 12:38 of the first quarter. In other words, they had control of the game, but they seemed to have a bleak idea of what to do with it.
Meanwhile, on the other side, the turnovers and the uncharacteristic beginning placed the Seahawks and Pete Carroll in an unfamiliar, yet completely comfortable position.
With a history of being aggressive and forthcoming, the freewheelin' Carroll clearly found himself anxiously confident that this game had called upon him to utilize every tool in the box and every rule in the book.
A fourth down fake-punt touchdown pass was as "Carrollian" as they come. And when your Super Bowl-winning QB is struggling, why NOT go to your punter in need of a score?
After Russell Wilson finally got his act together and scored on a Beast Mode-infused drive, Carroll opted to go with the onside kick instead of kicking it deep and trusting his defense to stop Aaron Rodgers and the Packers, something that most would disagree with given the success of the infamous Legion of Boom.
The adjustment would prove to be the key cog in completing the comeback, and sure, it could have just as easily backfired if the Packers had recovered it. But they didn't, the Seahawks did, and another short touchdown drive and two-point conversion later, they were suddenly ahead
Despite the Packers' responding drive that led to a gutsy Mason Crosby game-tying field goal, it was all for naught when overtime lasted a mere 3:19. Another quick drive that concluded in the suddenly-resuscitated Wilson airing a perfect ball to Jermaine Kearse. Yes, it was that same Kearse who Wilson targeted in all his mind-boggling FOUR interceptions.
As shocking as that lackadaisical start was, the Seahawks' reputation allowed for a longer leash before everyone wrote their obituary. Like a bomb waiting to explode, it seemed like it was only a matter of time before they made their way back into domination. That sudden explosion never really came, but rather slowly and surely the Hawks kept belief that they were not going to lose and their play toward the end exemplified that notion.
In spite of Russell Wilson showing his youth and growing pains at the most inopportune time, he showed up when it mattered most. In spite of star corner Richard Sherman injuring himself, he kept playing and a made a key block when it mattered most.
In spite of falling behind more than 13 points or more for the first time since playing Washington in a 2012 playoff game and in spite of having a 0.09% chance to win the game at one point, the Seahawks ended up where we all thought they would. On their way to the Super Bowl.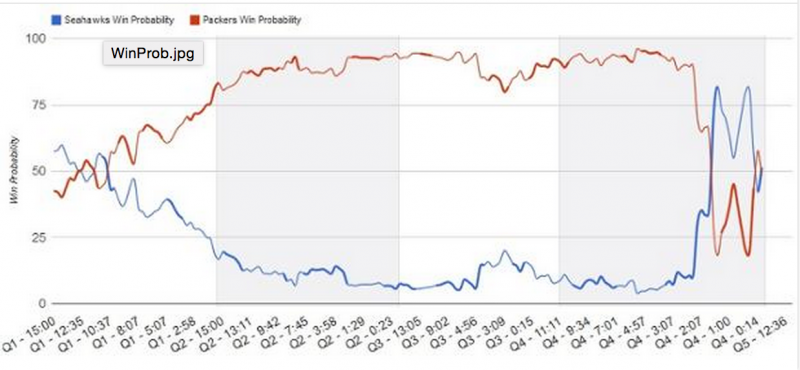 The bottom line is this: Carroll played to win the game, McCarthy played not to lose. One was comfortable and essentially aggressive in a deficit, the other was uncomfortable and overly cautious with a lead. One made adjustments where needed and did not let the struggling quarterback doom his game plan, the other refused to put away the game and allowed the struggling quarterback to linger and eventually doom his game result.
They say football is a game of inches. In this game, that statement is painfully accurate.
Twice, the Packers were inches away from scoring a touchdown and putting the game further out of reach. Twice, McCarthy refused to go for it on fourth down, opting for a field goal instead.
Hindsight may be 20-20, but for McCarthy and the Packers, hindsight could have been easily avoided with some aggressiveness. Some Pete Carroll-type aggressiveness, if you will.
With a Super Bowl trip on the line, those faulty decisions turned damning and those inches turned into miles. Both the long ones the Packers will feel on their way back to Green Bay and the long ones the Seahawks will travel to Glendale, Arizona in their place.
Reach Associate Sports Editor Paolo Ugetti here, or follow him on Twitter at @PaoloUggetti.