Music
Insomniac Presents Awakening Featuring Knife Party: Preview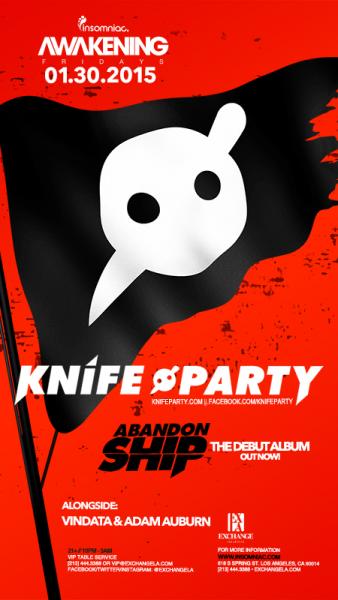 Knife Party is heading back to LA for a show that you will not want to miss.
On January 30, Rob Swire and Gareth McGrillen will be taking the stage at Exchange LA for a performance that will probably leave the club in shambles. The management probably would not be too happy about that but it will definitely leave the crowd begging for more. Now that you will not want to miss.
READ MORE: The Wombats At The Bootleg Hifi: Show Review
Knife Party takes inspriation from a number of different genres and are influenced by electro house, dubstep, moombahton, drumstep and much more. However, they are most excited about the fusion of house and dubstep.
The duo has really come a long way since their first show at BBC Radio 1's 'Come Together' event at Space, Ibiza in August 2011. That set gave the community their first taste and instantly caused "Internet Friends" and "Tourniquet" to become favorites, months before they were even released.
Their set for Awakening will no doubt feature tracks from their debut album, Abandon Ship, that was released in November 2014. "Begin Again" and "Resistance" have already gathered support as listeners heard a different side of Knife Party than most were used to. But there's no telling what the two have in store for their return to LA.
Will you be there to witness history? Tickets are still available here.
Reach Staff Reporter Marc Sessa here.