Film and TV
Golden Globes 2015: Tina Fey And Amy Poehler Return As Hosts
They say the third time's the charm, but Amy Poehler and Tina Fey have been acing the hosting gig since 2013. The comedic duo have proven the past two years that they know how to entertain an audience. This year, they weren't afraid to throw out light-hearted jokes as well as a full-on roast of films (mostly "The Interview").
They didn't waste any time in bringing up the Sony hacking incident either. Fey opened up the show by greeting fellow stars as "despicable, spoiled, minimally talented brats," referencing the email leak that revealed a Sony executive and a producer blatantly insulting celebrities.
READ MORE: Golden Globes 2015: Complete List Of Winners
Their most controversial antic, however, was undoubtedly the numerous Bill Cosby jokes. Things took a turn when the talk of "Into the Woods" transitioned into a mockery of the disgraced comedian. Fey and Poehler took turns impersonating Cosby in his reaction to the sexual assault allegations made against him. There was mixed reaction among the audience at first, but the tension soon faded, with the audience clapping along. The parody shouldn't come as a surprise to anyone, since Fey did warn us beforehand.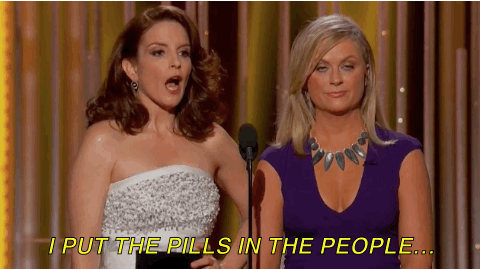 Fey and Poehler made sure to include classic jokes teasing their close friends in the audience, even poking fun at the stereotypical nature of Hollywood in the case of George Clooney's award. The obvious irony in Clooney receiving a lifetime achievement award, as husband to renowned human rights lawyer and activist, Amal Alamuddin, became apparent.
Some jokes were obviously riskier than others, but they pulled it off well with subtle, tasteful jokes here and there to make for an enjoyable show opening. Maybe it's because they don't take it too seriously, but these two certainly went out with a bang.
But don't worry, this dynamic duo aren't going away for good. They have a new movie coming out this Christmas.
For more Golden Globes coverage, click here.
Reach Staff Reporter Diana Lee here and follow here on Twitter here.