Film and TV
'Galavant' Is Indeed A Musical Comedy Extravaganza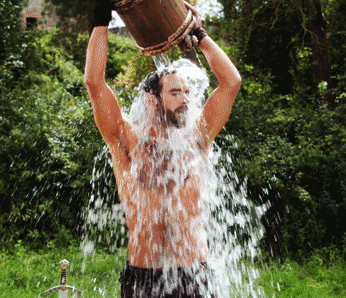 "Galavant" is a four-week musical comedy premiering on ABC with music composition by "Beauty and The Beast" composer Alan Menken and "Tangled" lyricist Glenn Slater.
If that wasn't enough talent for you, screenwriter for "Crazy, Stupid Love" and "Cars"' Dan Fogel joins the team. With a combination like these three, you should only expect the best.
READ MORE: TV Premiere Dates For 2015
The setting is during the medieval period with a little bit of dark humor. The hour premiere of "Galavant" was divided into two seperate episodes.
Episode 1
Musicals are either a hit or miss. Either you will be singing the tunes and wanting more or begging for the music to stop. "Galavant" is the perfect combination of both story and music. The jokes are embedded in the songs, which help captivate the humorous spirit of the comical music. This mini-musical series is one made for any with a clever college sense of humor.
The show opens with legendary soldier Galavant (Joshua Sasse) riding in on a horse as his tale is sung by the town. Galavant was known throughout the land as a brave fighter, who fell madly in love with Madalena (Mallory Jansen). One day King Richard (Timothy Omundson) laid eyes on Madalena and demanded her for his wife. The story begins with their wedding day and only lovesick Galavant can stop this wedding.
Unfortunately for Galavent, his dearest Madalena choses to marry the king for his riches and fame. Now Galavant is a miserable, stinky chap and is as lost as can be. Princess Isabella Lucia Maria Elizabetta of Valencia (Karen David) then asks Galavant to come help her avenge King Richard for ruining her village. Little does Galavant know that it is just a trap set up by King Richard so he can duel him. Of course Princess Lucia Maria Elizabetta of Valencia was forced into doing this. If she didn't, King Richard would kill her parents.
Episode 2
This episode begins with Galavant dreaming of fighting off many soldiers but then runs into Madalena pantless. As any man's man would do, Galavant wakes up screaming and quickly moves into a song about his quest to save his love and fight King Richard. Meanwhile at the castle, it turns out King Richard is having marital problems with Madalena. He gives some very good advice to his servants and well as his audience: "Never start a marriage with a kidnapping. Both of you promise me that right now." At the end you feel a bit of sorrow for King Richard as his wife whips out some snarky remarks and tells King Richard he is unlovable.
But back to Galavant now. Galavant has to find some sleeping quarters for his crew but has no money for an inn so logically he enters a jousting tournament to win some dinero. He then runs into his competitor, Jean Hamm (John Stamos). Yes, it's pronounced like John Hamm. Galavant is forced to shape up in a Rocky-like training session. Of course, Galavant wins with a little help of Princess Isabella Lucia Maria Elizabetta of Valencia poisoning Sir Jean Hamm.
Everyone fitted the role they were bestowed with. Sasse as Galevant was just the right amount of rugged and comedian to fit the role of valiant knight with a modern day touch. The beautiful Jansen played the gold digger Madalena with her sass, flirtation and spoiled personality. The one that truimphs them all is the out-of-touch King Richard portrayed by Timothy Omundson, whom captures the type of king who beheaded servants, killed villages and stole maidens, but somehow managed to make his role witty and humorous. The entire cast will have you singing along and laughing your tail off.
Reach Staff Reporter Natalie Gennaoui here. Follow her blog here.