Music
Jesse Medeles: Artist On The Move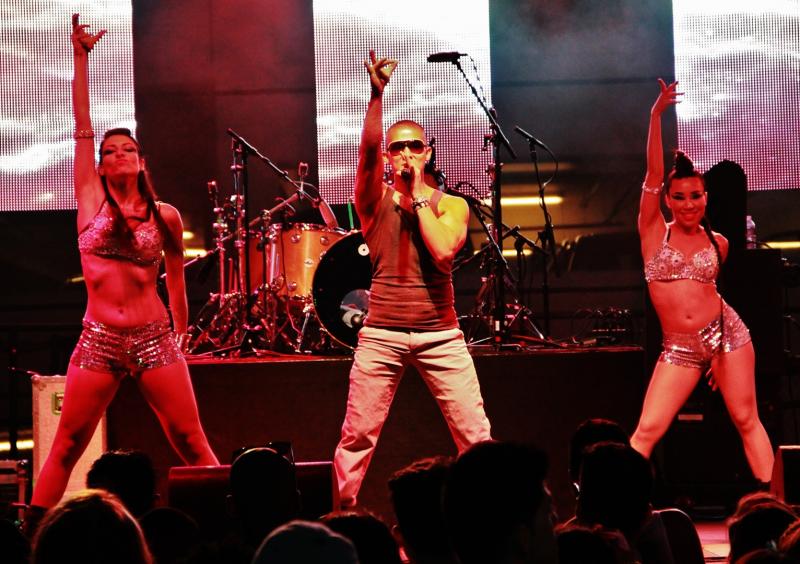 Up-and-coming music artist Jesse Medeles, referred to as "JM," has been establishing his career for the past couple of years. Moving from his home in Texas to pursuing a career in both music and acting in Los Angeles, California demonstrates how hard Jesse has been working to get to where he is today.
I sat down with Jesse before his next big gig with Mexican recording artist Ana Barbara to find out what he's up to in 2015 and to get to know him as more than just an acronym.
NT: Jesse, for those who don't know you, tell us something about yourself and who you are as an artist.
Jesse: I'm just a regular guy who wants to make music. My style of music is pop, urban, dance, and Latino. I like to do music and act.
NT: What do you like to listen to? Who inspired you?
Jesse: I get inspired by people who make the impossible, possible. I don't really get inspired by artists, moreso people who have gone through struggles and obstacles in their life, have never given up, and have made their dreams a reality. When I was at the supermarket the other day there was this older lady, who was jogging, and I told her how impressive and inspirational it was to see someone her age continue to do the things younger people can do and she replied, "Honey, it's what's in the heart!" That's what touched my heart.
READ MORE: Mr. Worldwide, How Does This Make You Feel?
NT: Before becoming a music artist, you majored in Healthcare Administration. What made you want to pursue a career in music?
Jesse: Yeah, I do have a degree in Healthcare Administration. When I was still in Texas, I came from a background where I had nothing and I wanted to be something in life. As I was pursuing my acting and music career, I also wanted to study nutrition and health care for personal reasons, which is what I did for a while.
NT: How would you describe your sound?
Jesse: I would label it as a "world sound." You will hear in my music Indian and Latin elements, plus other cultures involved. I get inspired by Latin, Indian, and African sounds, which blends into what you hear through my music.
NT: Keeping that type of music in mind, what kind of people do you want to target and where do you see it being played?
Jesse: I want to target everyone. Since my music has this global type of sound everyone is welcomed to join and enjoy what I have to offer as an artist. In terms of where I see my music being played, it can be played at any given moment or place whether that's at a party, a club, or going on a roadtrip. I want my music to make the listeners feel inclusive. There's a reason why I don't use profanity in my music because I want it to reach a larger audience.
NT: I read that you like to involve futuristic choreography. What is that and how involved are you in the choreography?
Jesse: Futuristic, to me, means create choreography that hasn't been done before. Get inspired by current ideas and bring new ones out of it. My choreographer is African-American and he includes his cultural background with the Latin background that I come from to come up with choreography that hasn't been seen before.
NT: You're going to open for Ana Barbara. Are you excited? Does this mean you're going to be working on even bigger projects in the future?
Jesse: I've been a fan of Ana Barbara for a while. After opening up for Ivy Queen, I created a strong relationship with one of the guys who's in charge of putting events together and he called to ask me if I could open up for Ana Barbara. He told me that he wouldn't ask anyone else but me since he knew I could get the job done. I'm excited for this opportunity and what's to come. This year, I do have bigger projects lined up, that I can't say right now, but it's going to be huge! My music producer J2, who produced Shakira's World Cup "La La La" song, is helping me with my album and I will be collaborating with other artists.
NT: Now that you're here in LA and living the Hollywood life, has it changed who you are? How do you manage to stay humble and not "lose yourself?"
Jesse: Since I came from absolutely nothing and have had to work extremely hard to get what I want in life, I go by this quote, which is: "Always treat someone the way you want to be treated. Never forget where you came from because you can get knocked to that same place at any given moment." That's something that my grandparents told me growing up.
READ MORE: Latinas In Hollywood: Vivian Lamolli Interview
NT: You've done some recent films like "Dirty Lies," "One Heart," and "I Am Gangster." Tell us something about your experience in those movies.
Jesse: Entertaining is what I live for. It's that simple. I've been acting since a really early age. As soon as I could, I tried to get an agent to get me into the acting world. All I did was build my acting background through various projects back in Texas until I moved out to L.A. Eventually, I've worked with Romeo Miller in "One Heart" and have also starred in movies. I've had the opportunity to work with directors from "Olympus Has Fallen" and "Twilight." When I was casted as a Native Indian in "Alone Yet Not Alone," I had suggested to the directors that I should learn the Native language and they loved the idea. I was able to go to a tribe and interact with one of the Indians to really understand my role.
NT: What kind of roles do you want to do?
Jesse: As a Latino, we get boxed into a certain type of role such as the typical "troublemaker" type of character, but my goal is to stray away from that. As I previously mentioned, I decided to play the Native Indian role because I wanted to try a different role that Latinos haven't done before. In this movie that I did, "The Guilty Innocence," I play a character that isn't necessarily your stereotypical Latino "troublemaker." He's just a person who's made poor decisions in life. In that particular movie, I was the only Latino in a white cast, which speaks for itself.
My job as a Latino is to change the way Hollywood sees us and that we can play different roles besides the stereotypical type-cast roles. I want to open doors for other Latinos that want to do what I'm doing.
Reach Staff Reporter Barbara Estrada here. Follow her on Twitter here.