Film and TV
'American Horror Story: Freak Show' Season 4, Episode 13: 'Curtain Call'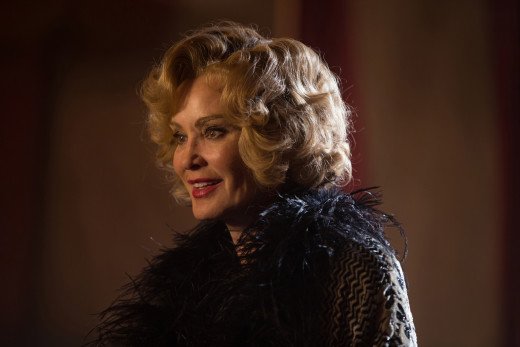 What in the world just happened?
"AHS: Freak Show" has come to an end, and viewers are probably picking up their jaws from the floor (metaphorically, not in a violent Ryan Murphy way). It's pretty hard to try to make any sense of this season's finale, so here's a summary of the chaos that occurred.
Dandy (Finn Wittrock) is in charge of the freak show now, and he's setting himself up as some sort of crooning headliner. But audiences aren't biting (or buying tickets at all, for that matter), Dandy's getting restless, and the freaks are getting awfully sick of his bad attitude. Finally, they all knock Dandy down, call him boring, spit on him and quit (exactly how I left my last job too).
READ MORE: 'American Horror Story: Freak Show' Season 4, Episode 12: 'Show Stoppers'
As you can imagine, Dandy doesn't take it kindly. In classic Dandy fashion, he gets all dolled up in his Sunday best and nonchalantly walks around the fairgrounds shooting EVERY. SINGLE. FREAK. "Freak Show" hasn't been shy about shocking its audience, but there's something especially jarring about seeing almost every single supporting character in the entire show graphically dispatched in the span of five minutes. If you don't quite get it, picture someone walking into the hospital and shooting every doctor who's ever spoken a line on "Grey's Anatomy" except for Patrick Dempsey.
Paul, the Illustrated Seal (Mat Fraser)? Bang.
The lady with no legs? Bang.
Amazon Eve (Erika Ervin) puts up a momentary fight, but bang.
The sole survivors of the massacre are Desiree Dupree (Angela Bassett), who has too many sassy one-liners to die, and Jimmy (Evan Peters), who was off getting his new wooden claws when it all went down. Not to mention the Tattler twins (Sarah Paulson), whom Dandy brings along when he retires back to his mansion. I'm still wondering what happened to bird-nugget Stanley (Denis O'Hare).
What comes next is a wedding ceremony. Dandy takes Bette (sorry Dot) to be his lawfully wedded wife, and things look incredibly domestic for a moment. But it's all part of the freaks' masterful revenge plot. They spike Dandy's drink and he wakes up in a Houdini escape tank in nothing but his undies (and you thought your hangovers were bad). "I'm immortal!" Dandy declares – but no. Desiree, Jimmy, Bette and Dot turn on the hose and snack on movie-theater popcorn as the boy drowns. Cue Angela Bassett's one-liner: "That boy is a star."
Meanwhile, Elsa (Jessica Lange) is badgering network executives in Hollywood. Eventually, handsome and way-younger-than-Elsa Michael Beck (David Burtka), the junior VP of casting for the WBN network, gives her a hand. When I say a hand, I mean both everything she's ever wanted in show business and his hand in marriage – yes, fast forward a few years and they're unhappily married, Elsa's a giant television star and award-winning recording artist, and she's putting what seems like the very first star on the Hollywood Walk of Fame. Good for you, Elsa!
But the grass is always greener, and Elsa is unsatisfied by the empty fame of Hollywood. To make matters worse, her Italian sweetheart Massimo (Danny Huston) is dying and the media has stumbled upon that one thing where Elsa got her legs sawed off in a fetish porn video. Oops!
READ MORE: 'American Horror Story: Freak Show' Season 4, Episode 11: 'Magical Thinking'
Elsa is beyond done, so she agrees to do what any rational person would do in this situation – she agrees to perform on Halloween so the two-faced ghost of Edward Moredrake (Wes Bentley) can murder her for his troupe of dead carnies. We've all been there! When old Eddie arrives, he does the deed and stabs Elsa in the heart or something, but he tells her that her place is not with them. Instead, we flash sideways to what would have happened if the plane had never crashed on the Island, but it turns out that everyone has just been dead all along and they all gather in a church to move on to the great everlasting. Wait, no. Instead, she's sent to an afterlife version of her Cabinet of Curiosities, and the gang's all there. Ma Petite (Jyoti Amge) is back, nobody's dead (well, they're all dead, but you know what I mean), and Ethel (Kathy Bates) isn't even mad at her for shooting her in the face!
"Stars never pay," says Ethel.
Totally! Back in the land of the living, we get a slew of other happy endings as well: Desiree and her never-quite-explained beau now have a couple kids and a beautiful life, and Jimmy has settled down and impregnated none other than the Tattler twins (marking Evan Peters' second polygamous marriage in "AHS"). Elsa takes the stage and prepares to sing one final anachronistic rendition of "Life on Mars."
The credits roll.
Though there wasn't really anything coherent about this finale, or really any of this season, no one can deny that it went out with a bang. A ton of bangs, actually. And one drowned sociopath. And let's never forget that Emma Roberts got sawed in half last week! "AHS: Freak Show" delivered shock upon shock, twist upon twist and even threw in some half-a**ed metaphors along the way. Nobody is quite sure what this season was, but it sure was a spectacular ride.
Til next time: another Kathy Bates accent, another creepy-themed sequence and another unforgettable season of "American Horror Story."
Reach Staff Reporter Jules Zucker here. Follow her on Twitter here.