USC Sports
Two 30-Point Performances Not Enough In USC's Triple Overtime Loss To Colorado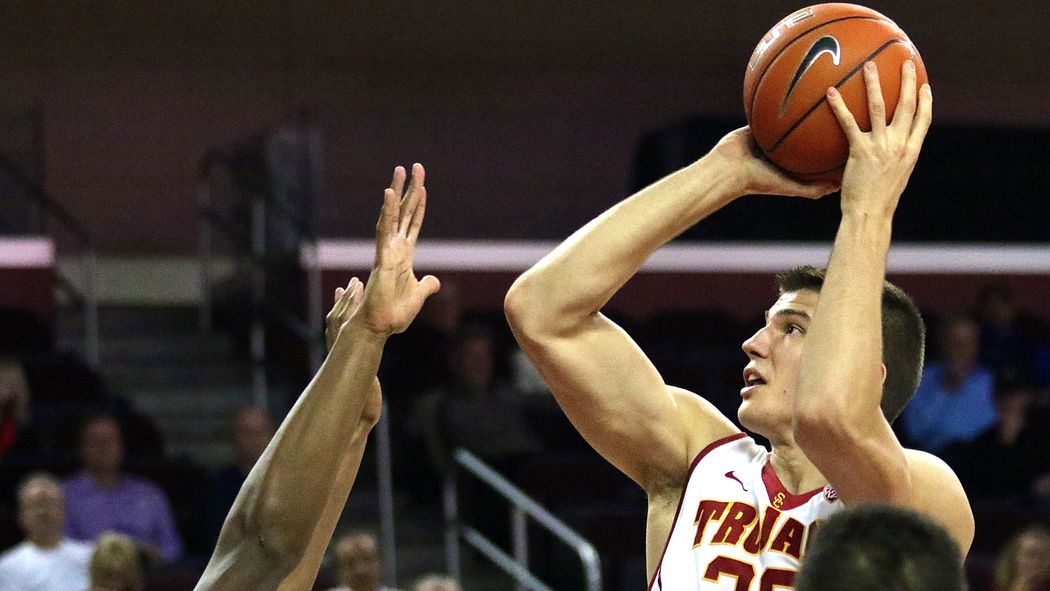 Not one, not two but three overtimes was what it took for Colorado (11-9, 4-4 in Pac-12) to finally put away USC (9-11, 1-7 in Pac-12) by a score of 98-94 on Wednesday night at the Galen Center.
Though the Trojans had their best game of the season offensively, it was all in vain, as they squandered away overtime leads while failing to hit potential game-winning shots when they had the chance.
"It's frustrating when you lose a game." Coach Andy Enfield said afterward. "Give Colorado credit, give our player's credit, they played hard throughout."
USC did play hard, but the fact that Katin Reinhardt's career night of 35 points is not only a subscript to the game's final score, but seemed wasted in light of the defeat, says a lot about this team's late-game execution.
As does their recent matchups.
After close, winnable losses to Stanford and Oregon St., it appeared the Trojans were headed toward a victory in hopes of putting an end to their four-game losing streak.
But three overtimes did not the change the fact that when the clock hit zero, the result was the same: Another loss.
"We lost, so 35 points didn't matter," Reinhardt admitted painfully. "I feel terrible. We have to grind it out, get better, learn from it and learn how to finish."
The finish was hectic to say the least, but it did not seem headed that way when the game tipped-off.
--
The promising start began with USC looking both productive and versatile on the offensive side of the court. 12 of the Trojan's first 15 points came in the paint at the courtesy of big man Nikola Jovanovic, who was unstoppable down low racking up a career-high 30 points.
"I was positive we were going to win", Jovanovic said.
But Jovanovic's 30-spot was merely second fiddle, at least on his own squad, to what Reinhardt did from behind-the-arc. The sophomore, who was recruited primarily for his shooting skills, found his stroke on Wendesday night subsequently opening up the floodgates which led to his career-high nine three-pointers.
"I feel great now on the court," Reinhardt said. "I feel like I'm finding my rhythm,"
Reinhardt coupled his 50% shooting clip from downtown by draining 12-of-27 from the field, and had it not been for his fouling out in the third overtime, he might have hit 40.
And yet someone did hit 40.
Colorado's Askia Booker answered the Trojan duo with an impressive and game-high 43 points of his own. For some perspective, the Buffaloes' second leading scorer was Xavier Johnson. With 12. Booker had everything working tonight, from the midrange to the deep ball, to shooting 13-of-15 from the line, the Trojans were fighting a senseless battle by trying to defend him.
"Askia's performance was great, we needed him and we neeeded every bucket from him tonight," said Colorado Head Coach Tad Boyle.
Aside from the high-scorers on both sides, the game lended itself to a very evenly-matched ordeal. The rebounding battle was won slightly by the Buffs 43-41, and both teams posted equally-high turnover numbers, while the even scoring results speak for themselves. Besides the lopsided bench scoring (33-11 to Colorado), and the late-game execution in the frenzy of overtimes, what separated these two teams was the timeliness of their mistakes.
The Buffs had a subpar first half, with nine turnovers and shot a mediocre 46% from the field. Though USC had a halftime lead, it gave it away quickly into the second by piling up turnover after turnover of their own, reverting back to their old ways and letting Colorado take control of the game. It was only by the outside shooting of Reinhardt that the Trojans somehow found a way to maintain pace, waiting until there were 44 seconds left in regulation to finally make things even again.
The first overtime was ushered in after a Jordan McLaughlin hopeful, game-winning drive ended futilely. And though Reinhardt clearly had the hot hand throughout the game, the Trojans opted to go with McLaughlin once again in the first overtime having yet another chance to win the game.
"I thought Jordan had a pull-up jump shot for three," Enfield admitted, and though McLaughlin struggled (3-13 from the field, 0-3 on threes), he reiterated his support and backed the point guard profusely.
"He played his heart out tonight. There's no other point guard in the country that I love more than Jordan McLaughlin."
In the same way the Trojans began turning the ball over early in the second half, they once again fell victim to poor free-throw shooting down the stretch. In fact, overall, they posted a mediocre 53.8% from the stripe in the second half, and a 65.7% in the entire game. That 65% is accurately close to their season percentage, which ranks third-worst in the conference and among the bottom in all the nation.
"We did some things well, some not so well," said Enfield. "We didn't play a perfect game, but they did everything we asked."
Free-throws are key down the stretch in close games, as are the many timely decisions that have to be made. In that department, the Trojans were simply defeated.
First, USC forced two McLaughlin drives in regulation and in the first OT when Reinhardt was on the floor with 30+ points.
Reinhardt then apparently had no idea he was at the foul limit, leading to his fouling out in the third overtime.
"I feel like I let the team down when I fouled out," said Reinhardt.
Then, with a little over 20 seconds left in triple OT down 2, the Trojans took 10 seconds to finally foul instead of extending the game right away.
To cap all the madness off, whether by Enfield's orders or by his own accord, McLaughlin drove to the basket in the final overtime clearly needing a three to tie it.
Could he have hoped he would get fouled and make the shot all at once? Sure, but those odds were not very good, not to mention the fact that the Trojans had exhausted all of their timeouts and their free-throw shooting was not the most reliable option.
That ambitious if not reckless decision-making cost the Trojans tonight, as they had a chance to break their four-game losing streak and accrue their second much-needed conference win.
"Our goal is to compete every night," justfied Enfield. "It's not fun to lose but I can't be mad, they played hard."
Despite career nights from two of their best players—who became the first Trojan duo to score more than 30 points in the same game—USC is now 1-6 in conference play set to welcome the No. 3-ranked Utes to the Galen Center on Sunday.
Don't expect triple overtime in that one.
Since Enfield's arrival, the Trojans have only ousted Cal twice in conference play. No one else. But if there's a silver lining in one of the most exciting, yet equally disheartening games of the season, it's the fact that the Trojans did in fact look more than above average at times. And most of all, they seem to realizing what they are capable of.
"You can see progress from the beginning of the season," touted Reinhardt. "We just have to close games out."
"From game to game, we're progressing," said Jovanovic. "We're young. We have to grow up and learn...I hope we can win close games."
Without proper late-game execution and a close win on their resume, hoping will have to do for now.
Reach Associate Sports Editor Paolo Ugetti here, or follow him on Twitter at @PaoloUggetti.