Music
15 Albums Turning 15 In 2015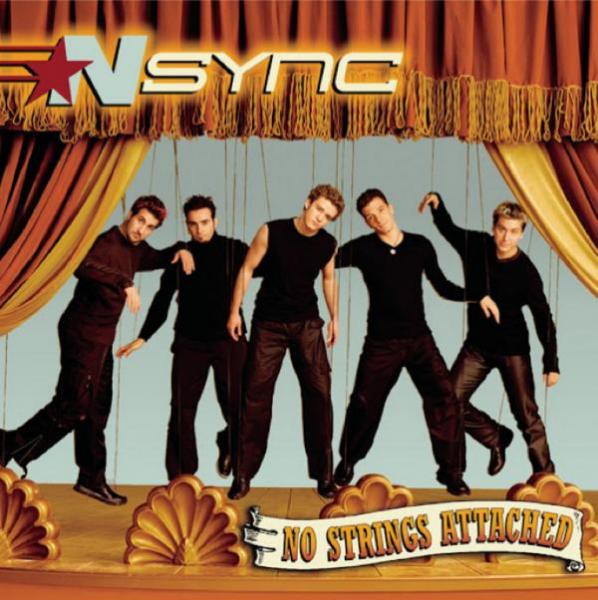 As we head further into 2015, it's hard to believe how much has changed since the beginning of the twenty-first century.
Back in 2000, there was only one "X-Men" movie and only 361 million people in the world were using the Internet... Which is less than 30 percent of monthly active users on Facebook now!
Plus, the year was also a memorable time for music, with some of the industry's most influential (and most unusual) albums having been released in 2000.
From *NSYNC's iconic "No Strings Attached" to the infamous one-hit wonder record "Who Let the Dogs Out," here are fifteen albums you might be surprised are turning fifteen this year.
"No Strings Attached," *NSYNC
In 2000, *NSYNC - the boy band that had teenage girls swooning long before One Direction ever did - released its iconic second studio album "No Strings Attached." Representing their newfound freedom from Trans Continental management (which also managed Backstreet Boys) and RCA Records, "No Strings Attached" was a critical and commercial success that allowed the group to step away from their reputation as a bunch of Backstreet Boys wannabes.
Fun Fact: Having sold 2.416 million copies of "No Strings Attached" in its debut week, the men of *NSYNC still hold the record for highest first-week album sales in music history.
"The Better Life," 3 Doors Down
3 Doors Down's debut release "The Better Life" is still the rock band's best-selling album, having sold over 5.653 copies as of July 2014. The album's lead single "Kryptonite" is still the band's best-known song to date, rivaled perhaps only by "Here Without You" off their second studio album "Away from the Sun."
"Parachutes," Coldplay
In the middle of recording what is possibly their seventh and final album ("A Head Full of Dreams"), British alt-rock band Coldplay also celebrates the fifteenth anniversary of their debut record "Parachutes" this year. The album, which won the Grammy for Best Alternative Music Album in 2002, spawned the hit songs "Yellow" and "Shiver."
"Hybrid Theory," Linkin Park
Linkin Park's iconic debut release "Hybrid Theory" is celebrating its fifteenth anniversary on October 24. With four extremely successful singles, including "One Step Closer" and "In the End," the album was nominated for Best Rock Album at the 2002 Grammy Awards.
Fun Fact: With over 27 million copies sold worldwide, "Hybrid Theory" holds the title of best-selling debut album of the 21st century to this date.
"Can't Take Me Home," P!nk
Before P!nk became the sassy pop-rock star we all know and love, there was "Can't Take Me Home," the singer's long-forgotten debut album. Featuring a more R&B sound similar to TLC, P!nk has since admitted to being "stifled" musically during the album's production and promotion.
"The Marshall Mathers LP," Eminem
Eminem's Grammy-Award winning third album "The Marshall Mathers LP" is considered by many publications to be one of the best albums of the 2000s, if not one of the greatest of all time. Although he has - for the most part - stepped away from this image, "The Marshall Mathers LP" was quintessential Eminem: violent ("Kill You," "Kim") and funny ("The Real Slim Shady"), yet also introspective ("The Way I Am").
Fun Fact: With over 1.76 million copies sold in its first week, "The Marshall Mathers LP" still holds the record for biggest debut-week album sales by a solo artist.
READ MORE: Grammys 2014: 7 Most Memorable Moments Of All Time
"Crush," Bon Jovi
"Crush," Bon Jovi's seventh studio release, was an international and critical success, becoming the band's first album to be nominated for a Grammy. The record's lead single "It's My Life" is also one of the band's most successful and popular songs to date.
"Who Let the Dogs Out," Baha Men
Fifteen years ago, the Baha Men's fifth studio album "Who Let the Dogs Out" made the Bahamian group a minor success in the United States and spawned the only major hit of their musical career.
Fun Fact: Despite being including on many publications' "worst songs ever" lists, the album's title track did manage to snag the Baha Men a Grammy for Best Dance Recording in 2001.
"America Town," Five for Fighting
The major label debut of Five for Fighting (aka John Ondrasik), "America Town" produced two of the singer's most well-known songs to date, "Easy Tonight" and "Superman (It's Not Easy)."
"All That You Can't Leave Behind," U2
Considered one of the greatest albums of all time by many, U2's tenth studio album "All That You Can't Leave Behind" sold over 12 million copies, went number one in over 30 countries, and won seven Grammys. This success allowed the Irish band to bounce back to being one of the biggest music acts in the world after a not-so-great response to their previous record "Pop" (1997).
Fun Fact: "All That You Can't Leave Behind" is the only album in Grammy history with multiple tracks winning Record of the Year ("Beautiful Day" in 2001, "Walk On" in 2002).
"New Found Glory," New Found Glory
Although it was their second studio album, New Found Glory's self-titled record produced their breakthrough single "Hit or Miss" and ultimately put the band at the forefront of the pop-punk scene, with many critics noting the Floridian band's lasting influence (along with blink-182) on the genre.
"Whoa, Nelly!," Nelly Furtado
Nelly Furtado's studio debut "Whoa, Nelly!" was a critical success and spawned the hit single "I'm Like a Bird," which is still considered by many to be the Canadian singer's signature song.
Fun Fact: "I'm Like a Bird," which was also nominated for Song of the Year, won the Grammy for Best Female Pop Vocal Performance in 2001, making Furtado the first to win the award for a debut single since Mariah Carey did in 1991.
"The Sickness," Disturbed
Disturbed's debut studio effort, "The Sickness" remains - to this day - the heavy metal band's most successful album. With tracks like "Stupify" and "Down with the Sickness," the record is considerably heavier and darker (both musically and lyrically) than many of Disturbed's subsequent releases.
"Forever," Spice Girls
British pop girl group Spice Girls released their third and final album "Forever" in 2000. Unfortunately, the album was not as successful (critically or commercially) compared to the group's previous releases. "Forever" is also the only Spice Girls record that doesn't feature Geri Halliwell, who eventually rejoined for the group's "Greatest Hits" album (2007).
READ MORE: 15 Songs That Remind Us Of Our Childhood
"No Name Face," Lifehouse
Formerly known as Blyss, the Los Angeles-based rock band changed their name to Lifehouse and re-recorded many of the songs to be released on their debut major label release "No Name Face."
Fun Fact: The album's lead single "Hanging By a Moment," which is still one of Lifehouse's most iconic songs, was named Billboard's "Number 1 Song of the Year" in 2001 even though it never actually reached the top spot on the Billboard Hot 100.
Reach Associate Entertainment Editor Michelle Tiu here and follow her on Twitter.