Los Angeles and Region
WorkSource Centers Try To Revive The City's Stagnant Labor Force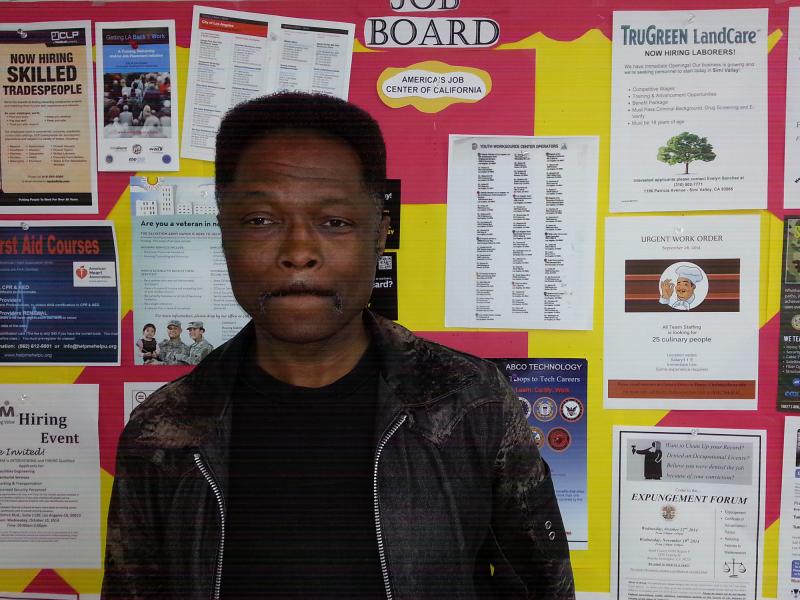 Darryl Walker resigned from his job with the County of Los Angeles in January 2000, where he worked in computer operations, over a dispute about his design of some hardware covers. He hasn't held a steady job since.
He held a series of odd jobs, saw his wages spiraling downward and eventually stopped working altogether. For nearly two years he's been out of the workforce. His car was his home until it was garnished to pay for its storage fees. He has stayed on Skid Row for over a year. But he hasn't given up.
SEE ALSO: U.S. Economy Aids 214,000 Jobs
"I've been angry," said Walker, 57. "And I've allowed the anger to be the fuel to keep me in a position to better my circumstances."
Like Walker, a growing slice of Californians, has stopped looking for work since the Great Recession of 2008. A recent study from Chapman University offered a rosy picture of the California economy, except for a key statistic: the labor force participation rate. Although the unemployment rate has dropped steadily during the recovery, workforce participation has declined too, to 62.8 percent—the pre-recession high was 66.1 percent. Fewer people are unemployed, but partially because fewer people are trying to get employed.
This trend persists despite the best efforts of governmental programs like the city of Los Angeles' WorkSource centers, run by the Economic and Workforce Development Department, or EWDD, and funded by the Department of Labor. The centers post jobs and screen resumes for companies, while preparing displaced workers for the same jobs.
One of the most successful centers is the South Los Angeles WorkSource Center, which sits a few blocks below the University of Southern California. The office, at 3965 South Vermont Ave., in the shadow of the Coliseum, is packed with resources: computer class, interview training, resume building, networking events. Bryant Eng, lead employment services specialist, is in charge of job services at the center. He said the WorkSource centers are part of a broader plan of economic development in the city and state. In other words, the local economy needs them.
SEE ALSO: South L.A. Residents Shop For Employment At Its First Plaza
"Nissan and a number of companies have left out of state," he said. "The city of Los Angeles is doing their part in trying to provide as much incentives, through our WorkSource centers, to provide to employers to stay here in the city of Los Angeles."
The city cares most about three industries — advanced manufacturing, construction and aerospace, Eng said – so it trains WorkSource clients in those areas in particular. The city has funding to reimburse labor union dues, for example, in those industries but not necessarily in others.
Eng said the neighborhood makes the South L.A. WorkSource Center's job especially hard.
"The demographic that we serve is challenged," he said. "You have a lot of general community lacking a high school education, perhaps void of college courses whatsoever. Maybe substance abuse issues, criminal background issues. A lot of employers require a background check of seven years or ten years. For some clients that's an obstacle. For a lot of clients, actually."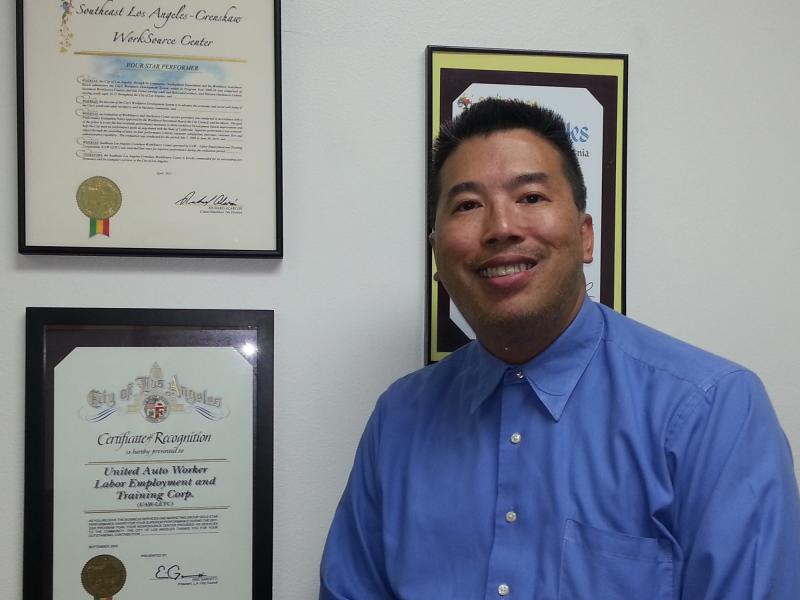 Darryl Walker said substance abuse and crime are not his problems. Rather, not having a steady work history or a stable home made finding a job tough for him.
After he resigned from his post at Los Angeles County, he first worked in car sales, then in a machine shop for Kato Spring of California, then at CVS in a managerial role. At each of those jobs, he either left or was laid off.
Without a consistent income, Walker lost his home but he still had a Cadillac he had bought for his late mother. That became his home.
He became estranged from his family — an ex-wife and adult twins — and got a job as a custodial supervisor, cleaning up the Baldwin Hills mall, but was laid off when his employer, Diamond Contract Services, Inc., lost its contract there. That was his last job. He started to use county job services and food stamps in 2010, but had little luck.
One day in 2013 he went to Department of Public Social Services office to check on his food stamps and meet with his social worker. He ran into his estranged son in line. Walker's son showed him the spot in Skid Row where he was living. He gave his son whatever he could.
"He needed something, and he needed what I had. So I took the cash I had out of my pocket and gave it to him."
Now Walker lives in a residence home as part of the Pathways to Home program, run by Volunteers of America, Greater Los Angeles.
"I've completed my first year on Skid Row," he said. "It's not a vacation spot, but I've learned a lot."
SEE ALSO: Tough Jobs Climate Hits Los Angeles' Inner City Neighborhood Hardest
Four months ago Pathways referred him to the South Los Angeles WorkSource Center. Now he's about to get a job building scaffolding at oil refineries in Los Angeles.
"This office has been instrumental in maintaining their promise to me that we will get you employed," he said.
Walker's experience with the South L.A. WorkSource Center is typical, according the EWDD, the department that runs the centers. Angela Estell, the EWDD's public information director, said this year's expansion of the program under the Workforce Investment Act will see 30,000 enrolled clients receiving training. Another 15,000 will enroll with funding from the Wagner-Peyser program. This does not include clients who use the centers simply for job searches.
The EWDD said 80 percent of its clients find jobs in three to 12 months.
Jan Perry, EWDD general manager and former city councilwoman for L.A.'s 9th district, said the statewide trend of a shrinking labor force holds true for the city.
"Los Angeles defines the challenge in the rest of the state," Perry said.
She listed a few possible reasons for the declining workforce: the skills and education gaps; the high cost of living; a lack of affordable housing and transportation; a low minimum wage; and healthcare accessibility. A person affected by any of these inequalities might stop working. The solutions to these imbalances are the ways to boost workforce participation and "grow a vigorous economic ecosystem."
Walker, his hair cut neatly, his brown leather jacket cracked and faded, leaned back in his chair in the WorkSource Center's conference room as he reflected on his struggles of the past 14 years.
"I've had the shoes, the Fratellis, the Stacy Adams, the Guccis, the suits and the leather coats and all that," he said. "You know what that tells me? I am no better than anyone else."
After his employment is secure, he has a few more things to do: write a book; get back into bodybuilding; and most of all reconnect with his kids. Without a home, Walker has been estranged from his adult children.
"I think that once I bridge this gap they'll start popping up in my life more."
He said he hopes his job will bring him closer to them, "to be the daddy that I am."
Contact Staff Reporter Taylor Haney here. Follow him on Twitter here.