Columnists
Voices Of Skid Row: Kenny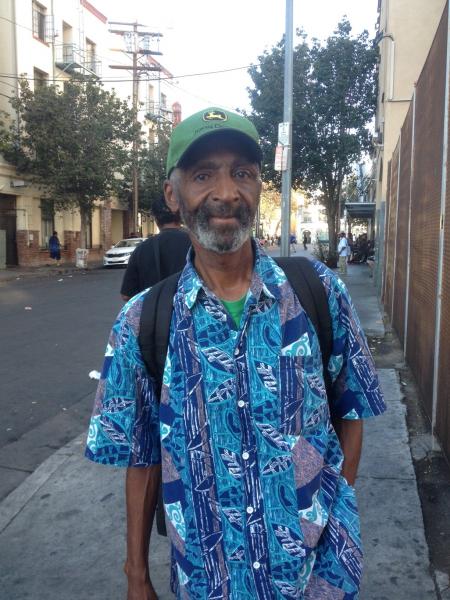 Sonder: Voices Of Skid Row is a project aimed at giving a voice to the humans of Skid Row. Sonder is the realization that each random passerby is living a life as vivid and complex as your own. If you are reading this, I hope the collection of stories will inspire you to love the marginalized and use your skills and resources to make a positive difference in the lives of the less privileged.
"Does anyone wish to share their testimony? If God has blessed you in the past week, please come up and share with us."
I was sitting at the side of the parking lot where LoveLA's church service was being held when I saw Kenny Batch's hand shoot up. He was tall and gangly, sporting a blue Hawaiian shirt and green John Deere cap uncharacteristic of people in the area. When he rose from his seat to go to the microphone, he walked with a visible limp. However, when he spoke, he exuded an excitement and quiet confidence that I hadn't felt on Skid Row before. After the service was finished, he came to where I was sitting. I told him how much I admired his courage and we began to talk.
"Thank you very much," said Kenny. "You know, I just want to let these people know what God has done for me. Look at me, I'm a happy man."
There was something different about Kenny. His mind was sharp, voice crisp and face glowing with a joy of being alive and well. When I asked him about his life, I was expecting something mundane. To my delight, he was, by no means, ordinary.
"I grew up at the Getty Museum in Malibu," said Kenny. "My parents worked for J. Paul Getty. I didn't know he was the richest man in the world."
Kenny, who was ten years old at the time, moved to the compound on the day of President John F. Kennedy's funeral in November 1963. Kenny's father was employed by the family to be the groundskeeper for the Getty compound. He was in charge of taking care of all the animals roaming around the 63-acre area, including bighorn sheep, bears, bison, deer and even peacocks. The Batch family was one of the few black families in the area.
Fortunately for Kenny, the Batch family didn't have to pay for anything except the phone bill. Everything from food to education to transportation was paid for in full. Through Mr. Getty's generosity, Kenny says he found himself traveling across the globe, exploring countries that he had never heard about.
"I visited England, France, Germany, Switzerland, Belgium, Holland and Liechtenstein. One of my favorites was Amsterdam. Everything is legal there if you know what I mean. I liked Lucerne too. The Swiss don't fight, but they could kick the shit out of you. That's why everyone got those hidden bank accounts."
In high school, Kenny also took interest in music. Growing up with the children of entertainers like Judy Garland, he and his friends would play rock and roll music in their own garage band.
"I never took a lesson. The only reason I started playing music was because all my buddies were playing guitar and getting all the girls, while I'm sitting there rolling a joint and I'm like shit I want to play."
Kenny attended Santa Monica City College after graduating from high school, specializing in graphic arts and music. Despite not receiving any formal training, he learned to play five instruments on his own including guitar, drums and harmonica. As a musician, Kenny played in restaurants around the city including the now Bubba Gump's on Santa Monica Pier for 14 years. He now performs regularly at a restaurant in Westwood and plays harmonica for the LoveLA church service.
Kenny lives in the Union Rescue Mission, where he pays $210 per month for food, rent and money for savings. He doesn't have any children and is free to do whatever he feels like doing. He has helped in health clinics in Skid Row and done other types of outreach work with different organizations.
"I went to Maui for a while and enjoyed the weather there," said Kenny. "I went there for seven or eight months after saving up and when I ran out of money, I came back. It's beautiful there. You can go down to this fishermen's village and the fish are still flapping and you can pick out what you want."
Before I could find out more about Kenny and his amazing life, he stood up politely and said he had to leave. He gave me his phone number and told me if I ever wanted a tour of the Getty Villa, he would be available.
As I departed from Skid Row, I couldn't help but smile in awe at the odds of meeting such a fascinating individual with such a fascinating story. Kenny was a living manifestation of everything people couldn't fathom about the area. Many people imagine Skid Row as a cesspool of sin and poverty, filled with drunkards, the diseased and people at their lowest. However, Kenny's life is somewhat of a modern-day fairytale and reflection of the beauty within the chaos.
I never found out why he ended up in Skid Row and perhaps I never will. If I do see Kenny again, I will ask him. Maybe he'll tell me that he was there because of an unfortunate twist of fate. Or maybe he'll tell me that he chose to be on the streets, away from the shackles of material possessions, money and consumerism.
"I'm just a leaf in the wind. I'm free to do what I want."
Hear more from Kenny in the audio file below.
Read more Sonder: Voices of Skid Row.
Like Sonder: Voices of Skid Row here. Contact Columnist Jason Cheng here; and follow him on Twitter here.
You may need: Adobe Flash Player.