Arts+Culture
USC Student Groups Bring Toys To Koreatown Kids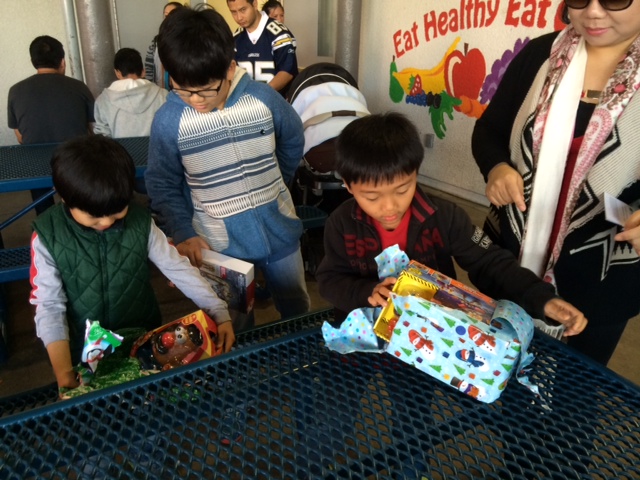 USC student organizations teamed up with the Koreatown Youth and Community Center (KYCC) Saturday to provide more than 3,000 toys for the center's 21st annual Holiday Carnival.
Wayne Thai, president of the USC Pangaea Initiative, said that his organization has been running an online campaign on Indiegogo in order to donate to KYCC's carnival.
"The carnival has experienced shortages in toys in the recent years, which meant that children with high hopes did not ultimately receive a toy," he said.
Thai said the organization was able to donate what amounted to 70 toys total to the carnival. He said the USC Pangaea Initiative strives to unite USC and surrounding communities through community service, while also promoting awareness about ethnic communities within L.A.
KYCC said that so far, over 3,000 toys have been donated by organizations and sponsors like the Pangaea Initiative and other Trojan student groups, including Lambda Theta Phi, Omega Phi Beta and Sigma Lambda Beta.
Many big-name sponsors also donated to KYCC's toy drive. This year's donors included Mattel, NBCUniversal, Mayor Eric Garcetti's Office, Sanrio and the Asian Pacific American Community.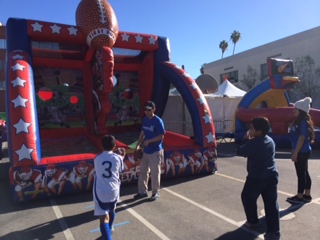 The number of toys for this year's giveaway is more than double what the organization received last year, said Rick Kim, a KYCC staff member. The center is expecting around 2,800 attendees, leaving more than enough toys for this year's giveaway, he added.
One recipient was fifth grader Alex Choi. He and his siblings were excited to receive presents and immediately unwrapped their gifts.
Alex, who received a Transformers action figure, said, "It's cool. It's better than last year's gift."
The carnival began at 10 a.m. at Wilshire Park Elementary. As Christmas music started playing, Koreatown residents streamed into the school's courtyard, which was decorated as a winter wonderland, with multiple bounce houses, an archery booth, face painting stations and other arts and crafts tents.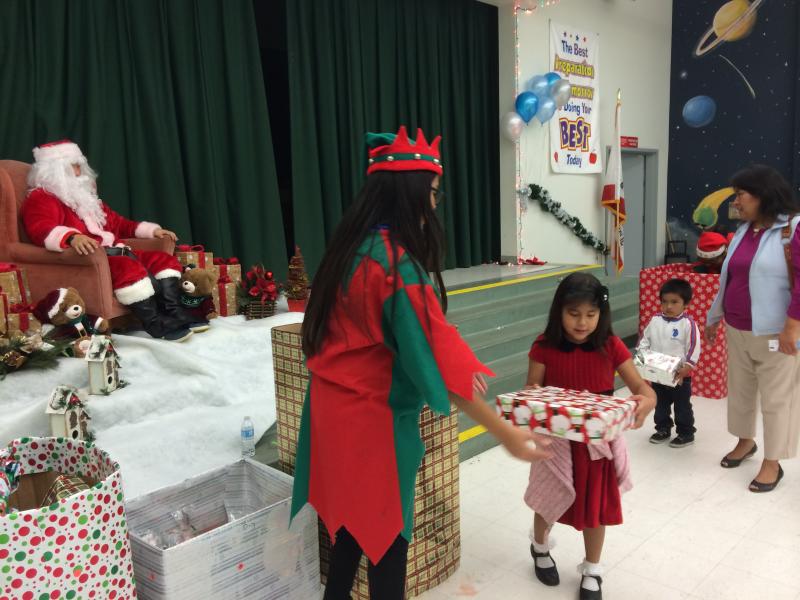 Jorge Lopez, a fourth grader, said that this year was his sixth time coming to the annual carnival, but this time, he was "excited to play basketball, sports and jumpers." And of course, he didn't fail to mention the presents. His father, Joel Lopez, said that he was grateful for KYCC putting on this event every year and providing a safe place where families could come and enjoy celebrating the holidays.
Families were not the only ones excited about this year's carnival. Representatives from sponsoring organization CoveredCA, Andreina Cordova and Christopher Reiling, said they appreciated the opportunity to do community outreach. Besides maybe getting a chance "to play in the bounce houses," Reiling said they were looking forward to the opportunity to talk to attendees and "dispel myths about the Affordable Care Act."
KYCC had many high school volunteers for the event. Kamal Satybaldiyev, a senior, and Eden Tzanetopoulous, a junior, held off studying for their finals to manage the slam dunk inflatable station—a combination of a bounce house and basketball court.
Kamal said this was his first year volunteering at KYCC's Holiday Carnival. He was "excited to see some of the kids [he's] worked with over the summer." He wasn't there "for the [volunteer] hours," he said, "but just to see the kids happy."
Once the event was over, Tzanetopoulous said that she would "probably go home and study until like two in the morning." But they both agreed that volunteering on a Saturday morning with KYCC was better than studying for their finals.
"[This] is much more fun," said Satybaldiyev.
Reach Staff Reporter Michelle Tak here. Follow her on Twitter here.