Entertainment News
'Top Five' J.B. Smoove Talks Comedy Cast, Improv Lessons And The Real Chris Rock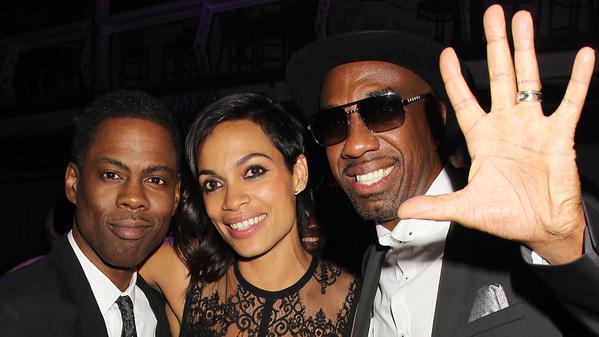 Comedian Chris Rock returns to the big screen on Dec. 5 in his movie "Top Five," and he's bringing a gang of classic comics with him.
"Top Five" is about a comedian, Andre Allen (Rock), who desperately wants to be recognized as a serious actor but is being held back by his fiancé, played by Gabrielle Union, who instead wants them to star in a reality show.
However, before tying the knot, Andre visits family and friends and rediscovers his passion, drive and "Top Five" motivators.
While it's a difficult journey for his character, Rock, who also wrote and directed the film, is accompanied by such a stellar comedy cast that making this movie was undoubtedly just as fun to make as it is to watch.
Rock's costars include Adam Sandler, Kevin Hart, Jerry Seinfeld, Whoopi Goldberg, Cedric the Entertainer, Rosario Dawson, Tracey Morgan, J.B. Smoove and more.
Neon Tommy caught up with J.B. Smoove, who plays Andre's bodyguard, on a conference call and got all the dish on the behind scenes antics from the "Top Five" set.
Q: With such a large collection of comedians, what was the vibe on set and how did you guys stay focused during making this film?
A: Oh, it's so fun. The good thing about Chris Rock is he loves working with his friends. So, this is just like a reunion of some sort. You're talking about Cedric The Entertainer and myself, Chris, Jerry Seinfeld. You're talking about Adam Sandler. You're talking about Whoopi Goldberg.
It's always refreshing to come to a set where you know they're familiar faces. You have fun. You joke around. It makes the scene easy to translate also because when you're playing a character opposite Chris and he knows you already, and you're playing his friend in the movie, and you're his friend for real, it comes off real.
Q: How much room was there for improv? Did Chris allow it?
A: He has to allow you to do that. When you pick people like that—all the names of the comedians who are in this movie—there's no way in hell you're going to have them on this movie and not allow them to do what they do.
You have to have some level of improve. We take the script, it's an amazing script that Chris wrote, and we are allowed to go in on it and to make it your own, which is what any actor would love.
Q: This movie is about how comedians lose their mojo sometimes. When you go through that rut, how do you get your funny back?
A: You get your funny back by surrounding yourself with people who honestly care about what you do. Surround yourself with the laughter. It's just one of those things that you do lose it. It's kind of like a writer [who] gets writer's block.
Q: Which of your many jobs and accomplishments are you most proud of or you feel you gained the most knowledge from?
A: I think this movie "Top Five." Here's what I love about "Top Five." I worked with Chris on several projects, from "The Chris Rock Show," to "Pootie Tang" to—you know we've done some great things together. This movie right here is great because when I've been previously casted in different movies, I played the crazy, over the top J.B. Which is great. People love my physicality. They love my boldness, my directness. That's one element of what I do.
And people—and sometimes they forget that you are not just a comedian, but also an actor. So, the good thing about this film is Chris cast me in this movie not as the over the top J.B.
Q: You don't play the role of Andre Allen, but do you think you can relate to his character in the film in terms of how he's kind of reinvented himself as a comedian and as an actor?
A: Yes. In the case of Andre Allen, you know this is something I always bring up that you can change your jokes, you can change a lot of things about yourself, but you keep your character.
Comedians, in general, when we're on stage, we have to sell ourselves first. Then, we'll show you our goods. What's my personality? What am I attaching my personality to? What style of comedy am I attaching this personality to?
I always say, anyone can tell a joke, but what happens is everyone can really tell the same joke, but how you tell that joke, and how I tell that joke is two different worlds.
Q: What was it like working with Chris Rock, the director, compared to Chris Rock, the comedian/actor?
A: They are one and the same, because as a comedian who's turned director they flip back and forth. It's almost like they have to mirror each other. He has to not only be in the scene, but when he's not in the scene, he has to picture himself in the scene. So for him, he has to remember his energy. He has to use his eyes, his ears and his vision all at the same time.
For him, that's an amazing accomplishment you know? It's great to do all three.
Reach Staff Reporter Christianna Wiggins here or follow her on Twitter here.