Arts+Culture
Sweet Beginnings Makes For An Even Sweeter Food Experience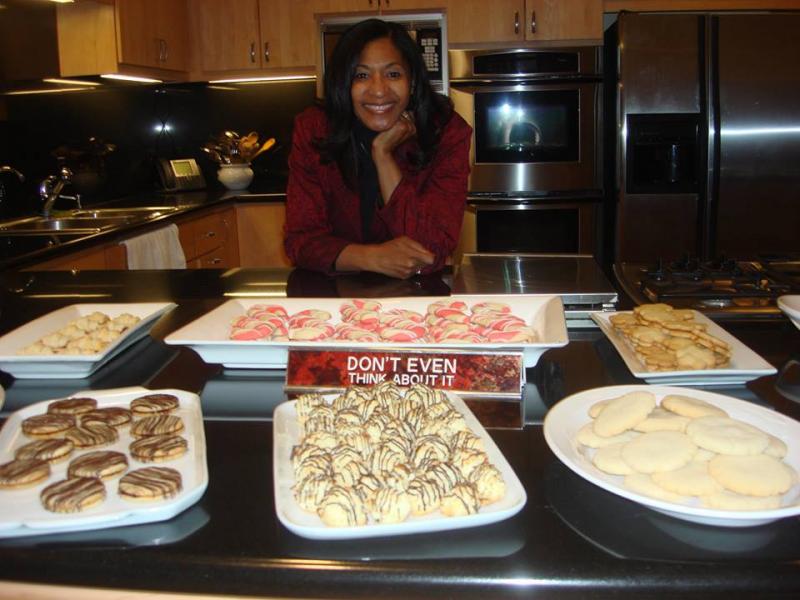 By now, the leftover pumpkin pie from Thanksgiving dinner is probably taunting you every time you open the refrigerator. The flakey crust and creamy, smooth pumpkin-spice filling baked to 375 degrees of perfection is
the
best reminder of home. Tené Harris, the owner of Los Angeles based
Sweet Beginnings
, is bringing joy to all holiday dinners in the form of baked goods she produces from her home kitchen. The state of California recognizes Harris as a
Cottage Food Operator
, which means she can run her baking business in the comfort of her own kitchen while still selling her signature "Hug On A Plate" white chocolate cake or "You've Got To Try This" homemade granola to the masses. With the holiday season in full swing, Harris finds no downtime as she makes pie after pie by scratch, which she says takes, on average, about seventy-five minutes each to make from start to finish. However, she did find time to share, in the midst of egg-beating and flour-sifting, her secrets, success and struggles in creating her one-man shop.
The original idea of Sweet Beginnings was due to a case of empty nest syndrome.
"When my daughter was a junior in high school, it dawned on me, 'Oh my God, my children are going to leave and have lives of their own. What am I going to do?' So I thought, 'Okay, I want to have my own business.' But I wasn't willing to leave my full-time 30 year career to go out on a limb to do food—until I was laid off. I got laid off two years ago and then I had a choice to make. It took a while for me to figure out whether or not I had what it took, but I decided to go for it."
Thank God for the choir and Good Eggs.
"When you're a small artisan baker you don't have exposure. People don't know you aside from your friends or who you can reach out to on social media. It was hard to get business [at first]. At one point I was selling cupcakes, dessert bars, cakes and pies out of my car. I would go to choir rehearsal and my choir members would be like, 'Watchu got?' It still continues to be a challenge. However, a friend told me about an online-based company called Good Eggs. They are all about sustaining food systems. People go online and pick a Web stand and then you are able to order your groceries from local farmers and foodmakers. Good Eggs has been really, really good for me because it gives me an opportunity to reach people I wouldn't otherwise."
Harris is a firm believer in being sweet, but not too sweet.
"Customers know that one of the things different about my desserts is I work really hard to make sure they are not overly sweet. I want to make sure that you can taste all the layers of flavor. I had one customer who ordered one item from me and then she contacted me again for her husband's birthday cake. She thought of me because my desserts aren't too sweet and her husband doesn't really like baked goods in the first place. Her husband loved it. Then she asked me to make her son a Dodger birthday cake. I build relationships with customers because they know that I am using the best natural ingredients."
Baking inspiration is everywhere.
"I'm a foodie. I am always online on the Epicurean and all the basic food sites, I use a lot of family recipes and I am always scouring magazines like Food & Wine and Sunset. If I'm at a doctors office or boutique and I'm thumbing through a magazine and I see a great recipe, I'm the person who goes to the owner and says, 'Do you mind making a copy of this for me?' or 'Do you need this magazine?' I am always on the prowl for new recipes."
Lastly, thinking out of the box is never a bad idea.
"I do cooking classes with kids and one of the things I always tell them is, 'Yes, you are following a recipe, but never be afraid to make it your own.' If I test out a new recipe, I might think, 'That was good but I would rather add vanilla bean,' or 'I would rather do this or that.' For some recipes, it's a process and I keep making it till I get it to where I want it to be"
Reach Staff Reporter Marah Alindogan here and follow her on Twitter here.