Film and TV
'Sorority Sisters' Exploits Black Sororities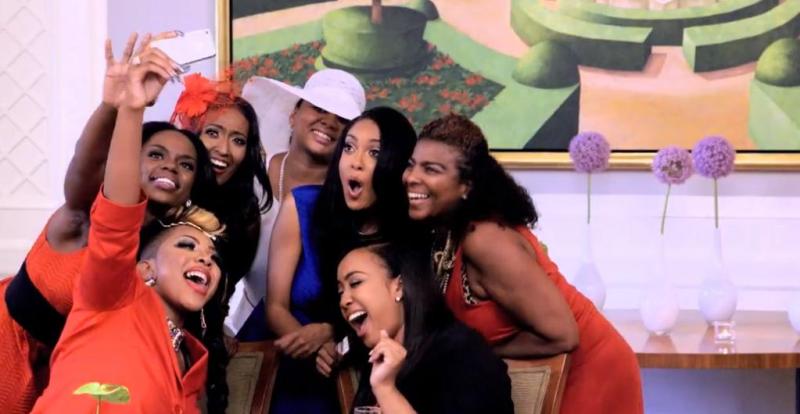 Let me start off by saying that, yes, I am a contributor to the ratchet programming that exists on Vh1.
As a regular viewer of VH1's hit reality show, "Love & Hip Hop," I consistently watch the network and the show's creator, Mona Scott-Young, exploit black culture.
Despite understanding the history of problematic representations of people of color on film and television, nevertheless I watch shows like "Love & Hip Hop" because 1) They're entertaining and 2) There are only a few places where I can see Black people on-screen.
READ MORE: The Catcalling Video's Message Is More Disturbing Than We Originally Thought
Every college student has a moment when they wonder why they are in school. But when I watch the inconceivable ratchet-ness that takes place on these shows (i.e. Ray J pushing Princess into a pool), I am reassured that being in school is where I should be.
Plus, if it isn't a Tyler Perry show, "Black-ish," or a '90s rerun, I don't know where else I can see an all-black cast on TV
However, after watching Mona Scott-Young's latest Vh1 installment, "Sorority Sisters," it is clear that Mona Scott-Young needs to be stopped.
"Sorority Sisters" follows nine women in Atlanta who are a part of four historically black sororities: Alpha Kappa Alpha, Delta Sigma Theta, Zeta Phi Beta, and Sigma Gamma Rho. Black Greek Letter Organizations (BGLOs) are staples in the black community that promote service, achievement and camaraderie in the community. BGLO's evoke a sense of pride in the Black community because they strive to advance it when the rest of society often chooses to marginalize African-Americans.
Of course, "Sorority Sisters" focuses on none of these things. "Sorority Sisters" is the perfect mixture of "Real Housewives of Atlanta" and "Love & Hip Hop" – putting stereotypical, angry black women in the same room to duke it out for "respect." However – unlike the aforementioned reality shows – "Sorority Sisters" won't hook audiences for long because, quite frankly, it's boring.
First of all, the show has no familiar faces that audiences have ever heard of…and I mean ever. They don't even have connections to people that we might care about.
Second, these women are fake-ballin', and it's noticeable. Shows like "Love & Hip Hop," "Basketball Wives" and "Real Housewives of Atlanta" are alluring because the people on the shows presumably have money – specifically they have enough money to sit around and drink all day. On "Sorority Sisters," many of the women are either jobless because they can't get a job (i.e. all of the aspiring dancers) or they do have jobs and are aspiring entrepreneurs.
As terrible as it may sound, people don't watch reality shows that actually depict reality. If I wanted to watch people struggling with actual jobs I would turn off the TV and step outside.
Lastly, the show is undeniably extra. In the first five minutes, someone randomly burst into tears because of their troubled childhood. In addition, the show is an overdramatized depiction of Black Greek life. Although, I am not a member of a BGLO, it's clear that this show overdramatizes many facets of Black Greek life – especially "beef" between sororities.
And, can we talk about how all these women are way past their college years?
READ MORE: Miley Cyrus Exploits Black Culture In New Song '23'
What's extremely troubling about the show is that it highlights aspects of BGLOs that should stay in the black community. Contrary to popular belief, not every aspect of black culture is up for grabs. There are aspects of the culture that should stay within the culture (#NoColumbusing).
It's not surprising that the show has experienced much backlash. Even before its airing on Dec. 15, the black community – especially members of Black sororities and fraternities – have called for the cancellation of the show. The hashtag #BoycottSororitySisters is currently on Twitter to voice frustrations with the show, an online petition is circulating the internet, and just recently protestors demonstrated outside of Vh1 offices demanding the end to "Sorority Sisters." Because of these many efforts, 51 advertisers – including the NBA – have pulled sponsorship money from the program.
I can understand the uproar behind Vh1's "Sorority Sisters." Many members of BGLOs argue that the show represents their organizations in a poor manner. However, I think people are missing the bigger picture – the issue of misrepresentation of black women on television.
Tierra C., a blogger featured on For Harriet and a member of a black sorority, agrees that her fellow black Greeks are missing the point.
"It's sad that your moral barometer is only activated when your letters are disrespected and not when your womanhood is," she expressed.
Vh1 and many other networks have been capitalizing on the negative portrayals of African-American women on reality television for a long time now. Why now is it an issue?
I thoroughly appreciate the activism that is taking place because of "Sorority Sisters," but I hope it doesn't end here. I have no doubt that the worst representations of black women are yet to come on reality television and I only hope that we have the same enthusiasm to boycott those shows like we do now.
Watch the extended trailer for "Sorority Sisters" below.
Reach Staff Reporter Jillian Baker here.