Los Angeles
Pakistani Student Association Holds Vigil Honoring Peshawar Terror Victims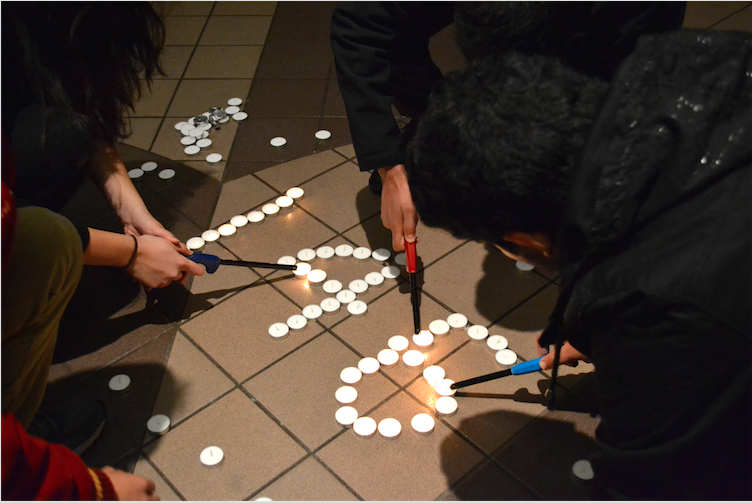 On a rainy Tuesday evening, members of the Pakistani Student Association at the University of Southern California solemnly gathered before the doors of Bovard Auditorium to remember the 145 lives lost to the Taliban attack a school in Peshawar, a city in northern Pakistan.
Taliban militants stormed into Peshawar's Army Public School on December 16th, indiscriminately opening fire on students, teachers, and staff members. By the time Pakistani military forces successfully ended the siege, at least 145 people, mostly schoolchildren, were dead - making this attack the most deadly in Taliban history. A Taliban spokesperson said the attack was retaliation for the Pakistani military's continued operations in the northern tribal region, motivating them to target a school that caters to children of army personnel.
The vigil was quickly organized by PSA's previous president Sana Hidayatullah and the current executive board. Maheen Akhter, PSA's current president, said that she believed the vigil should take place as soon as possible, despite that it was near the end of the final exam period when many students have already gone home.
Akhter also emphasized that she wanted the event to be secular.
"It's not just a tragedy for Muslims, or for Pakistanis. It's a tragedy for all people, so everyone should feel welcome to attend."
Inclement weather initially caused the event's organizers to feel apprehensive about turnout, but attendees gradually filtered in, braving the periodically pouring rain. Those who arrived on time fought against the wind to light candles arranged to read "145," in honor of the victims.
Kiren Singh, a sophomore studying business administration, had this to say when asked about her reasons for attending the vigil:
"As a person of color, it's important to me to stand in solidarity with people of brown descent. I'm Sikh, and our history with people who are Muslim is very rocky, and knowing that, trying to push past the immense amount of hatred between both cultures is something that I've always worked towards. It's important to me that not just my parents, but my peers are aware that discriminating against someone based on their faith is not right, and to be ignorant is also not okay. We have the means to spread awareness about things like this now…it's great to see everyone come stand in solidarity, because this really is a very tough time."
At 7:30pm, Akhter gathered the attendees in a circle surrounding the candles and officially began the vigil with a brief description for why they were gathered:
"Terrorism has no religion, it has no color, and it has no ethnicity, but when it does happen it is felt all around the world. We stand here today and together, in one voice, condemn this act of violence against schoolchildren and teachers. We rise up against terrorism as citizens of humanity."
After the group shared a moment of silence, Akhter opened the forum to everyone to share their thoughts or say a prayer. Sana Hidayatullah, a senior studying economics, took the time to remind everyone that the attack was not, as some BBC and CNN anchors claim, about education.
"It was about hurting the families of military personnel who work to prevent terrorism in the area. The smallest coffins are always the heaviest."
Reach Associate News Editor Ashley Yang here, or follow her on Twitter.