Arts+Culture
MacLeod Ale Brewing More Than Beer In Van Nuys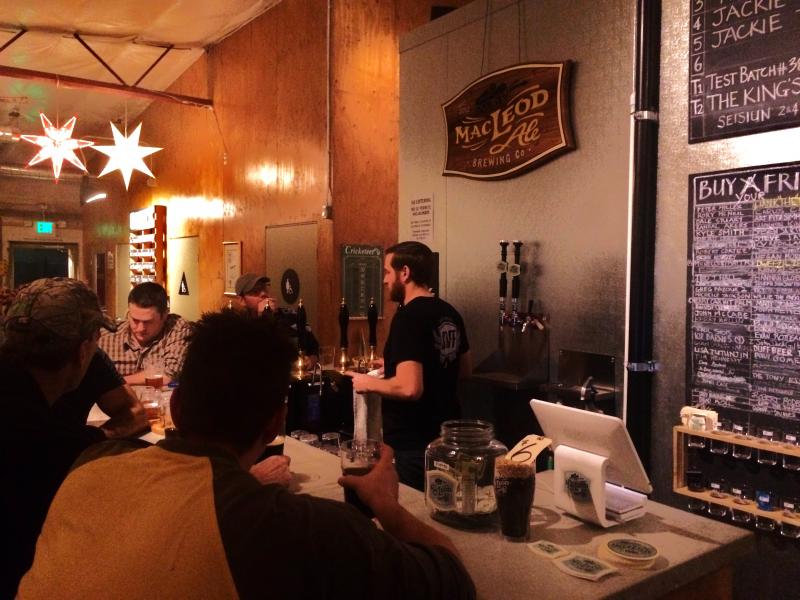 Nestled in between an auto body shop and a vacant white-brick warehouse, off an industrial side street in the San Fernando Valley, sits a craft brewery. Parking can be dicey. Nothing on tap is served cold. And you will not find a single West Coast IPA on draft.
But take a leap of faith, and you'll find some damned good beer.
Founded by Jennifer and Alistair Boase, MacLeod Ale Brewing Co. is "over the hill" in Van Nuys—a city not known for its craft beer. But for downtowners who make the journey up the 101 Freeway, they'll find a watering hole overflowing with both a sense of community and an endless supply of quality brews.
"It's really fun to be in a so-called 'not-cool' part of town doing something fun," says Jennifer. The community agrees; a local blog called MacLeod Ale "the best thing to happen in Van Nuys in 50 years." The brewery also made L.A. Weekly's vaunted 'Best Of' list for 2014. Needless to say, MacLeod Ale is a hit.
SEE ALSO: Study Hall Gives Foodies A Fix, Comforts Beer Snobs
The small brewery specializes in cask British-style ales served out of a 2,500-square foot former auto warehouse. Each brew, cleverly named after bagpipe tunes, is the culmination of a time-consuming and complex fermentation process that avoids the mechanical addition of carbonation typically found in most post-World War II beers. To preserve the flavor profile and aroma of the cask ales, the final product is served at 54 degrees. It's craft beer at its craftiest.
The end result is a rotating batch of well-balanced, British ales that doesn't leave customers sitting on their asses from sky-high alcohol content, and exploits a glaring hole in a nascent craft beer scene overpopulated with too many IPAs. While they may be serving up beer made in a way that's unfamiliar to Americans raised on tasteless pilsners and consumable beer, the brewery's year-round ales routinely score high marks online.
Head brewer C. Andy Black loathes the use of the term 'real ale' to describe his brews (a label coined by a group in the U.K. to preserve the dying craft of cask-ale brewing), but the influence from across the pond is unmistakable.
"No one in Los Angeles does British-style ales and does it so well," says Greg Pazour, marketing and events coordinator for the cask-ale brewery. "They definitely hit a needed and underserved area."
"People never leave disappointed," says Jennifer. "And our drinkers are sophisticated. We serve the best because we have to serve the best."
SEE ALSO: 7 Pumpkin Brews For A Wicked Halloween
It's almost incredible how the couple has transformed an old industrial auto warehouse into a warm and inviting taproom. A pile of board games sits neatly stacked near polished wooden tables, provided by customers who brought them from in home. On a Wednesday night, the place is packed, with people playing darts and organizing a game of Scrabble. MacLeod Ale doesn't serve food, so people order delivery from a nearby schwarma place.
All that's missing is a flag waving the colors of the Union Jack.
But looks can be deceiving; the brewery is still in startup mode. While MacLeod Ale has quickly developed a sterling reputation amongst the city's craft beer community, neither Jennifer, nor her husband, Alistair, has collected a paycheck.
That's because craft beer is a volume game. The cost of producing craft beer is extraordinary; high-quality ingredients aren't cheap and brewing is a time-consuming process. Profits don't materialize until you can scale up the business.
So the couple took a cue from startups in Silicon Valley and turned toward crowd funding to raise the capital necessary to build out the brewery in the San Fernando Valley. In September, MacLeod Ale launched an IndieGoGo campaign—offering beer for life with a paid membership in their 54-Degrees Founder Club.
But like lunch, there are no free pints: $500 scored you one pint per day for life, $1,000 earned you unlimited pints per visit for life and $5,000 would get you unlimited pints for you and up to three guests for life. The brewery managed to raise $38,254 in a little over a month, eclipsing previous efforts to raise money online.
"We were pretty ecstatic with those numbers," says Jennifer. Bottling is now in the brewery's near future, along with immediate expansion into an empty, adjacent warehouse. That will give MacLeod Ale 5,000-square feet of space to brew cask-ale and Jennifer the breathing room necessary to scale the business.
SEE ALSO: Beer And BBQ Provide Formula For Beachwood's Success
Like everyone else in craft beer, for Jennifer, this is a third career. Her college degree was in music, and she is the Pipe Major of the Pasadena Scottish Pipes and Drums. Alistair worked for a landscaping company. They're not business majors. But their beer is good and they measure their success in friends, not dollars. What Jennifer hasn't found in financial security, she has found in community—in Van Nuys of all places.
"I have been overwhelmed by this community," Jennifer says. "They love us and we love them. I don't consider them customers, I consider them friends."
Jennifer acknowledges that MacLeod Ale faces the same hurdles as most small craft breweries and long-term success hinges on the how successful expansion is. She is not deterred.
"The thing about L.A. is it's all about finding those hidden gems. We are a hidden gem."
But not for long.
MacLeod Ale Brewing Co. is located at 14741 Calvert St., Van Nuys, CA 91411. Tasting room hours are 5 p.m. to 10 p.m. Monday through Friday, 12 p.m. to 10 p.m. on Saturday, and 12 p.m. to 5 p.m. on Sunday. You can buy t-shirts, gift cards, growlers and other merchandise from the tasting room (and online).
Reach Editor-in-Chief Will Federman here. And follow him on Twitter.