Music
James Blake At The Roxy: Show Review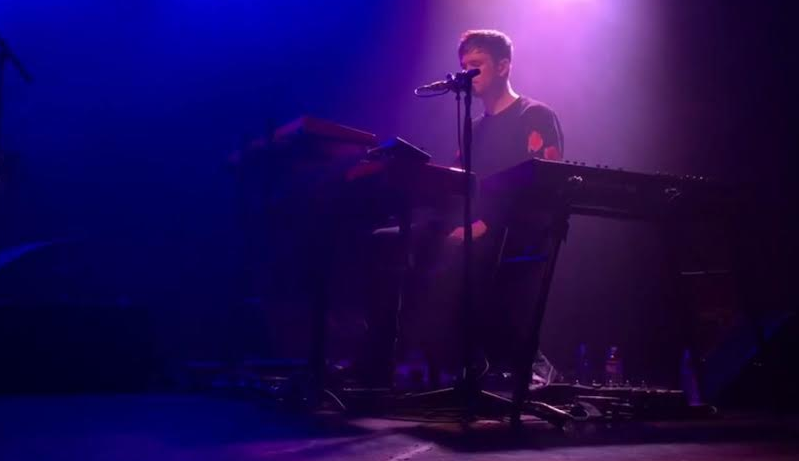 It's a Tuesday night in Hollywood at the Roxy Theatre just a quarter past 9. Fans gather into a space that rivals a large family room and they patiently wait for James Blake to perform.
Opened in the 70's, The Roxy Theatre has called some of the most talented musicians to Los Angeles: from Bruce Spingsteen, The Ramones and The Red Hot Chili Peppers, to Jay-Z and Linkin' Park.
Blake nonchalantly graces the stage unbecoming and demure, casually wearing a crew neck, jeans and sneakers. The electric-soul singer towers over the crowd, mysterious and angelic; and his presence is soon met with a startling cheer. Following behind him are his band, the lights and his voice-- the rest is history.
READ MORE: Rhye At Immanuel Presbyterian: Show Review
Blake begins the concert with "Hope She'll Be Happier," a heartfelt love ballad cover by Bill Withers. Blake's vocals resonate with the audience and creates a haunting and melancholy ambiance as he covers Joni Mitchell's "A Case Of You."
Inspired by soul and neo-soul legends such as Stevie Wonder and D'Angelo, the singer's' vocal ability reeks with blue-eyed soul and electric R&B, and is utilized on hit songs such as "Life Round Here" and "Retrograde."
There's deep vulnerability and finesse to his voice as he approaches each song, yet a piercing depth and thunderous bravado that transcends to the crowd. The only difference between himself and other notable UK talent such as Adele, Ed Sheeran, Sam Smith and Amy Winehouse, is his ability to alter his voice as an instrument to EDM.
His use of altered choruses, repetitive voices and adroit keyboarding skills along with maneuvered and slowed down electronic beats in songs like "Love What Happened Here" and "Voyeur" capture the essence of a rave, and blues bar of the 60s.
James Blake sings, "I am flawed," along with "There's a limit to your love," lyrics from hit songs: "Voyeur" and "Limit To Your Love," songs that enable head nods and dancing. Preceding songs "CMYK" and "200 Press" that are bass-heavy turned the Roxy into a dance club, cycling thwarted snares of hip-hop and reggaeton.
Aside, from his ability to croon with his voice and beats, the singer allowed himself to be completely vulnerable.
Blake demonstrates his versatility and sentimental side with songs "Once We All Agree" and "Wilhelms Scream" singing, "At this point, I won't say, what I've heard is untrue," and "I don't know about my dreams!"
Blake returned to the stage for an encore to serenade "Measurements," a gospel-inspired chord progression with a message just as creative as deep.
READ MORE: Julian Casablancas + The Voidz At The Wiltern: Show Review
His performance was looming and cryptic, and his lyrics are simple yet have substance, and often left the crowd in a stupored daze. His music might appeal to unequivocally weird to most or astutely genius to some.
He left the stage in the same ghostly nature he first appeared on stage, leaving his eerie track playing in the background and giving the crowd something to yearn for, miss or think about. Leaving some to scream "Church," "Yes!" and the singer's name continuously.
The concert was short and gradual, yet overwhelmingly complex and personal, leaving fans to question Blake's whereabouts. The reluctant soul-singer opened a mere page into the diary of a promising and anticipated future, longing to be heard and read.
Reach Staff Reporter Isaac Moody here.