USC Sports
A Guide For Covering USC Football As A Student Journalist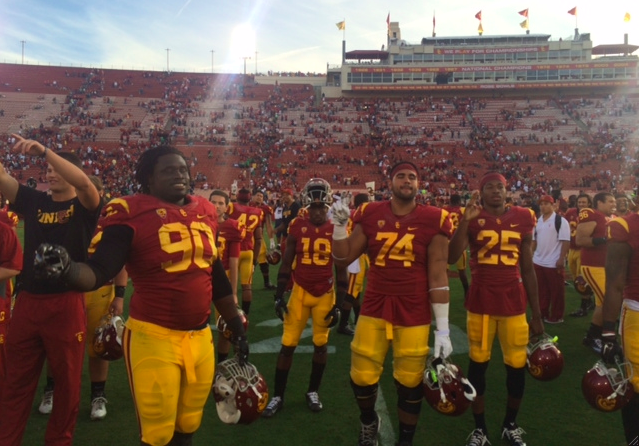 I've been covering USC football since my sophomore year, and it's been the most exciting ride I've ever experienced. There have been the highs of rushing the field after beating Stanford in 2013 (luckily I was in the student section for that game) and the lows of losing on a last-second Hail Mary against Arizona State this season.
If you want to be a sports reporter, covering a team in college is the perfect way to start. While competing with veteran sports journalists can be scary at first, just remember that all of them were in your shoes at one point.
I've learned a lot of valuable lessons over the years from other USC beat reporters. So I figured that in possibly my final USC football column, I would offer eight pieces of advice for all student journalists that will cover the USC football team (or really any team) in the future.
1. Relationships Are Everything
This is true in most facets of life, but it's especially important in the world of sports journalism.
Covering the team is dependent on talking with people involved with the program almost every single day of the season. If you are going to talk with players and coaches that often, it would behoove you to form a relationship with them.
If people know who you are, they will be more comfortable talking to you. That makes it a lot easier to get great quotes and information compared to talking with people that don't necessarily trust you.
It's not only the athletes and coaches that you want to have a relationship though. Who else will be attending these practices and games? Other beat reporters from different outlets.
You learn a lot from other journalists on the beat, including how to do a good job at doing your job. Luckily for USC students, there are quite a few people covering USC football who are extremely nice and helpful. Utilize those people instead of being a stranger towards them.
2. Treat Athletes Like Human Beings
Sometimes it's hard to remember that the football players are students at USC as well. It is difficult for some of them to have a normal college experience because of all of the publicity they are receiving.
That's why, for the most part, athletes find it refreshing when you treat them like a human being rather than a subject.
One thing that I learned from a USC beat reporter is to always introduce yourself to a football player the first time you talk with him. After all, in real-life situations, you always introduce yourself when meeting someone new. Why should it be different when covering the football team?
This also means treating the athletes like students outside the field, compared to continuing to treat them like athletes or subjects. Many athletes don't want to be asked questions about their performance in the last game at the Campus Center or in the classroom. Try having conversations outside of football instead, and it will be a lot easier to form relationships with them.
3. Find Your Niche
There are many reporters that do a good job at covering USC football, and these reporters have several more years of experience than you do. If you want to build an audience, your reporting is going to have to stand out from the rest of the pack.
That's why writing stories with unique angles or discovering a niche that differentiates yourself is integral. Mine is that I love to find cool and important statistics that help paint a clearer picture of how the team is performing. I then incorporate those statistics into my writing and make them easy for my audience to comprehend.
Several people, including USC's Sports and Information Department, have asked to use my statistics as well. If you provide a unique style of reporting that no one else does, audiences will covet your stories and people surrounding the football program will take note as well.
4. Ask Questions
The coach and player interviews after practices and games will be an eye-opening experience at first. It's hard enough to record the quotes, let alone find a spot to comfortably stand. But, these "media scrums" are the perfect opportunity to make yourself known on the beat.
Don't abuse this privilege by asking questions just to hear yourself talk. People notice when you ask intelligent questions. They also notice when you attend several practices and don't utter a single word.
Also, you can't rely on other reporters to ask the questions you need the answers for in your stories. Asking Steve Sarkisian or Cody Kessler a question can be intimidating, but you can't afford to be shy as a journalist.
Future student journalists covering the team are lucky; you don't have to ask questions to Lane Kiffin. My sophomore year, a reporter asked Kiffin about an injury, and he literally said, "I gotta go," and left practice. His sour relationship with the media is the reason why people were not hesitant at all to write negative articles about him.
5. Separate Your Fandom From Your Coverage
There are the obvious rules such as not wearing USC clothing or not clapping in the press box. But it's still easy to fall into the fandom trap in your reporting, since you are a student of the school you are covering.
There are very few things that can hurt your journalistic reputation more than extreme bias on the subject you are covering. As much as I would love to compliment the team every chance I get, people will not trust your opinions or coverage if you do so.
Additionally, it helps covering the game from a more objective point of view. When you are a fan in the stands, there are aspects about the game that you can be blinded from because of the loyalty to your team.
It's fine to be a fan if you're in the student section. Just be extremely careful about your fandom when covering the team, because it's a very dangerous mix that can ruin your reporting.
6. Be Social
Watching USC football players practice can be fun, but easily the most enjoyable part about practice is talking with people. Beat reporters have lives outside of covering USC as well, and are often eager to have interesting conversations with you. You don't want to be that reporter who is a wallflower and who is constantly checking your watch waiting for practice to end.
But being social has also taken on a whole new meaning for journalists over the past couple years. Yes, I'm talking about social media. Social media is the perfect tool to build an audience and build your journalistic persona. It also allows you to interact with people that you normally wouldn't get the chance to.
If you don't have a Twitter handle by now, getting one should be a requirement before starting to cover the team. Using Twitter to gather information and promote your coverage is really the only way to be a sports journalist today.
7. Don't Be Afraid To Be Bold, Or Of The Criticism That Could Follow
You have to take risks to differentiate yourself from other reporters on the USC football beat. I've called out coaches after they've done something wrong. I've asked questions in interviews that other reporters probably would not have. I've written stories with negative opinions involving USC's football program.
Don't be afraid to write a story on a controversial topic, as long as you have substance to back it up. The last thing you want to do is to go out on a limb, if you don't even have a limb to stand on in the first place.
The most nerve-racking part about a bold statement or story is thinking about the potential aftermath. It's extremely hard to receive universal acclaim on your coverage. But don't let those few critics impact the way that you cover the team or how you do your job as a journalist. And if those critics are right, it's just as important to learn from your mistakes as it is to learn from your successes.
8. Have Fun
As much as people want to make you think covering USC football is a job, it's really not. I mean, how often do you get the opportunity to talk with future NFL players, let alone as a college student?
Just remember the chance you have, and smile, since you're taking advantage of that chance. While you do have to take covering the team seriously, that doesn't mean you can't have fun while doing it. After all, sports are fun and covering them should be too.
I enjoy cracking jokes on Twitter or writing a humorous line in a game recap. If you take yourself too seriously, there will be very few people that do the same. Just remember, college football is one of the most fun sports you can cover, so make sure your reporting reflects that.
If you have any questions or want to reach out, please don't be afraid to contact me via email or Twitter.