Music
The Definitive Ranking Of Every Christmas Song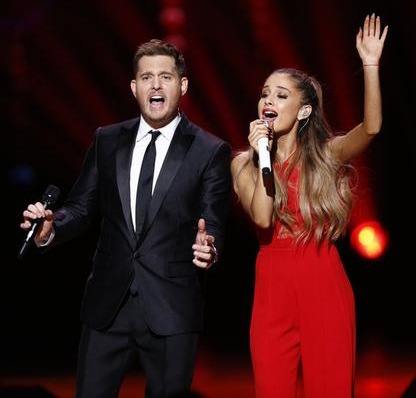 Ah, the holidays—a time for highly caloric foods, sitting by the fire with loved ones, merry movie marathons, and malls as crowded as church on Easter.
Of course, the holidays bring the incessant sounds of Christmas songs, new and old.
Because there are (literally) thousands of Christmas songs out there, we've ranked the top 53 tracks.
Which will end up at number one?
53. "The Chipmunk Song (Christmas Don't Be Late)" by Alvin & The Chipmunks
There is perhaps no Christmas song as that makes us want to pull out our hair more than this irritatingly high-pitched song.
52. "You're a Mean One, Mr. Grinch" by Thurl Ravenscroft
Ugh, another one inspired by a subpar, overplayed Christmas movie. We don't approve.
51. "Santa Baby" by Eartha Kitt
Because there is something so demented in making a figure created for children into a sexual figure.
50. "Baby It's Cold Outside" by Margaret Whiting and Johnny Mercer
Call us a Scrooge, but this one's a little too aggressive for the holiday season. If she wants to drive home, she can turn on the heater in her car.
49. "Blue Christmas" by Elvis Presley
The holidays are a time for warm tidings of comfort and joy; Elvis just kinda kills our vibe with this one.
48. "I Saw Mommy Kissing Santa Claus" by The Ronettes
Because If you were under the age of nine, hearing this song would kill your childhood and we don't relish in crushing the dreams of kids.
47. "Feliz Navidad" by Jose Feliciano
Just a wee bit too repetitive.
46. "We Wish You a Merry Christmas" by Celtic Women
Because who doesn't have a bit of PTSD when thinking about how many times this was practiced during an inevitable Christmas pageant in elementary school.
45. "Rudolph the Red-Nosed Reindeer" by Gene Autry
You may ask, "Why such a low ranking on the list?" Because who knows how the poor creature got his nose to physically light up.
44. "Jingle Bell Rock" by Bobby Helms
Because "Mean Girls" ruined this as a traditional Christmas song.
43. "Jingle Bells" by Frank Sinatra
More bells jingling? Yes. Although this one is slightly more fun to listen to because who doesn't want to dash through the snow?
42. "Joy To The World" by Whitney Houston
Okay, now we're starting to get into the good stuff. We love Whitney's gospel rendition.
41. "Frosty the Snowman" by Jimmy Durante
Because who didn't name their snowman Frosty at one point or another?
40. "Here Comes Santa Claus" by Gene Autry
Because this was the best song to listen to on Christmas Eve.
39. "Let It Snow! Let It Snow! Let It Snow!" by Dean Martin
Because even if you live in Los Angeles where it doesn't snow, this song still gives you the slightest bit of hope.
38. "Silver Bells" by Bing Crosby and Carol Richards
Oy, with the bells already! Okay, but we especially like this one.
37. "The Little Drummer Boy" by Harry Simeone Chorale
Because the chorus is so much fun to sing.
36. "It's The Most Wonderful Time Of The Year" by Andy Williams
Because this song will single-handedly drain your bank account when played on the speakers in the mall.
35. "Santa Claus Is Coming To Town" by Jackson 5
Because we picture a young Michael Jackson caroling to this song.
34. "Christmas Lights" by Coldplay
One of the newer songs on the list, there is something so beautiful and touching about this song.
33. "The First Noel" by Josh Groban and Faith Hill
Because think about how many babies born on Christmas were (unfortunately) named Noel? This one goes out to them.
32. "Go Tell It On The Mountain" by Smokey Robinson & The Miracles
Because there is something amazing that happens when Smokey puts a soulful twist on this song.
31. "O Come, O Come, Emmanuel" by Enya
Because this song is haunting, but chic.
30. "We Three Kings" by Dolly Parton
Because Frankincense is fun to say.
29. "Where Are You Christmas" by Faith Hill
Because this song is extremely applicable during finals week.
28. "Away In A Manger" by Nat King Cole
Because Jesus was doing the whole barnyard-chic theme, with the Star of Bethlehem acting as the original Pinterest lights.
27. "There's No Place Like Home For The Holidays" by Perry Como
Because there really isn't.
26. "Cold December Night" by Michael Bublé
Because this song applies to everyone, whether or not you choose to celebrate Christmas.
25. "Ave Maria" by Andrea Bocelli
Because it the only Latin we know.
24. "Winter Wonderland" by Bing Crosby
Because it is another song applicable to every religion.
23. "Rockin' Around The Christmas Tree" by Brenda Lee
Because who doesn't love Christmas trees?
22. "Do You Hear What I Hear" by Carrie Underwood
Because apparently stars dance and that's pretty cool.
21. "O Holy Night" by Céline Dion
Because Christmas is for family, friends, love and food, making for a very holy night indeed.
20. "Sleigh Ride" by Ella Fitzgerald
Because riding a sleigh is a favorite pastime for all.
19. "Silent Night" by Kelly Clarkson
Again with the night theme, this song is so peaceful (bonus points for this rendition including a children's choir).
18. "Carol of the Bells" by Trans-Siberian Orchestra
Because this track is ominous, but in a good way.
17. "O Come All Ye Faithful" by Josh Groban
Because when else do you use the word "ye" in common vernacular?
16. "It's Beginning To Look A Lot Like Christmas" by Johnny Mathis
Because for those of us who start listening to Christmas music in September, this song goes hand-in-hand with our sneaky Christmas playlist we listen to year-round.
15. "Angels We Have Heard On High" by Josh Groban and Brian McKnight
Because we have all mispronounced "In excelsis Deo" incorrectly, but it was kind of fun.
14. "Hark! The Herald Angels Sing" by Mariah Carey
Because this is another inevitable Christmas pageant track.
13. "River" by Joni Mitchell
Even though this song is not distinctly a Christmas song, the absolute raw emotion Joni Mitchell infuses is unparalleled.
12. "Last Christmas" by Wham!
Because this is everyone's guilty pleasure of Christmas songs.
11. "This Christmas" by Donny Hathaway
Because we are obsessed with Donny Hathaway's version that makes us want to get up and dance the winter's night away.
10. "A Holly Jolly Christmas" by Burl Ives
Because I single handily blame Christmas consumerism on this song.
9. "Happy Christmas (War Is Over)" by John Lennon
This is the most reflective Christmas song. It has been another year and what have you done?
8. "Grown-Up Christmas List" by Amy Grant
Because you grow older, the items on your Christmas list stop becoming things and start becoming intangible items.
7. "Please Come Home For Christmas" by the Eagles
Because this song is so yearning, we want to go pick up that person for him.
6. "All I Want For Christmas Is You" by Mariah Carey
Because how could we not mention this one?
5. "Christmas (Baby Please Come Home) by Darlene Love
Because this is the most underrated Christmas song and it always makes us want to go back 50 years and eat at a diner.
4. "White Christmas" by Bing Crosby
Because who doesn't dream of waking up to fresh snow on Christmas day?
3. "Christmas Canon" by Trans-Siberian Orchestra
Because this is the choir makes you tear up.
2. "Have Yourself A Merry Little Christmas" by Michael Bublé
Originally by Judy Garland, there's a sense of nostalgia and gratitude, which makes us love this song.
1. "The Christmas Song (Merry Christmas To You)" by Nat King Cole
This list was harder to crack than a nutcracker, but we finally did it. With the opening line of "Chestnuts roasting by an open fire," there really isn't a more quintessential song to get you in the Christmas mood. After all dear readers, it is a simple phrase—Merry Christmas to you.
Alas, we are joyful and triumphant. If you're in the mood for a bonus song, there is always the ultimate New Year's classic, "Auld Lang Syne."
Reach Senior Entertainment Editor Jillian Morabito here.