NFL
Breaking Down The Best Defensive Front In The NFL
The Bills have been a pretty bad team over the last decade, but these past few years have given them reason for hope, on one side of the ball at least. This year, their defensive unit has come together as one of the best in the league. In fact, their defense is ranked first overall by Football Outsiders' DVOA rating.
The strength of this unit is the defensive line.
They weren't overarchingly dominant in last Sunday's 26-10 victory over the Browns, but their play against the Browns' offensive line, made up of the All-World Joe Thomas, along with young but talented players like Mitchell Schwartz and Joel Bitonio, shows just how good the Bills' front four is.
They showed up against the Browns' relatively strong offensive front and clearly won the battle in the trenches. In fact, Cleveland was getting beat so consistently up front that they were forced to incorporate screens into their gameplan as the game wore on to try to slow down the Bills pass rush.
Buffalo's front can't be mentioned without talking about defensive end Jerry Hughes, who has become one of my personal favorite players and stories in the NFL. Drafted in the first round by the Indianapolis Colts in the 2010 draft, Hughes was labeled as a bust, and traded to the Bills in 2013.
Since that point, Hughes has registered 19 sacks (and counting) over the past two years, and has become one of the best edge defenders in the entire league.
There is no better way to show this than last week against the Browns, where Hughes was matched up with Joe Thomas for most of the game.
Hughes beat Thomas on pass rushes multiple times throughout the game (which is incredible in its own right), but Hughes excelled even more in the run game against Thomas. The Bills defender drew two holding penalties on Thomas by my count, and combined quickness, speed, and hand usage to beat Thomas on multiple other occasions:

He sets up Thomas to the outside in the above example before quickly ducking inside of him, throwing in a quick "rip" move for good measure. He explodes into the backfield to get a hit on running back Terrance West, and even though he doesn't make the tackle, he slows West down enough to allow other defenders to get there.
But Hughes isn't only a finesse player. Here, he shows off some power: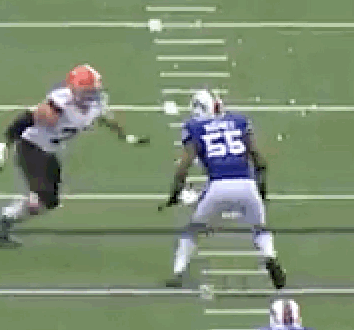 He gets into Thomas' chest here, placing his hands inside, and gains outside leverage like he's supposed to. Thomas was actually flagged for holding here too, but Hughes was still able to get off the block and ended up forcing the fumble on the running back and returning it for a touchdown himself.
Hughes is simply a fantastic, complete player. He doesn't get as much recognition as, say, Justin Houston of the Chiefs, and therefore probably won't be paid as much when they both hit free agency after this year. But Hughes has excelled under two different coordinators now, and is a tremendous athlete to watch.
Even when an offense zeroes in on double-teaming Hughes on one side, they still have to account for Mario Williams on the other side. Check out this sweet combination dip-and-rip move Williams put on Mitchell Schwartz, resulting in a hit on Brian Hoyer:

Williams ain't being paid $100 million for nothing.
Before we get to the next individual player I'm going to highlight, I'd first like to point out some cool schematic things that the Bills do up front.
One thing I noticed them doing a lot was switching up their method of edge containment. Usually, a defense will have the outermost player (a defensive end in a 4-3 or an outside linebacker in a 3-4) set the edge, and he's not supposed to let the play run outside of him.
And while sometimes teams get creative in how they set the edge, the Bills seemed to do this more often in this matchup: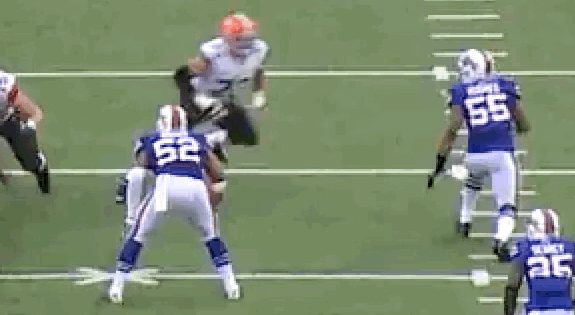 Usually, Hughes (55) would be responsible for keeping outside leverage on the offensive tackle and not letting the play get outside of him. But on this play, Hughes crashes down inside, and Preston Brown (52) runs toward the flat to contain the edge.
While it's impossible to know exactly why the Bills did this, since I'm not their coach, I can only speculate. Buffalo might have confidence in the athleticism of their linebackers to get to the flat and make tackles in space; or maybe they thought Hughes had the quickness advantage and could beat Joe Thomas to his inside shoulder. Either way, it was pretty effective in containing Cleveland's running attack.
Buffalo also ran this stunt repeatedly throughout the game: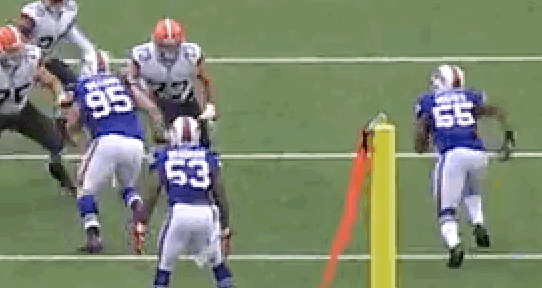 This is a simple TE stunt, where the defensive tackle (in this case, 95) tries to occupy the guard so the defensive end can loop inside and get a free lane to the quarterback. Cleveland was playing with their backup center (who will make an appearance later in this article), so that probably played a factor in why Buffalo ran this stunt so many times. Also, Buffalo's tackles are pretty damn good at occupying blockers, so that's likely another reason. Either way, the way I see it, this stunt is a good idea for Buffalo to run.
Another player who probably doesn't get enough love is Big Marcell Dareus (99). Besides J.J. Watt, Dareus is as good, if not better, than any interior defensive lineman in the league. He does it all in both the run and pass game, and is a physical freak.
Remember that backup center I mentioned? That would be Nick McDonald (68). Here, McDonald's job is to wall Dareus off from the play, which should be relatively easy under normal circumstances. McDonald has the leverage he needs (since Dareus lines up to his right), but apparently Dareus doesn't abide by the normal laws of physics. Dareus is simply too quick and strong on this play, as he quickly is able to get his big right arm around McDonald and essentially knock the 305-lb. center to the ground with only that said arm. Dareus, free of any blockers now, swallows up Isaiah Crowell: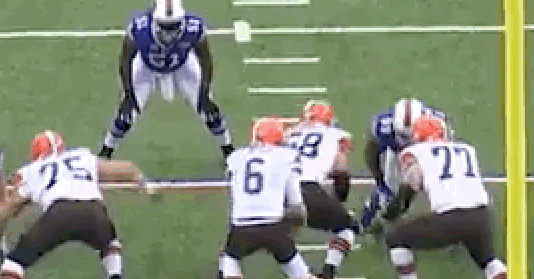 In this next image, Dareus again completely dominates his blocker. I believe Dareus' job was to fill the gap to the right of the offensive lineman (77), but Dareus has such complete control over his man that he actually defends two gaps, and is able to cross 77's face, disengage, and make the tackle on the runner: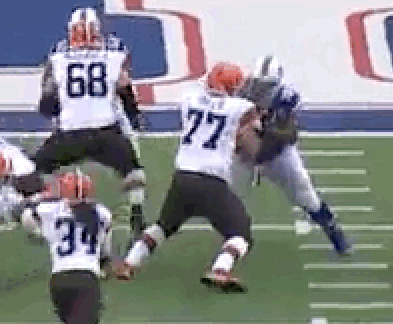 Here, Dareus again shows off almost laughable athleticism as he totally owns the Browns O-line. 77 is supposed to "nudge" Dareus to make it easier for the lineman next to him (62, I believe) to "reach" Dareus and wall him off from the play, but Dareus easily fights through the contact and explodes upfield before 62 can even lay a finger on him. That kind of speed for a man so large is freaky as hell: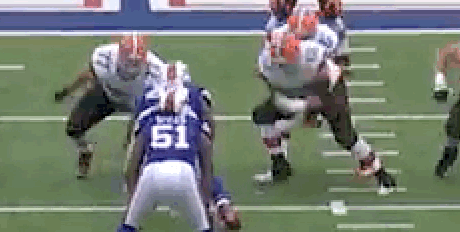 But when Dareus and Kyle Williams (the Bills' other defensive tackle, who is also a fantastic player even though he didn't make as much of an impact in this game) aren't directly making plays, they're still terrific at helping their teammates do so.
Below, the Browns double-team both defensive tackles (circled in green) and actually have this play blocked up really well, for the most part. The fullback kicks out Mario Williams on the right side, and the tight end (81) puts a nice block on the linebacker, while the double teams neutralize the Bills monsters on the inside (even though it didn't effect the play, Jerry Hughes beat Joe Thomas again here on the left side of the screen, circled in red. Maybe that matchup was a reason Cleveland ran to the right side here).
But see Brandon Spikes (51, middle of the screen) and Preston Brown (I believe, 52, left side of the screen)? These linebackers remain unblocked since Dareus and Williams do such a good job of occupying two offensive linemen each, and these O-linemen therefore aren't able to get to the second level. So, while this play had pretty good blocking, it wasn't a very long run, because the unblocked Spikes was able to make the tackle. On a side note, Spikes had a really good game defending the run.

When Dareus or Williams has to come off the field, backup tackle Stefan Charles picked up right where they left off: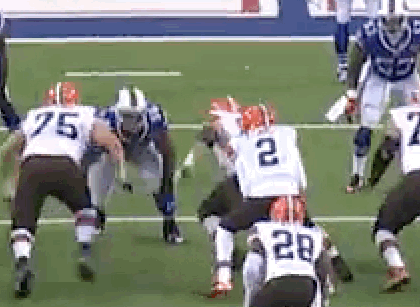 Good lord. Did you see how Charles pushed TWO grown offensive linemen to the side there, before crushing the running back? Impressive.
So basically, the Bills defensive line is made up of athletic freaks. They don't do a whole lot of fancy things scheme-wise, which is probably smart--these guys should just be turned loose. Dareus has played a lot of 3-technique this year, which I think has been really beneficial to him--he's gotten more single matchups, and therefore is enjoying the best production of his career, with 10 sacks already. As a defensive tackle. Pretty remarkable.
Some may argue the Rams or Dolphins have the best defensive line in the NFL, and I have no problem with that. But for my money, in terms of elite talent and guys playing up to their potentials, I'd take Buffalo.
There's not much more to say. These guys are freaks of nature who play with great technique, and are well-coached. They anchor one of the top defenses in the league, which unfortunately is dragged down by the lacking Bills offense.
Still, this defense might just be good enough to carry this team to the playoffs as soon as next season.